With the first delivery and ramp up of Boeing's (NYSE:BA) revolutionary 787 Dreamliner, the reintroduction of its 747 platform, and rate increases on its workhorse 737 line, investors should expect a fairly significant ramp up in commercial aircraft deliveries, which remain supported by a massive backlog of unfulfilled orders. Impressively, Boeing's commercial backlog of 3,400-plus planes is roughly 7x this year's expected commercial revenue, in dollar terms. Needless to say, parts suppliers like Spirit Aerosystems (NYSE:SPR), Precision Castparts (NYSE:PCP), Rockwell Collins (NYSE:COL), Goodrich (NYSE:GR), Honeywell (NYSE:HON), United Technologies (NYSE:UTX) and a variety of others (including engine-makers like GE) will benefit from the coming boom in aerospace.
Click to enlarge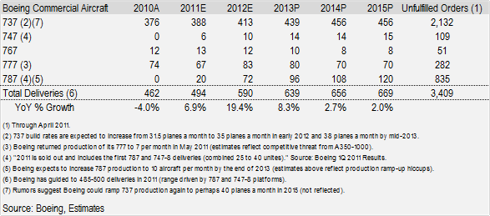 Further, drawdowns in inventories, which have been a cumulative drag of over $15 billion in cash flow during the past three years, should begin as 787 and 747-8 deliveries start this year, offering a nice tailwind to Boeing's operating cash flow in future years. But even with this cash-flow boost, Boeing's shares look fairly valued on a discounted cash-flow basis (considering the well-known competitive risks to its 737 platform from regional jet maker Bombardier (OTCQX:BDRBF) and new entrants from China and Russia, shifting defense priorities, and challenges related to the production ramp up of its Dreamliner). Nonetheless, one cannot ignore the market's tendency to place an inflated multiple on peak earnings, which could approach $7 per share for Boeing by 2015.
Click to enlarge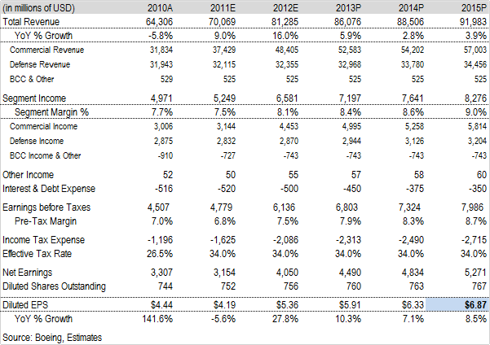 During 2007, Boeing traded at almost 20x that year's earnings of $5.28, which turned out to be the peak for the last cycle. Plus, Boeing garnered an average earnings multiple of about 25x during the boom order years of 2005-2007, which largely padded its existing backlog for this delivery upswing.
Click to enlarge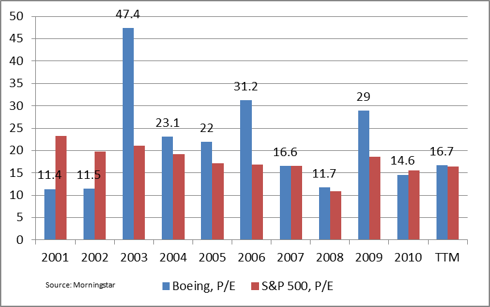 If Boeing trades like it did during the last upswing in deliveries (2005-2007), which also coincided with significant order growth (Boeing has only won 127 orders thus far this year though), the market could eventually place a hefty multiple on the jet-maker's peak earnings stream (and its key suppliers as well). But even if the market throws only an average multiple of 15x on peak earnings this time around (as opposed to 20x), Boeing could see upside to over $100 per share (15 x $6.87 peak earnings). Free-cash-flow valuation aside, traders may make some nice gains with Boeing's stock during the next few years.
Disclosure: I have no positions in any stocks mentioned, and no plans to initiate any positions within the next 72 hours.