Risk assets have experienced a significant run since the market low in March 2009.
S

&P 500 - S&P Depository Receipts (NYSEARCA:SPY) up 90%;
High Yield Bonds - SPDR Barclays High Yield Bond ETF (NYSEARCA:JNK) up 50%;
Gold - SPDR Gold Trust (NYSEARCA:GLD) up 65%;
Emerging Markets - MSCI Emerging Market Index (NYSEARCA:EEM) up 135%
Investors have been attracted to risk assets as the Federal Reserve has kept interest rates at exceptionally low levels, creating a disincentive to save. As QE2 is set to end in June 2011 and with little political will for QE3, investors are contemplating the future of risk assets given the significant run.
Many prominent investors have recently discussed their concern for risk assets.
In light of the weak economic environment and elevated level of unemployment, many investors believe the Federal Reserve will not be in a position to increase interest rates. The exceptionally low level of interest rates penalizes savers and those on fixed income.
Provided a backdrop of rich risky assets and an environment in which interest rates are kept at artificially low levels...where are investors to turn for yield?
Yield in a Price Rich World
Mortgage real estate investment trusts ("REITs") provide investors with a high yielding asset which benefit from a low interest rate environment. A mortgage REITs' principal business objective is to generate income for distribution to its stockholders from the spread between the interest income on its mortgage-backed securities ("MBS") and costs of borrowing to finance its acquisition of mortgage-backed securities. REITs are required to distribute at least 90% of their income in the form of dividends.
There are a plethora of mortgage REITs in the market. However, we are advocating Annaly Capital Management (NYSE:NLY) and MFA Financial (NYSE:MFA) due to the tenure of their management teams. As investments that are sensitive to interest rate risk, having management teams with experience in different interest rate environments provides comfort in uncertain market environments.
Annaly Capital Management Inc (NLY) – Founded in 1997, Annaly primarily invests in Agency MBS. As an investor in Agency MBS, all of Annaly's securities are issued and guaranteed by U.S. Government Agencies and carry an actual or implied AAA rating.
Dividend Yield: 13.85%
Price to Book: 1.1x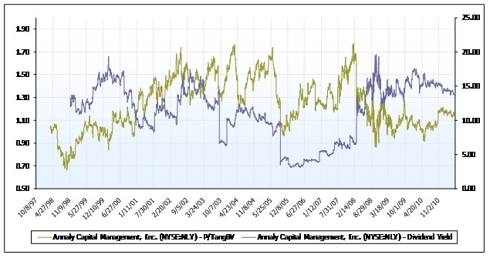 MFA Financial, Inc (MFA) – Founded in 1997, MFA invests in Agency and Non-Agency MBS.
Dividend Yield: 11.5%
Price to Book: 1.0x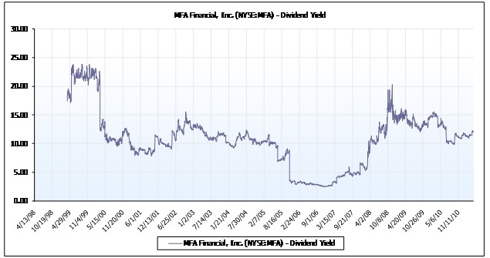 Other REITs to Consider:
American Capital Agency Corp. (NASDAQ:AGNC)
Founded: 2008

Dividend Yield: 18.6%

Price to Book: 1.2x
Hatteras Financial Corp (NYSE:HTS)
Founded: 2007

Dividend Yield: 13.9%

Price to Book: 1.1x
Redwood Trust Inc. (NYSE:RWT)
Founded: 1994

Dividend Yield: 6.6%

Price to Book: 1.1x
Capstead Mortgage Corp. (NYSE:CMO)
Founded: 1985

Dividend Yield: 12.6%

Price to Book: 1.1x
Anworth Mortgage Asset Corporation (NYSE:ANH)
Founded: 1997

Dividend Yield: 13.9%

Price to Book: 1.0x
Chimera Investment Corporation (NYSE:CIM)
Founded: 2007

Dividend Yield: 14.4%

Price to Book: 1.1