One fear revolving around Microsoft (NASDAQ:MSFT) is consumers will abandon Windows, their cash cow, before other divisions can pick up the slack. The question is; how realistic are these expectations?
We'll take a look at some data; make some observations followed by some concluding remarks.
THE DATA:
The operating system market share data was obtained from Net Applications. Their methodology for collecting this data is described below:
We use a unique methodology for collecting this data. We collect data from the browsers of site visitors to our exclusive on-demand network of live stats customers. The data is compiled from approximately 160 million visitors per month. The information published is an aggregate of the data from this network of hosted website statistics. The site unique visitor and referral information is summarized on a monthly, weekly, daily and hourly basis.
The first graph examines the two largest operating systems with over one percent market share (left axis) along with the Windows segment revenue (right axis). The dollar amounts are trailing twelve month revenue per quarter.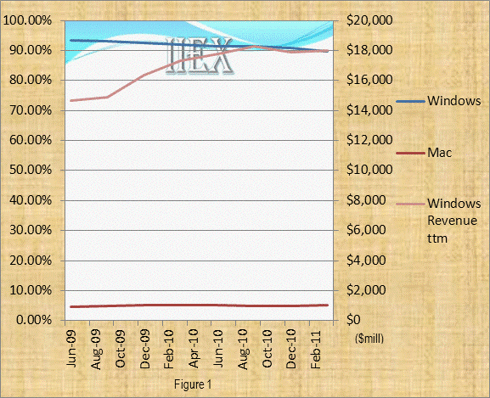 Click to enlarge
(Click to enlarge)
The next graph breaks down the Windows segment revenue per percent of market share and the percent market loss per quarter.

Click to enlarge
(Click to enlarge)
The final graph shows Windows 7 market share gains.
Click to enlarge
(Click to enlarge)
OBSERVATIONS:
Figure 1 shows Windows market share decreasing from 93.3% to 89.7% from June 2009 to March 2011 while total Windows revenue increased over the same period.
Figure 2 tracks the market loss per quarter which is trending down but revenue per percent of market share increased from 160 million to 201 million.
What's counterintuitive is the data shows Windows revenue increasing as the total percent of market share is decreasing. Some possible explanations for this are:
The market is expanding for non-windows devices lowering Microsoft's overall market share but the market for Windows is also expanding, albeit at a much slower rate.
Some consumers are augmenting their devices with tablets, using a PC for the heavy lifting such as content creation and other devices for content access.
The corporate side is taking up slack on the consumer side.
CONCLUSION:
Bill Koefoed - General Manager of investor relations said this on the conference call:
There are 3 trends we are observing. First, business PC growth was 9% this quarter. The business PC refresh cycle continues and is still in the early stages. Second, emerging markets continues to play a larger role in total PC shipment volume and now represent nearly half of all worldwide PC shipments. Finally, the consumer PC market declined 8% as there are several dynamics at work.
It is probably a combination of the above observations creating the discrepancy between market share and revenue.
It's not clear when or if Windows will ever stop being a cash cow. Speculating over the next 10, 20 years, one way or the other is just that; speculation. The facts are this segment will continue producing large amounts of cash in the foreseeable future. Growth has leveled off and will probably be range bound going forward. The other segments have more opportunity to fuel growth over the longer term and the time to evolve, especially when looking at the Online Services Division which includes Bing, MSN, and advertiser and publisher tools. Presently this unit continues to bleed cash.
None of this takes into account any success from the Nokia (NYSE:NOK) partnership or Skype acquisition. The market presently has valued any positive impact at zero.
Maybe the fear surrounding Microsoft has nothing to do with Windows but the lack of faith in Steve Ballmer by many. We noted the following in a previous article:
The same question persists from our last article: Is Steve Ballmer is the right man to lead this company into the future? MSFT has become so entrenched that it has easily recovered from its mistakes (Vista, search, mobile, music), but at a cost of a range-bound stock price. It watched as Apple (AAPL) and Google (GOOG) dominated markets that MSFT let slip by due to its lack of innovation and focus. It's suffered a string of executive departures. It needs a CEO who can capitalize on opportunity vs. playing catch-up in major areas. Is Ballmer the right person? The board is backing Ballmer. The market? Not so much.
Hedge fund manager David Einhorn touched off a debate recently by calling for Ballmer's dismissal. Einhorn stated, "His continued presence is the biggest overhang on Microsoft's stock....Ballmer isn't taking advantage of Microsoft's opportunities ... Ballmer's problem is that he's stuck in the past".
The board continues to back Mr. Ballmer, at least publicly.
Detailed data used in this article can be viewed here.
Disclosure: I am long MSFT.