While investors and traders take a break on this Memorial Day long weekend, consumers are expected to indulge in shopping, traveling and/or eating outside. Thus, the "consumer discretionary" industry is likely to benefit. Investors looking to profit from the expected spike in consumer spending should consider the following value stocks. These securities have been constantly losing price value within the past 90 trading days, but are now showing signs of an uptrend.
[Click to enlarge]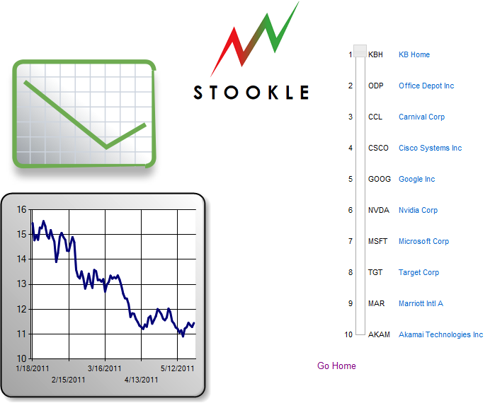 Office Depot (NYSE:ODP)
, the Florida-based office supplies retail chain, recently announced the permanent appointment of its interim CEO, Neil Austrian. The announcement pushed the stock up by 15 cents or 3.61%. Austrian has helped make the company's outlook better since his takeover as interim CEO. The stock closed at $4.12 on Thursday, 34.08% lower than its 52-week high of $6.25.
Target (NYSE:TGT)
, the U.S. based discount retailer, picked 105 sites for possible Canada stores. This is part of the company's earlier announced international expansion strategy into Canada. Target expects to sign leases for the planned store locations this year, earlier than expected. Further, the company's remodeling and rewards program is expected to increase store traffic and thus increase sales. The stock closed at $49.41 Thursday, 18.96% lower than its 52-week high of $60.97.
Best Buy (NYSE:BBY)
, the consumer electronics and home appliances retailer, announced its weeklong Memorial Day Sale deals, offering 15-30% off major appliances. The company will offer free in-store delivery of online purchases. The stock fell 1.76% to $31.20 on Wednesday. Further, the stock closed at $31.09 Thursday, 31.86% lower than its 52-week high of $45.63.
Marriott International (NYSE:MAR)
, a global operator of hotels and lodging facilities, looks ahead for a rebound in business and leisure travel. With economic growth, hotel chains are expected to perform better and average rates per room will rise. The rates are still 10% lower than pre-2008 recession levels. Marriott earlier this year announced plans to spin off its timeshare business. The spinoff will allow the company to write off several hundred million dollars this financial year. The stock closed at $37.81 Thursday, 11.61% lower than its 52-week high of $42.78.
Starwood Hotels & Resorts Worldwide Inc. (HOT):
The Hotels and Leisure company with operations world wide under different brand names, is poised to rebound. Limited new construction has helped the chain increase occupancy rate. The stock closed at $60.77 Thursday, 7.2% lower than its 52-week high of $65.51.


Disclosure: I have no positions in any stocks mentioned, and no plans to initiate any positions within the next 72 hours.