I used to be a Netflix (NASDAQ:NFLX) subscriber. Back in November, I put my service on hold. I let it expire all together in February. Don't take this as a shot at Netflix's service.
For what it is, clearly it's pretty good. Given my tastes and lifestyle, I just simply have no use for it, even at eight bucks a month.
Below you can see notice that Netflix put my account on hold, at my request, followed by several recent emails asking me to re-up.

Click to enlarge
(Click to enlarge)
As I have noted recently, receiving insightful comments, particularly on my NFLX articles, adds an incredible amount of value to the Seeking Alpha experience for author and reader alike. Whether bullish or bearish, a vast majority of people who comment on these articles make worthwhile contributions, while maintaining a high level of civility. Best of all, many comments move the conversation, as well as my thinking, along.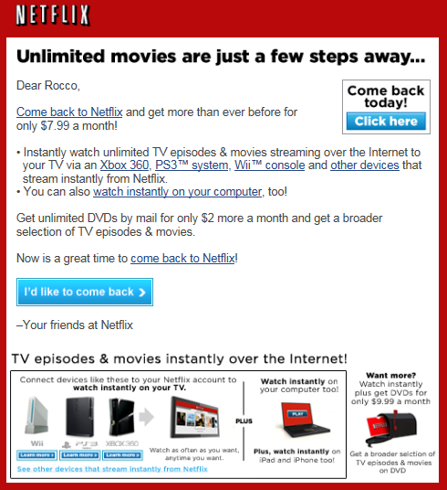 Click to enlarge
(Click to enlarge)
One commenter on my most recent NFLX article noted that I would probably write an article to follow up the Facebook "news" that hammers the company on churn issues. I did not immediately think of that angle, but, given Netflix's attempts to win old customers back (customary practice in the industry, I know) and their plans to stop reporting key subscriber metrics, an article of the sort might just be in order.
I put the word news in quotes because I am not really sure if indeed what hit the wires over the last 12 to 18 hours -- only through a couple of sources -- actually qualifies as news. A commenter who goes by the name "bilton," made a meaningful contribution to the article I wrote on the Facebook "thing." While I don't completely agree, he got the hammer closer to the head of the nail than to his finger:
This is a nothing but a "misunderstanding" and more momentum driven action from the incessant pumping by sell-side and Cramer. I have not watched the keynote yet where Bloomberg purports this was said:

"Netflix, …, is talking with Facebook about how to employ social tools, Zuckerberg said today."

So basically, a few years ago Netflix created a Facebook tool which would put user movie ratings on a their Facebook wall. Few people used it so they shut it down in December 2010.

What Zuckerberg is talking about is Netflix wants help with how to use Facebook so Netflix users will actually use their apps. Netflix posted this job opening in April for a Facebook integration engineer.

So, the street took what Zuckerberg said and made the assumption that Facebook was making a deal to put Netflix on Facebook. That is not what Facebook does. They enable others to hook into the social aspects of their infrastructure. Zynga games use Facebook integration to hook up players with each other. Since there is no real social aspect to Netflix other than ratings, reviews, and possibly user queues, it would be like Amazon or iTunes linking into Facebook to link people with what?

The only thing they can do is sync the information on the Netflix website to a user or company page on Facebook. A movie or TV show can come from many sources. It is the content that is shared on Facebook. No one spends a lot of time discussing where or how the movie was viewed. It is irrelevant whether I saw it on Netflix on a PS3 or at the theatre on Main Street.
That could sum it up quite nicely. And Bilton's comment represents just one of the many that sets Seeking Alpha apart. Unlike many writers, I have no qualms whatsoever about giving as much "air time" to a commenter as I do myself. I don't see the point in letting my ego supersede an airing of diverse viewpoints from many types. As much I could just agree with Bilton's comment, however, I want to give Netflix the benefit of the doubt. Maybe there is more at play.
I take Netflix to task for their imminent move to a one-dimensional revenue stream and their lack of internal or external synergy. As it orphans DVD rentals in favor of streaming, the company simply pays for content that it makes available on its website to subscribers. Beyond that, there's not a whole lot of meat to what they do in terms of adding value for programmers and cross-promotion within and outside their own core (and basically only) business.
I have to think NFLX CEO Reed Hastings gets this. As much as he talks up subscriber growth, the "matching of cash and expense for our streaming content deals," and international expansion, he knows the score. One thing NFLX bulls and bears can agree on is that Hastings is no fool. He's sharp, smart, and brilliant, just not in a Steve Jobs or Jeff Bezos way. The aforementioned trio that Hastings continuously touts cannot sustain the business and keep up with what will be slowing subscriber additions and exponentially increasing costs for content and international expansion. Netflix needs more.
While the Facebook thing probably does not qualify as real news, I think it's instructive. Even if Mark Zuckerberg hung the Skype connection up on Reed Hastings, one look at Netflix's ultra-boring website shows me that Hastings will not sit on a missed opportunity for long. Whether or not some sort of Facebook integration comes into play, I'd be willing to bet worthless NFLX puts that 6 to 12 months from now Netflix's site will look much different than it does now. For all intents and purposes, Hastings might as well be talking to Groupon, LinkedIn (NYSE:LNKD), and Living Social. It's all talk until it becomes action.
If Netflix can tear a page out of the books of these companies and make its website more interactive, more "social," as Zuckerberg says, it will not only provide itself a much-needed additional revenue stream, it will add value for subscribers as well as programmers. By offering a more interactive experience for subscribers before, during, and after streaming, Netflix could not only attract and retain more subscribers, but it could get more out of them than eight bucks a month without having to raise its base subscription fee.
There's no need to speculate on the possibilities; they're obvious. Consider just one. As a way to curb the amount of cash it doles out for content, Netflix offers, say Disney, a way to do a Groupon-style deal alongside some of the content it licenses to Netflix. Netflix can take the emphasis off of the fact that it dilutes the value of Disney's content by helping promote its theme park or retail store business. Just a thought. But, it's more than plausible. And something of the sort must happen. Netflix cannot carry out its ambitious plans if it intends to remain a one-trick pony revenue-wise or it does not find a way to cut down on what it spends for content.
NFLX rises much like a Pink Sheets pump and dump. It rockets on vague notions of what it might do; not on actual hard proof that its streaming and international aspirations will come to fruition as the company, optimistically, claims they will. It remains to be seen whose "right" in that debate, but Netflix could render it all moot by kicking open the doors on an additional revenue stream like its cash-rich competitors have done and continue to do.
Until the pending implosion finally begins I am done playing NFLX. It's pointless. Contrary to common beliefs, not everybody gets "killed" when they short NFLX stock or buy NFLX puts. I manage risk so that my losses amount to little more than money wasted on an expensively bad dinner. It's the only way to trade and, in many instances, the only way to invest. That said, little losses here and there add up, so I'll live to fight another day with this one.
Disclosure: I have no positions in any stocks mentioned, and no plans to initiate any positions within the next 72 hours.