My last article spoke of getting a bit defensive in light of several economic headwinds we're facing. A portion from what I wrote on my blog dated May 4, 2011 is as follows:
Markets are indeed cyclical as they predict what the economy is doing. There is truth to the markets being historically weak from May to November but that typically occurs when the Fed is tightening. With QE2 ending this June we will be in a neutral phase with speculation on further moves. The Fed ideally wants to avoid any tightening policies to avert dampening the economic recovery. More than anything, I see the coming months as ones where the headwinds and "wall of worry" that this market has climbed will become more apparent. Employment numbers still are rather dismal, there is continued unrest in the Middle East, and with oil prices climbing we are more than likely to see the markets take a breather.
Since that posting, we have implemented several specific moves to take advantage of profits on a few positions which we've enjoyed after a nice bounce from the March 2009 lows. It's still technically spring time, but as we enter the "dog days of summer" I wanted to share further updates and thoughts with regard to the overall portfolio strategy.
Over the last two weeks, we have sold positions in Blackboard (BBBB), New Zealand Telecom (NZT), iShares S&P 500 Index (IVV), iShares Russell 2000 Growth Index (NYSEARCA:IWO), SPDR S&P Mid Cap 400 ETF (NYSEARCA:MDY), iShares Russell 2000 Index (NYSEARCA:IWM), and portions of several core mutual fund holdings we own such as Jensen Fund (JENSX), Artio Funds International (BJBIX), and Scout Funds International (UMBWX). I won't go into great detail on each position since there are some we still hold and mainly decided to pare down the holding in light of reallocating and adjusting to a more defensive balance. Across the board, almost every client is underweight their overall equity allocations by about 10%...for now.
Let me stress that we are NOT market timers, and while many may present fantastic arguments to be static "buy and hold" investors, we simply see and believe in the results of tactical asset allocation moves. In my opinion, anyone can give you reasons for buying an investment and look forward to the potential upside that it could bring. Agree! Where we differ from most advisors, is that there are times and certain market conditions that signal moments and cycles of opportunity for taking a more prudent posture. I believe that the ship is headed in an overall better direction when compared to 24 months ago, but without question, there are major headwinds and unresolved drags to economic growth that will hold down investments in the next several months.
Some of the holdings mentioned above are long-time companies or positions that we believe should be a part of the overall portfolio balance. It is very likely that we will reenter stocks like NZT or BBBB. New Zealand Telecom, for example, was actually very difficult to temporarily let go of. We bought it for clients around the $7.40 level and held it for a shorter period than anticipated. After seeing a run up to over $9.00 and receiving a 6.6% dividend, it was time to not be greedy and lock in over 22% in gains over just a few months…not to mention the yield our clients enjoyed.
In the case of Blackboard, we have loved this stock and the strong position they hold in their space for many years. I wrote about BBBB in October of 2010 when we owned it all the way from the low to mid $30 range.
click to enlarge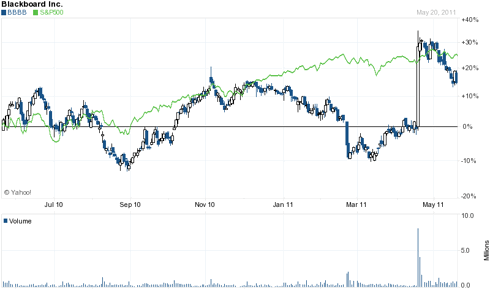 Click to enlarge
On the news of a potential buyout and a following price spike, the investment goal was met; it should therefore signal a time to take profit. BBBB was sold for most clients in the $45 range, which wasn't at the top, but still good enough for a 24+ % gain.
A similar goal was met with New Zealand Telecom, although we will likely buy this stock back if it dips lower and still continues to sport positive fundamentals. As mentioned before, the majority of our clients bought this at $7.40 and we just sold at $9.01. Buying a solid Telecom that had a huge dividend yield along with the potential to be acquired made sense; being greedy and hoping it hits $10 does not.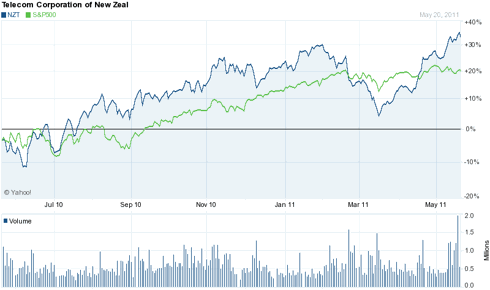 Click to enlarge
On a more "macro" front…we believe the broader markets need to take a healthy breather in order to advance higher. Many technical indicators are foreshadowing resistance to higher levels and that means, coupled with a lot of global unrest (both politically and economically), it makes sense to tap the brakes. How do you do that? Well, we will never completely abandon the overall asset allocation and strategic goals for a client, but making calculated and tactical adjustments should be made. Most investors and advisors simply do not.
The majority of investment advisors do not make such moves on your behalf because…sit tight…they're not watching or managing YOUR accounts. What I really mean to communicate is that once you are "set" into an allocation or "product", your account will be locked into the guidelines of what history finds acceptable. In other words, most everyone (pro and novice alike) simply 'buys and forgets'. Don't do this.
We took near-term profits on iShares S&P 500 Index recently. Yes, it's a core position and one that diversifies our client portfolios across the Large Cap asset class, so that said, we will eventually buy back into it. I just don't believe the position or asset class always goes up in a stair step fashion or straight line. Selling a percentage of it at $134.33 was the right call for my clients. We are now positioned to take advantage of it dipping lower over the next few weeks (or months) and will eventually be back into a full allocation.
What to do with the cash? Well, in general, the advice is to sit tight in cash, enjoy your temporary liquidity and do your best to be patient. In this case, we are implementing some measures with a stronger conviction than what is typically taken. While we're not completely abandoning a base allocation for each client, we are slightly hedging the markets potential downside by picking up some ProShares Short Dow 30 (NYSEARCA:DOG).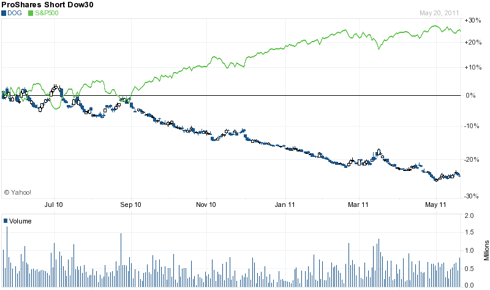 Click to enlarge
We recently bought an opening position of DOG at $40.27. The ProShares Short Dow 30. is an ETF that seeks a return of -100% of the return of the Dow Jones Index. Yes, we could have selected other inversely correlated indexes to attack and perhaps some that are far more frothy or overheated than the Dow. Let's keep this simple for now though, and just take solace and put out a strong bet that the Dow will correct its two plus long year run-up over the next few weeks.
How long will we hold this trade, and let me emphasize trade…who knows? It's not so much a trade as it is a hedge against what we believe the market has in store for us over the foreseeable future. The markets can be a wicked beast and they never wake you up in the morning and give you an accurate forecast. That said, this position is one that could be held for far shorter of a time period than what we typically deploy. The chart itself looks like a "dog" to even the untrained technical eye, and for those that do not know what this instrument attempts to do, you would likely never buy it.
Humans like comfort. We now have so many amenities and conveniences in life that make pain so much more tolerable. You can microwave a near gourmet meal in just about 180 seconds. Lawns water themselves with automatic sprinklers and some new cars even now parallel park themselves. When you hire an investment advisor to actually watch your retirement or investment portfolio, don't put it on automatic. Make them work for you, and it's not about just "staying the course". A monkey can do that, so if you're paying 1% or more in fees, let's just make sure you're outperforming an index (like the Dow) that is showing major resistance, frothiness, and a high likelihood of correcting in the near-term.
Disclosure: I am long DOG.