By IBISWorld Retail Analyst Nikoleta Panteva

Industry Overview
The jewelry store industry has lost much of its luster over the past five years. Its biggest drop was in 2008 when consumer confidence fell more than 25.0% and personal disposable income declined 0.4%. Expenditures by the highest income-earning households, the industry's largest market segment, also declined 0.4% that year. As a result, demand for discretionary products like jewelry fell; from 2006 to 2011, revenue declined at an average annual rate of 2.7% to $30.2 billion.
The industry has yet to return to steady growth as many consumers are still not comfortable spending their incomes on discretionary luxury items. While consumer sentiment and personal disposable income have recovered slightly, growing 7.0% and 0.6%, respectively, in 2011, they are nowhere near pre-recessionary highs. And the astronomically high national unemployment rate (8.8%) is further prohibiting a quick economic recovery. As a result, we expect industry revenue to inch up only 0.7% between 2010 and 2011. However, as consumers regain confidence and purchasing power over the next five years, revenue growth should accelerate. Per capita disposable income is slated to increase 1.6% in 2012, while industry revenue rises a solid 4.5% to $31.6 billion.
Some jewelry stores will take the lead, while others follow behind. Below is our take on the industry's winners and losers and how they will fare in 2011.
Major Industry Players
Signet PLC (NYSE:SIG): Industry Winner
Market share: 9.3%
Signet operates in the jewelry store industry through its Kay Jewelers (Kay) locations and Jared the Galleria of Jewelry (Jared) superstores. Kay is a mall-based division of Signet that targets households that have average annual incomes between $35,000 and $100,000. In 2009, the division lowered the average retail price of its products from $331 to $307 in light of falling consumer demand. Signet operates other mall stores, usually located within the same space as its Kay stores, to cater to the more value-conscious consumer.
Jared is the company's higher-end US retail division, which targets households with incomes between $50,000 and $150,000. These stores are off-mall retailers that sell jewelry with an average price of $713. The firm's main strategy is to provide high quality customer service, complete with knowledgeable staff and on-site design and repair centers.
In the five years to January 2011, the US segment of Signet recorded average annual revenue growth of 3.5% to $2.7 billion (according to the most recent financial data available). The company accomplished this by shifting its focus to the middle market, namely through its Kay Jewelers customer base. While the economic environment in 2010 was still wavering, Signet's operations grew 8.0% via targeted marketing promotions and lower price points in its mall-based stores.
The company's charm bracelet products fared especially well, since their price points are lower than the average Signet product. For its first reporting quarter in 2011, Signet recorded revenue increases on the back of its fiscal 2010 jump. Its strategy realignment is likely to garner the business of high-value consumers looking to invest in well-made sentimental pieces of jewelry.
click to enlarge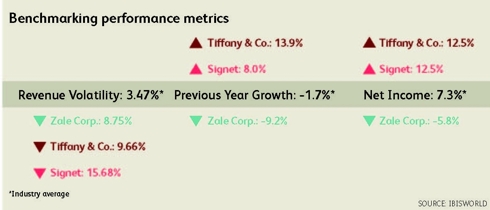 Tiffany & Co. (NYSE:TIF): Industry Winner
Market share: 5.0%
Tiffany & Co. is a manufacturer and retailer of fine jewels, including diamonds, timepieces and 0.925 silver products. The company prides itself on its sophisticated image, knowledgeable staff and elegant store environment. Tiffany's US retail stores account for nearly 50.0% of the company's total sales.
In 2010, the retailer outperformed the industry, recording strong growth of 10.9% in its US division and 13.9% worldwide. The increase was primarily due to higher jewelry prices, which were absorbed by the consumer. In the five years to 2010, US sales have grown at an average annual rate of 0.5% to $1.5 billion, while consolidated company sales increased 6.0% annually to $3.1 billion.
Sales price and profit rose as the company increasingly focused on higher-end jewelry in its product mix. The average selling price of a piece of Tiffany jewelry was $1,802 in 2010 compared to $1,333 in 2005 – a 23.4% increase. Despite the retailer hiking up its prices, consumers have not turned away. While Tiffany offers low-priced items like silver charms and rings that target mid-income individuals, the company's main consumers are wealthy Americans who are less sensitive to price increases. This market segment has been picking up their spending on luxury goods since mid-2010. In fact, increase in prices of luxury prices can actually drive up demand; in some cases, it signifies the exclusivity of the product, which can make it more attractive to the wealthy.
We expect Tiffany to fare even better than in years past, especially as disposable incomes and consumer sentiment return. This company was a surefire winner this earnings' quarter.
Zale Corporation (NYSE:ZLC): Industry Loser
Market share: 4.6%
In the United States, Zale Corporation's fine jewelry division runs Zales Jewelers (Zales), Zales Outlets and Gordon's Jewelers. Zales markets its brand with an emphasis on diamonds, specifically for bridal and fashion jewelry. Zales Outlets cater to the high-income female demographic, with products ranging from branded watches to gemstones. Prices in these outlets are 20% to 70% below traditional retail stores. Gordon's Jewelers is similar to Zales in many respects, and the company is working to reposition Gordon's as a differentiated retailer in its fine jewelry division.
We estimate that Zale Corporation sales have declined at an average annual rate of 4.7% over the five years to 2011, falling to $1.7 billion. Revenue fell in each year between 2007 and 2010, indicating waning demand for the company's jewelry. The company's most recent full-year financial report stated that 2010 sales declined 9.2% from 2009. However, the current quarterly report shows the company is on track to increase annual sales 4.6% during the 2010-2011 fiscal year, primarily based on higher prices (due to rising precious metal costs) and growing volume.
Despite this turnaround, we do not expect Zale Corporation to beat its competitors' performances. After years of downturn, the company has some rebuilding to do, which will prevent it from making any drastic changes to its product lines.
Disclosure: I have no positions in any stocks mentioned, and no plans to initiate any positions within the next 72 hours.