Extrapolating any kind of data is dicey at best. Projecting the direction of the stock market and ETF-oriented portfolios is no different. Given that caution, I've used Geoff Considine's Quantext Portfolio Planner (QPP) the last few years as a guide in the construction of portfolios. This software makes future projections. Are the projections accurate? While no program or system is expected to be precise, what are the probabilities of tilting decisions in the right direction? To answer this question I dug back into old broker statements and analyzed five periods beginning on Jan. 31, 2008. This date was selected at random.
Before getting into the analysis, examine the following ETF-oriented portfolio, as this was the makeup of the portfolio in early 2008. Since 2008, more asset classes have been added, such as bonds, commodities, and international REITs. The asset allocation plan as shown below is anything but desirable. However, this portfolio continues to outperform the VFINX and VTSMX by 3.2% and 2.1% points, respectively. Those are annualized percentages.
[Click to enlarge]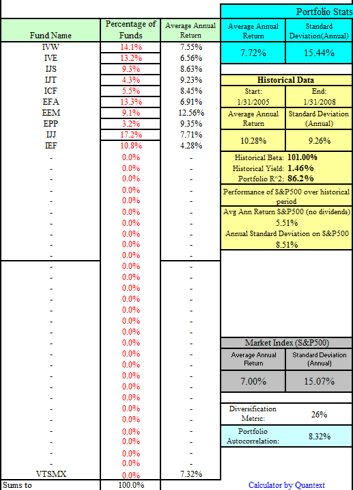 Click to enlarge
To determine whether or not QPP points investors in the right direction, I took the above asset allocation plan and ran my normal analysis. Within the QPP software, I've developed a worksheet that compares future projections with historical performance. The results are color coded. Green is considered a Buy, yellow a Hold, and red a Sell or a major warning. On Jan. 31, 2008, the nine equity holdings were all red. The following year the portfolio lost 34% of its value. Investors remember 2008 with a certain level of clarity.
What was QPP projecting in late January of 2009? Running the analysis again, all nine equity ETFs were showing green or a Buy. Following that signal, the portfolio gained 43% over the next year. When January of 2010 rolled around, QPP projections cooled off to where only two ETFs showed green, four were yellow, and four red (including IEF). The following year, the portfolio gained another 19%. By Jan. 31, 2011, the equity projections turned bearish with two yellow and seven red. Despite the cautionary signals, the portfolio gained another 4% in points. This is a classic example of why one should not use this specialized worksheet as a timing model.
Note that the color coded signals I'm discussing are not part of the basic QPP software program.
Where are we today with our projections? The current analysis is not much more positive than it was in January 2011, with three yellow and six red for the nine equity ETFs.
Are these projection signals sufficient to use as a timing model? In a word, no. How might they be used if not for timing signals? When the majority of the ETFs turn green, it is time to be investing available cash. When the majority of ETFs indicate their future projections will fall short of the performance over the historical period analyzed, it is time to be cautious and let cash build in the portfolio. On a granulated basis, if a particular asset class is below target and an ETF appropriate for that asset class is flashing green, I am inclined to add that ETF to the portfolio.