I continue to conduct due diligence on Green Automotive Company (OTCPK:GACR), and continue to be nothing less than flabbergasted by what I find. You can see the first part of my report on GACR's recent uptrend here.
Since Seeking Alpha published that story, the uptrend has morphed into a downtrend and I have received several emails from people thanking me for pointing out what they consider obvious. At the very least, there's something that's simply not right with GACR. What astonishes me, however, is that you do not have to look to feedback from people who have had inside experiences with the company to recognize that, at a minimum, you should exercise extreme caution if you intend to go long the stock. The most basic research reveals more than a few red flags.
I am not shorting GACR. I do not stand to benefit by writing these articles. I write them, however, for two main reasons:
I am long the electric vehicle (EV) industry. I believe in several companies related to the EV space, particularly several who run in the EV charging station world as well as automakers and dealers. I want all EV companies with real potential and strong businesses to succeed. I would love nothing more than for Green Automotive to be part of that group.
I feel some level of responsibility to, at the very least, lead current and prospective GACR shareholders to factual and/or public information that they can use before deciding for or against an investment in the company.
Earlier this week, GACR issued a press release, which I summarize in the above-referenced article on Green Automotive. I visited Green Giant Venture Fund's here and was less than impressed with it. It's big on talk and light on things like contact details. While not an indictment, this type of thing tends to concern me.
I did find an email address at the site for Grant Galloway. Naturally, one of the first things I did from there was conduct a Google search for this name. Because it pulled up several hits for an apparent auto racer, I adjusted the search to "Grant Galloway Green." Here's a screenshot of the results. The first hit is irrelevant. I suggest you execute the search yourself in addition to viewing the screenshot. And also search for "Grant Fitzgerald Galloway" to read more.
[Click all to enlarge]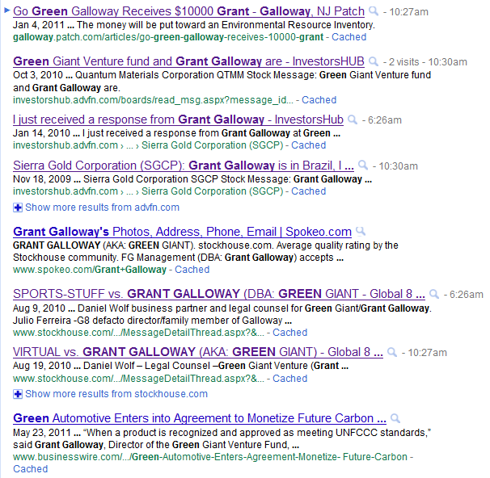 In my original article on GACR, I noted the existence of an international website for the company that lists a Singapore office and directs people with investment inquiries to an email address for a man named Matt Rose. Using an alias, I emailed Rose and expressed interest. Here's a screenshot of the email I sent, followed by one of his responses.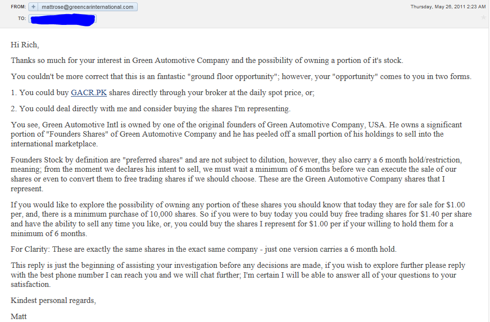 I replied to Rose's email expressing further interest and noting concern over the drop below $1.00 in GACR's stock price. Here is his response: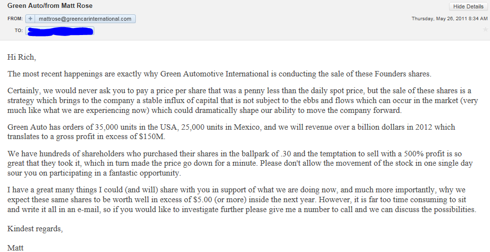 After receiving that email, any interest "Rich Kesler" might have had in investing in GACR went out the window. You can evaluate the emails in any way you wish, but I must draw your attention to two things: (1) the projected 2012 revenues of "over a billion dollars" for a "gross profit in excess of $150M" and (2) the prediction of a stock price "well in excess of $5.00 (or more) inside the next year."
All you have to do, however, is read the company's quarterly reports, released on Thursday, to get an idea of why Rose's predictions trigger concern. I should also note that Page 20 of the Financial Report appears to provide an explanation of the stock offering spearheaded by Rose.
GACR Quarterly Report, May 26, 2011
GACR Financial Report, May 26, 2011
If GACR takes in revenues of over a billion dollars in 2012, I will be amazed. To put my amazement in perspective, Tesla Motors (NASDAQ:TSLA) reported revenues of nearly $117 million for 2010. For 2011, Tesla expects revenue of between $170 and $185 million. And it raised guidance on its last conference call. I am long TSLA now not only because I believe in its business, but because I appreciate management's candor when discussing the company's anticipated financial performance.
If you plan on going long, or you are long, GACR, proceed with caution.
Disclosure: I am long TSLA.