This has been a tumultuous year for World Wrestling Entertainment (NYSE:WWE). From the abrupt resignation of longtime insider and COO Donna Goldsmith to the stock price plunging to under $10 after the dividend reduction, WWE has been playing defense and trying to persuade investors that it really can create growth despite several years of stalled earnings and, more recently, a reduced dividend.
Despite the doom and gloom of the last five months, WWE is still a very profitable company but one that needs to prove to investors that it has a viable plan for growth. In
David's Trainers article
on WWE he explains the impetus behind WWEs consistent profitability and strong economic cash flows. Despite this, the first quarter earnings results released last week did little to assuage the fears of WWE investors hoping to see growth and capital appreciation in the stock price. With the lower dividend, WWE will face intense scrutiny going forward as it pursues new initiatives and acquisitions and begins a new chapter in its history with the introduction of the new "WWE."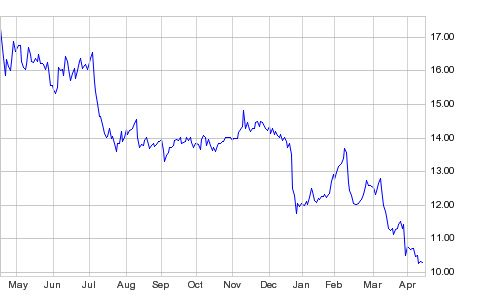 First Quarter Earnings
WWE's first quarter earnings were anything but stellar and in the words of CEO Vince McMahon "somewhat disappointing." Notwithstanding the absence of WWE's signature event WrestleMania, which took place in the second quarter as opposed to the first quarter in 2010, WWE's revenues were uninspiring across the board. Adjusting for the impact of WrestleMania and the impairment of production assets associated with the film "12 Rounds," operating income declined 23% from first quarter 2010. Dwindling live event attendance at both North American and International events as well as lower pay-per-view and WWE Magazine buys overshadowed strong growth in consumer products and licensing as well as the successful adoption of a new film distribution and revenue recognition model. The return of arguably the WWE's most important human asset, The Rock, was also a highpoint of the quarter and created renewed interest in the brand going into WrestleMania. Overall, first quarter performance reflected ongoing negative trends for WWE, mostly in event attendance and PPV buys. Declining PPV buys and lower live attendance figures will continue to stifle growth unless WWE can find a way to reverse course by changing the selection of live events and shifting talent and resources to capitalize on more compelling storylines.
Is the New WWE a Viable Engine for Growth?
In an announcement several weeks ago, WWE announced its new "WWE" branding initiative, an attempt to re-focus the company on what it does best. According to Vince McMahon, the "new WWE" would symbolize an "intense focus on the core competencies of the business in order to broaden potential revenue prospects." When it comes down to it, the new "WWE" is simply about diversification.
In the past WWE has had mixed results in diversifying its business and expanding its product lines. Most of us remember WWE's (then WWF*) foray into the field of extreme football with the XFL, which ultimately lost WWE and its business partners millions of dollars as well as a lot of pride. Over the years WWE has experimented with different initiatives aimed at capturing new audiences and expanding product offerings. The launch of WWE studios was a major initiative for WWE and one that required a substantial amount of capital to get off the ground. Despite rough openings for its first few movies (The Condemned, The Marine, etc..) due to high marketing and distribution costs associated with box office launches, WWE Studios changed its revenue model and began direct to DVD distribution in an attempt to lower costs and streamline the value chain. Although it has yet to see tremendous success, WWE Studios has the ability to use WWE talent at a low relative cost and target an already interested WWE audience for its distribution. The true test of WWE Studios' lasting power will be whether or not it can produce and market movies that appeal to non-wrestling fans.
One word used in WWE's earnings conference call that I hadn't heard in a long time was "acquisition." With almost $70 million in cash and a lower dividend leaving more cash for investment, CFO George Barrios did not rule out WWE's interest in pursuing strategic acquisitions aimed at diversifying revenue sources and expanding distribution opportunities. While the merits of some of WWE's past acquisitions can be disputed (see Extreme Champion Wrestling and World Championship Wrestling acquisitions), a new perspective may be needed to revive what is seen as a weakening WWE brand. As Peter Lynch aptly put it, the perils of "dii-worsification," which include culture clash between target and acquirer companies and non-existent synergies, must be avoided if WWE is to find a successful acquisition target.
Can the New WWE Be Successful?
When we look at WWE's re-branding effort, we need to keep in mind that WWE's business model and core competencies as well as its weaknesses were the same after the announcement as they were before the announcement. Although there were hints given at future strategic repositioning initiatives, nothing concrete was announced or immediately implemented. With that in mind, there are several things to watch for in the coming months as WWE truly begins its re-branding effort.
1.)

The Impact of MMA: "Not a Competitor"
One of the most important jobs of upper level management is to make strategic decisions based on the competitive forces affecting their business. Over the last few quarters, WWE has seen its PPV buys dwindle in spite of an economic recovery that has only gained traction in recent months. Other sports such as Mixed Martial Arts, with its most popular UFC fight promotion, have gained traction in both PPV buys and mainstream acceptance, and have become a legitimate competitive threat to WWE. While WWE management may not view MMA as competition, the results say otherwise. Results over the last few quarters have proven that it is the perception of the consumer that is most important, especially when discretionary dollars are at stake. UFC's scheduling of events on Saturdays (as opposed to WWE's on Sunday) as well as its growing popularity and PPV buys have no doubt directly contributed to a decline in WWE's PPV buys. This overlap in the 18-35 audience that WWE so avidly pursues is a sign that MMA is indeed a competitive threat, and one that management must acknowledge before proper strategic decisions can be made.
2.)

Who Is WWE's Audience?
WWE proudly boasts on its website, corporate.wwe.com, that according to Nielsen Media Research 75.5% of its audience is 18 and over. On the same website page, WWE cites its commitment to providing family oriented entertainment that is rated strictly "PG." Although providing family entertainment is a noble aim, it is not representative of the audience that actually watches WWE. Despite pushing the boundaries of the "PG" rating, WWE is producing entertainment that does not meet the demands of older viewers, thus causing many to turn away or become turned off completely. While younger children may control the wallet when it comes to toys and DVDs, it is the older viewer who usually orders the PPV that makes WWE the most money. Continuing to reevaluate the product offerings in the Live and Televised Entertainment segment should be a principal concern for WWE going forward as it looks to stabilize its weakening PPV buys and regain its momentum.
3.)

Negative Publicity: Can WWE Ever Escape it?
The history of professional wrestling has long been filled with scandal, strategy and the stigma of "wrestling." The death of Randy "Macho Man" Savage last week represented a sad day for the wrestling community and the world. It was also a stark reminder of the health problems and untimely deaths of many superstars in the past. Anytime a former (or current) WWE performer is involved in scandal or tragedy, it seriously hurts the brand. While the death of the "Macho Man" may not hurt WWE in the long run, it certainly brings to the forefront the use of steroids by WWE superstars in the bygone era and the continued impact that wrestling has had on its performers' lives. A
front page article
that ran on Yahoo Sports last week titled "Over 25% of Performers from Wrestlemania VII Have Died" described the deaths of many of WWE's former superstars who performed at this event and was a prime example of negative publicity having the ability to go mainstream even on sports pages, on which WWE is rarely featured. For a company that invests so much in its brand can see it has become seriously damaged or completely lost due to one tragedy or scandal. With that, WWE is like any other company and investors must be mindful of WWE's colorful history and ability to withstand further scandal and tragedy.
Over the years WWE has had its ups and downs; it has survived recessions, scandals, failed acquisitions and tragedy while somehow maintaining a steadfast audience and profitable business model. Now, once again, it finds itself in the midst of a difficult time. Still reeling from the resignation of its COO, a dividend reduction that sent investors running, an untimely death of a former star, and the growing competitive presence of MMA, WWE must find a way to re-invigorate its brand and at the very least, prove to investors that it is capable of maintaining profitability in the long run. WIthout such a high dividend, WWE will need to rely on a strong second half of 2011 to regain the confidence of investors and create momentum in the share price.
Disclosure: I am long WWE.