Below we update a few charts we have shown before, the stock indexes of the 'PIIGS' as well as the charts of the biggest Greek and Irish banks. The latest rumors regarding Greece concern something we first talked about a few weeks ago, namely the fact that Greece has so far failed to fulfill the conditions that have been tied to the bailout loans from the EFSF/IMF combo. As we noted yesterday in our missive on austerity, the most recent official update of the progress Greece has achieved to date shows that there is in fact progress – alas, it still falls short of said conditions. This means that the IMF will either be forced to deny disbursement of the next tranche of loans – which is inter alia contingent on the EU first affirming payment of its next loan disbursement to Greece (this will be decided at a meeting of finance ministers on June 20) – or it will have to find some way of justifying why it should make the disbursement in spite of Greece's failure to meet the necessary conditions.
Luxembourg's Jean-Claue Juncker, currently head of the EU finance ministers group making these decisions, let it be known this morning that the IMF may in fact see fit not to make the next scheduled payment to Greece.
"German government bonds rallied a Luxembourg Prime Minister Jean-Claude Juncker said the International Monetary Fund may not release its portion of aid for Greece next month, boosting demand for the safest assets.
The price gains pushed the yield on the 10-year bund below 3 percent for the first time in four months, while the two-year note yield slipped to a two-month low. Juncker told a conference in Luxembourg he didn't think the IMF, European Union and European Central Bank were confident Greece could honor its debt commitments over the next 12 months, one of the "rules" governing whether aid funds would be released. Greek, Spanish and Portuguese bonds held gains.
"Definitely this would be a further step towards the worsening of the crisis if the IMF were not to support the Greek program for the time being," said Kornelius Purps, an interest- rate strategist at UniCredit SpA in Munich. "This is the reason behind the bid in the bund market. It's simply once again a hit in the back and we're risk off for the moment."
(our emphasis)
Kornelius Purps is certainly correct – if the IMF were to drop its support for the Greek bailout program, the situation would take a turn for the worse, as a debt restructuring could then very likely no longer be averted. As regards Mr. JC 'we're lying because no-one believes us anymore anyway' Juncker, he has recently come out in favor of a Greek 'debt re-profiling', which pits him against the ECB, which for well-known reasons prefers to continue on the 'extend and pretend' path.
A Greek default would immediately redound on Ireland and Portugal by means of contagion. Ireland knows it would be next in line, as this report from the Irish Independent shows:
"THE yield on 10-year Irish government bonds hit a record high last night, as Greece and the ECB failed to convince the market that Greece can avoid a default. Ireland is seen as next in line if Greece fails.
Markets punished the euro zone periphery as high profile economists rubbished the idea that austerity measures will see Greece through the crisis.
Fitch Ratings still expects Ireland and Portugal can stabilise their public debt even after bond spreads for the two countries increased.
Spreads at current levels imply a "very sharp jump" in the market's expectation of either a default or a restructuring that would impair creditors' interests, Fitch said yesterday.
"By contrast, Fitch maintains its view that public debt stabilisation can be achieved given strict adherence to fiscal consolidation targets in these two countries," it said.
(our emphasis)
It is interesting that Fitch seems to have a more nuanced view regarding the chances of Ireland and Portugal to avert a default, but as we have noted previously, the risks to creditors remain very high. One must of course consider in this context that Paul Krugman keeps predicting a default as well, which greatly lessens the chance that it will happen. We are very much tempted to call this a light at the end of the tunnel. As the Independent relates:
"Nobel prize winning economist Paul Krugman told a conference in Copenhagen that lenders to Ireland and the other high risk borrowers will lose money on their investments.
"It's basically inconceivable that there won't be some significant losses on present value for bondholders" of Greek, Portuguese and Irish debt, said Mr Krugman.
"Spain may be able to tough it out," he said, but it's "extremely" unlikely Greece will be able to honour its debts.
Mr Krugman said there is a 50pc chance Greece will be forced out of the euro.
At the same event the ECB's own former chief economist Otmar Issing agreed that Greece will probably not be able to repay its debt, because it's "insolvent."
As the markets digested that dire assessment, the yield, or cost of borrowing, on Irish government bonds hit 11.07pc. It's the highest since the launch of the euro.
The yield on the equivalent Greek bonds was 16.38pc. Portuguese bond yields remain close to their euro era highs.
Investors piled into the German debt after the prime minister of Luxembourg Jean-Claude Juncker said the Greek crisis could worsen next month.
Mr Juncker said the IMF could refuse to hand over its portion of aid for Greece next month, if the loan conditions are not met.
Credit analyst Gavan Nolan, of Markit, said Mr Junckers comments appeared to be aimed at scaring Greek opposition politicians into backing further austerity:"
(our emphasis)
It won't really be necessary to 'scare Greek opposition politicians into backing further austerity.' They are merely doing what they can to pin the unpopular austerity measures on the ruling government – this is just domestic political calculatio, meant to garner votes. As to Krugman's assertions above, we can not really say that we disagree. At the moment, bond markets are already imposing large 'paper losses' on these bondholders, and in all likelihood these losses will eventually have to be realized. Alas, the fact that it's Krugman saying this creates an unexpected ray of hope. :)
The stock markets of the euro area periphery remain extremely weak and as the primary barometers of social mood are telling us that things are rather dire at the moment. Worst of all is not surprisingly the Greek stock market, which has in the meantime broken below the crash lows put in during the 2008 financial crisis.
(Click charts to enlarge)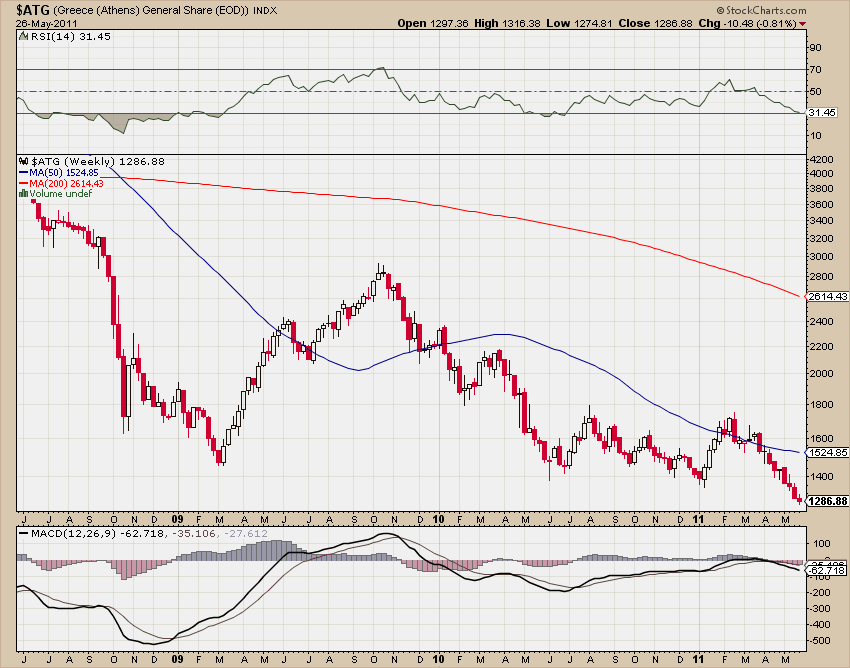 A weekly chart of the Athens General Index – plumbing new post 2008 crash lows.
Greek bank stocks continue to flounder, as one might expect: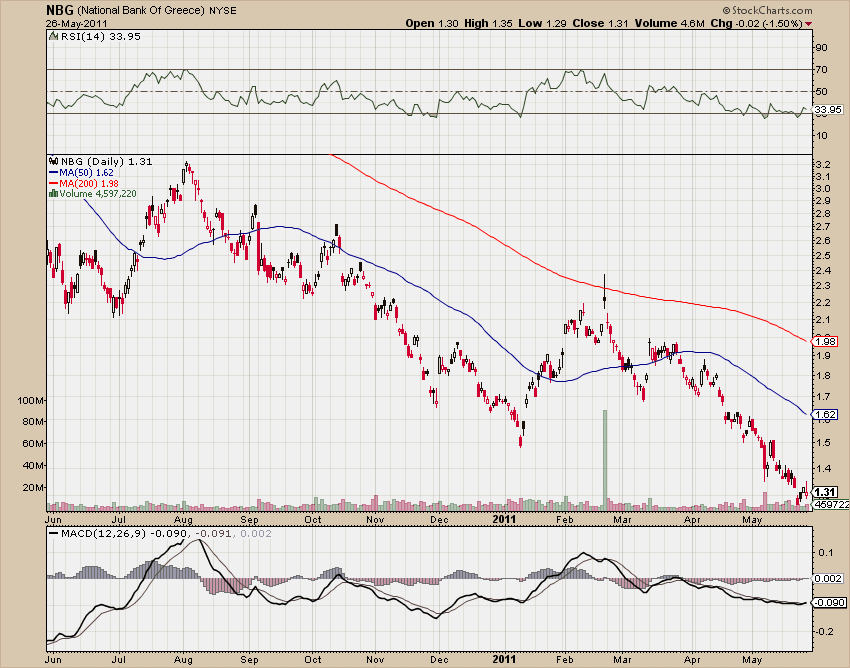 The US listed ADR of National Bank of Greece (NBG) – once again close to new lows.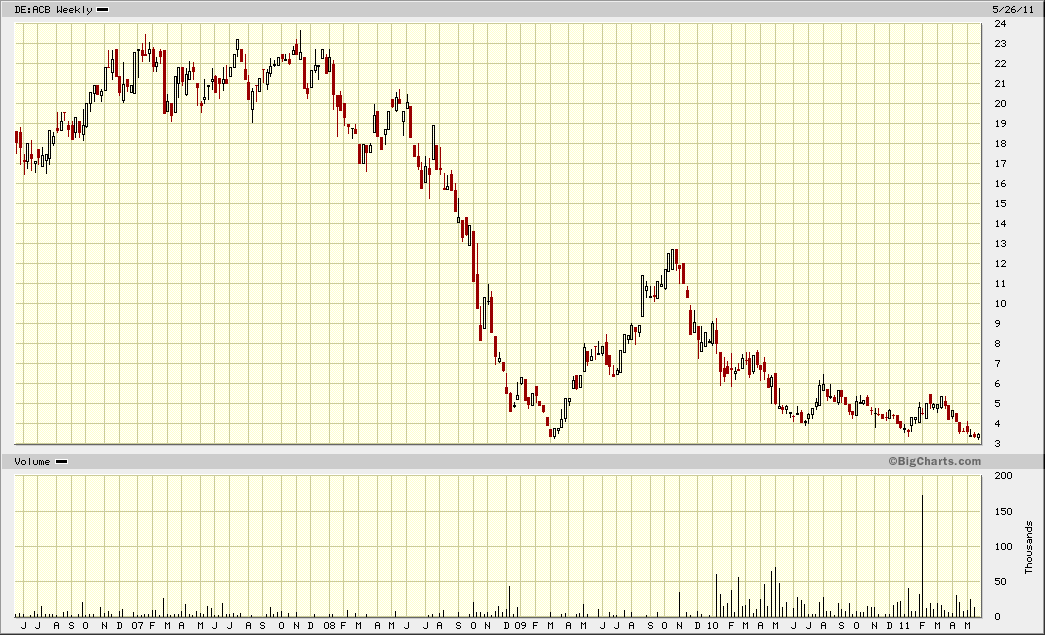 Greece's Alpha Bank, in euro terms - a 5 year weekly chart showing its fall from grace more fully.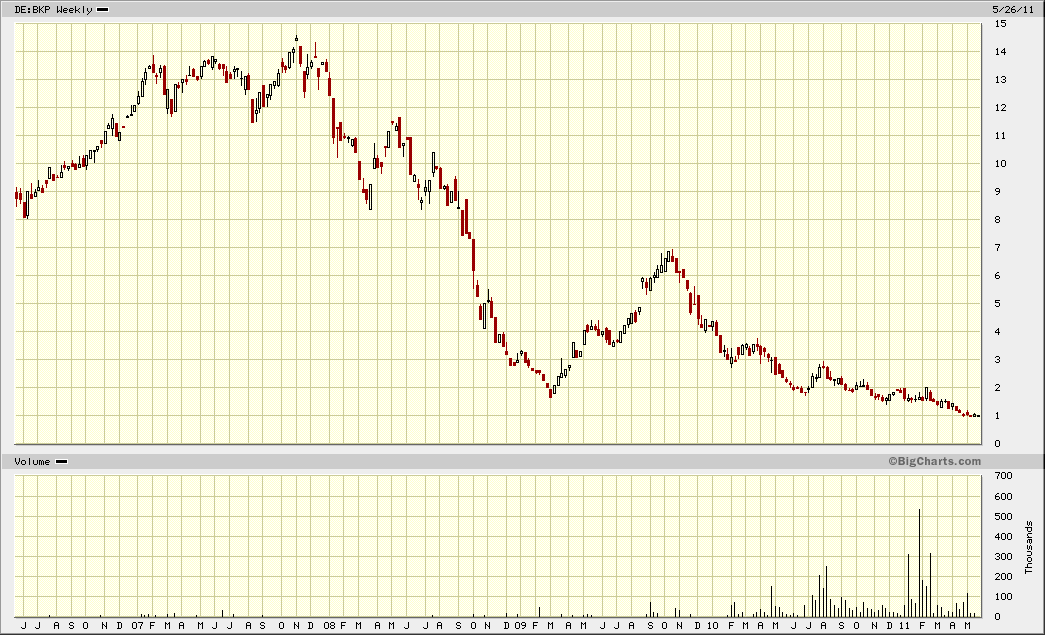 A 5 year weekly chart of Bank of Piraeus in euro terms – this one has declined by 93% from its highs.
The charts of the other 'PIIGS' stock markets look somewhat better than the Greek market, as they are all still above their 2008/9 crash lows. Nevertheless, they all look weak and appear to be headed lower.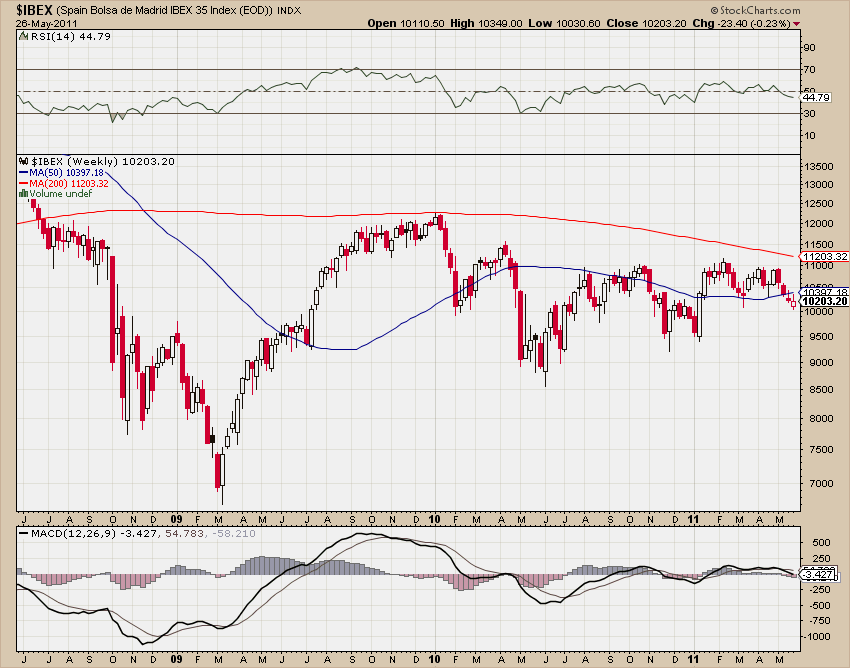 A weekly chart of Spain's IBEX – It keeps making lower highs, with the 200 week moving average providing resistance.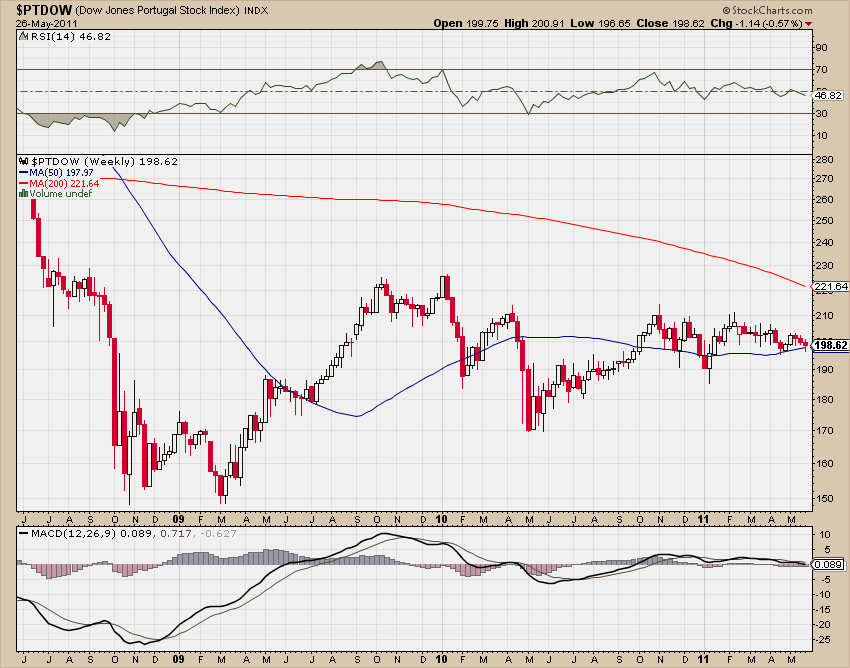 A weekly chart of the Dow Jones Portugal index – its shape is very similar to the IBEX, but it is even weaker overall.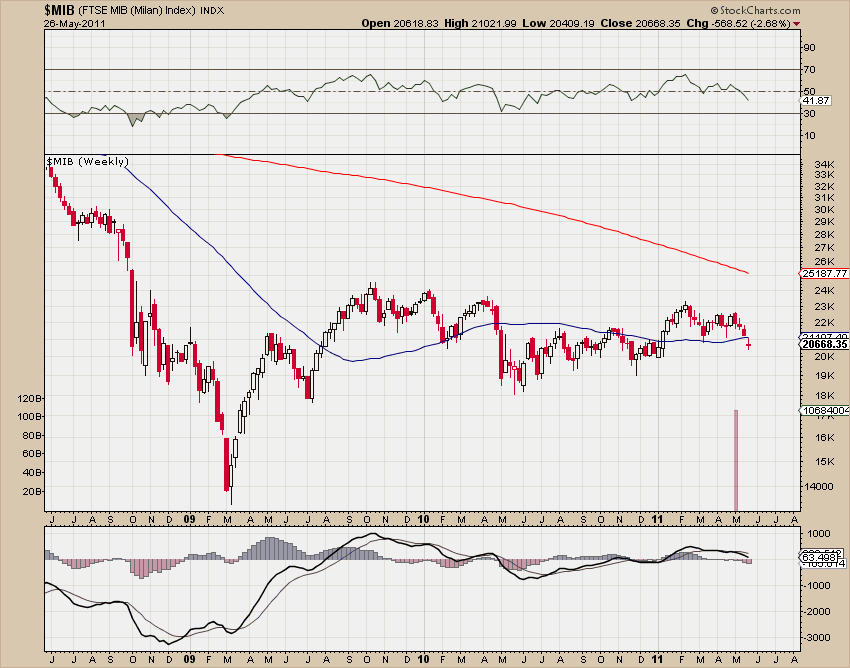 A weekly chart of Italy's Milan Index, MIB – another very similar progression. It has just broken back below its 50 week moving average.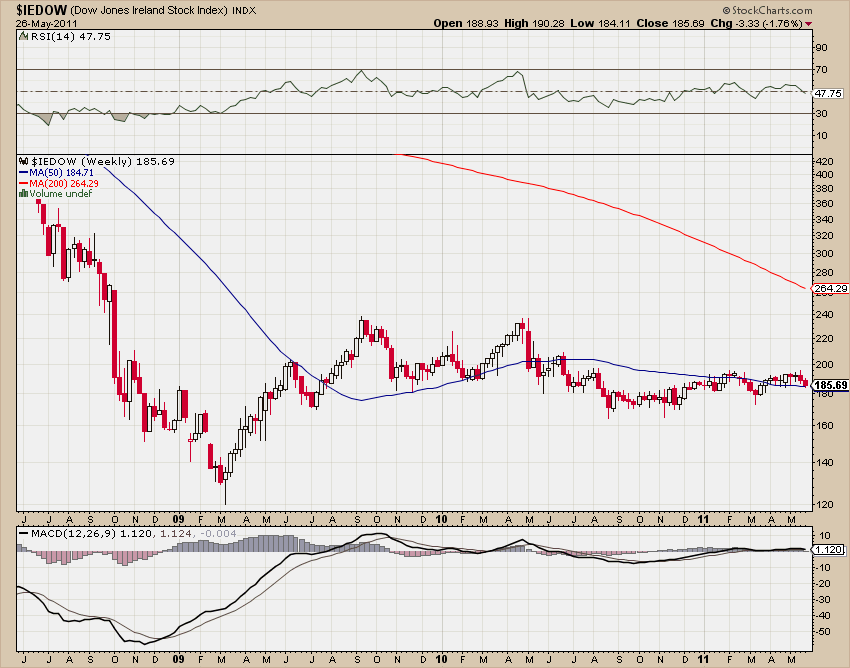 The Dow Jones Ireland Index, weekly – also a very weak looking chart.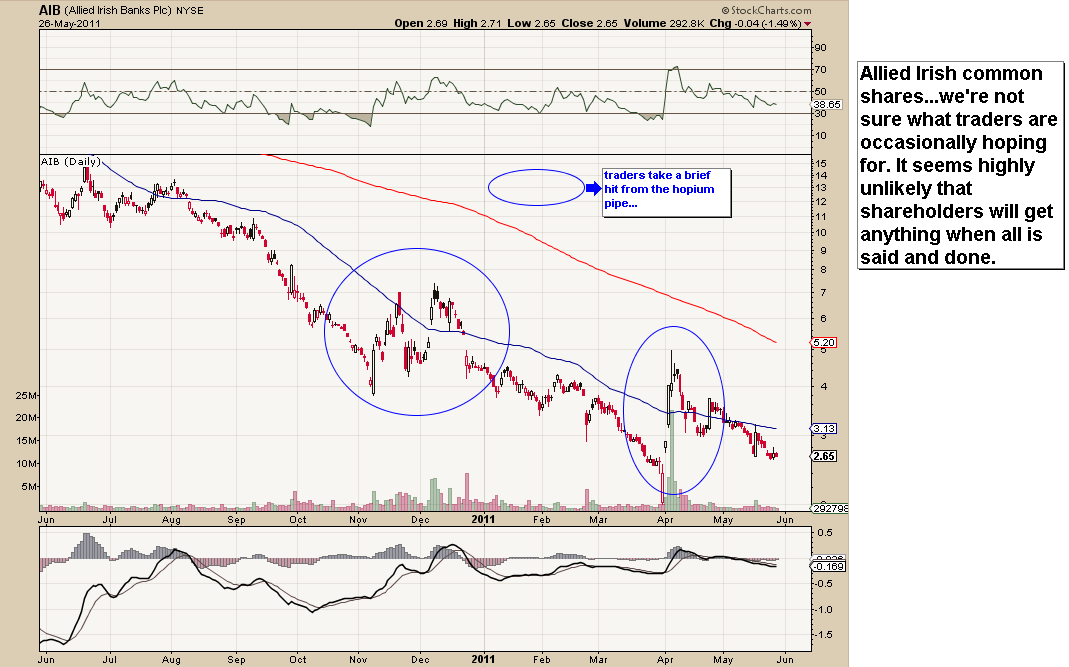 Allied Irish Bank, daily. As we noted on occasion of the short covering spike in April, traders like to now and then take a hit from the hopium pipe in this one (whenever there's a 'stress test' showing they need € X billion more in bailout funds) – alas, to no avail. It always continues sinking after these brief spikes.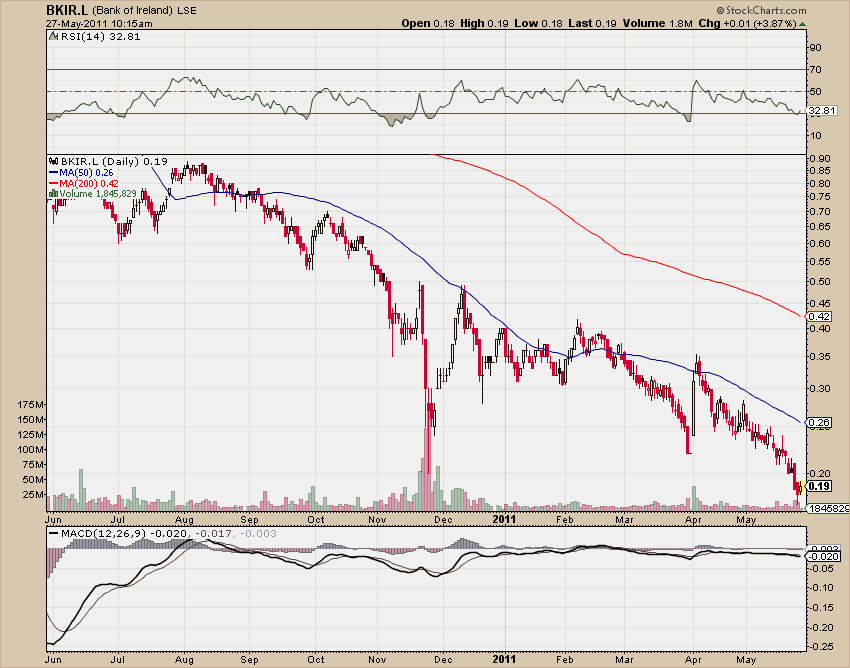 A daily chart of Bank of Ireland at the LSE – similarly to Allied Irish, people like to occasionally pile into this stock, but it has just plunged to a new low.