| | | | |
| --- | --- | --- | --- |
| Stock | Initiated Watch | Portfolio | Continue Watch? |
| SCO/UCO | 05/22/2011 | Buy Pick | No |
| TTWO | 05/24/2011 | Buy Pick | Yes |
We are going to remove our current watch that we have had on UCO/SCO for the time being. Oil had a pretty strong range of $96-$100 for the past week, and it appears that range is now going to stay over $100 or is trying to find a new zone. That range may end up being $100-$105, but we have not seen it move consistently between any prices to find a consistent way to play UCO and SCO like we were with the $96 - $100 range.

We are keeping our watch on Take-Two Interactive (NASDAQ:TTWO). The stock cannot break out of the 17.20-17.40 range, but if it can hit 17.50, this stock could move much higher on a breakout. Better than expected earnings and the release of LA Noire are giving us reason to believe. We have a PT of $26 for the next 12 months and a "Buy" rating as well. We think this company is primed for a breakout, but it has not been able to pull it off in the past two sessions.


Buy Pick Portfolio

The market has shown some pretty good strength despite weaker than expected news, showing a possible bottom in the recent pullback we have had. Two days of gains tends to start a trend, and we believe there are a number of cheap stocks as well as stocks that have shown resilience in the market pullback.

Verifone (NYSE:PAY) - Verifone is one of the leaders in the growing electronic payment systems market, and this is a stock that consistently performs well out of earnings. With earnings coming out late next week, we are keeping a close eye on Verifone. PAY has a large MA sitting above its current price at 47.75. If we can see this stock break to 48, we would be a buyer moving into earnings. The stock has performed very well post-earnings over the past several quarters, and after a recent pullback, we expect the stock to pick up steam and continue higher. Fast stochastics are pointing higher and buyers are starting to make their way back into this stock.

Click to enlarge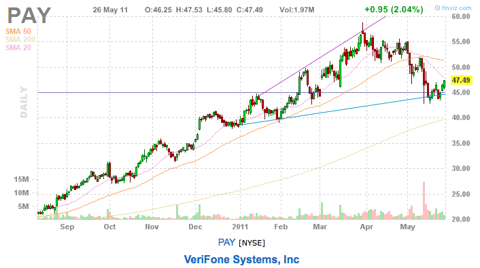 Click to enlarge

Vera Bradley (NASDAQ:VRA) - With the company's third earnings report on its way, VRA has been on a tear, and more upside should be on the way. VRA has nearly closed the gap after its first major pullback in several months. The stock is getting a bit rich in valuation, nearing on 40 in P/E, but we still think this stock has upside. The company has beat estimates for the past two quarters and has seen significant jumps in price in both quarters. We want to see the stock fill the gap to 50 and move above that price before we would be a buyer.

Click to enlarge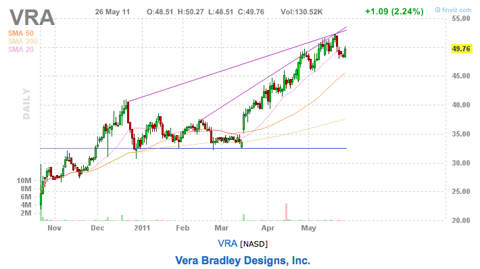 Click to enlarge

Short Sale Portfolio

We are still getting a bit more bullish about this market, but it's always a good idea to have buys and shorts on the radar.

Enerplus Corp. (NYSE:ERF) - The company is right at a consistent multiple top at $32, and we are definitely going to be watching this oil and gas company for weakness. While oil prices are showing strength, ERF has not been above $32 in three years. The stock has fallen at this level several times prior, and we are worried about its ability to continue higher. We would be shorting on any market down day or if oil fails.

Click to enlarge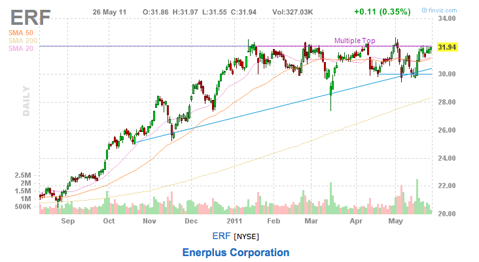 Click to enlarge

Disclosure: I have no positions in any stocks mentioned, but may initiate a long position in VRA, PAY, UCO, SCO, TTWO over the next 72 hours.