The recent pullback in Apple (
AAPL
) shares to the $335 area place the stock in modestly
undervalued
territory for the first time in several years.
Based on our dual cash-flow and accrual analysis for the eight quarters ending March 26, 2011, the stock is trading at -8% below the estimated $362 fair-value as indicated by our model.
During the past several years (and throughout a lion's share of AAPL's big run) we were notably bearish on the company for reasons specific to relationships in the accounting mechanisms rather than any macro or industry specific issue.
AAPL bulls have had a lot of fun taking us to task on this, with one detractor going as far to say we were "over analyzing" (ergo they were profiting nicely). However, we are now officially "warming" up to the stock after its pull-back from the April highs.
"It was not the growth story which bothered us. Apple's dominant leadership in virtually every product category they compete is an obvious testament to slick innovation and well-executed marketing."
However, despite its ubiquitous market leadership, AAPL management has traditionally under-promised (or in some cases barely promised), yet over-delivered on earnings quarter after quarter.
This "snowball" strategy, we believe, has been the primary catalyst for the stock's meteoric ascent in recent years. This forces the legions of analysts following the company to scramble and keep raising their targets each time AAPL blows away consensus.
Juiced with optimism, the momentum crowd happily obliges the analysts and you know the rest of the story.
Pullback is more realistic: Yet, at current valuations, we believe the cash flow quality and earnings-structure better reflect the correlation between stock-price and the story being told in the financial statements.
We have often noted the company's cash hoard as peculiar, simply for the fact it was not being deployed to build capacity, cap-ex or to pay a dividend. AAPL is happy to hoard cash and that is management's prerogative.
For a sensational phenomenon such as AAPL to be blowing away estimates, sitting on a significant portion of under-deployed operating assets and simultaneously utilizing high levels of non-cash accrual maneuvers to build the earnings simply didn't make sense.
The market obviously didn't agree with this view, but if your stock is up 300%, who cares about earnings quality? It did not change our view that investors might be ignoring the potentially weakening quality of earnings.
Companies that grow faster than the operating cash-flows they generate are the usual suspects when it comes to balance sheet maneuvering. Yet, liquidity obviously isn't a problem for AAPL so why flash a shiny big gun with just a few bullets?
Declining R&D-to-Sales: As AAPL's sales growth rocketed skyward, R&D spending (excluding previously capitalized software and technology acquired in acquisitions) as a percentage of sales has been declining steadily for several years.
Click to enlarge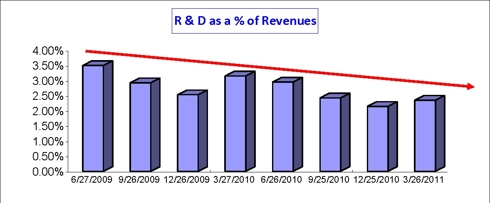 Bulls argue that with sales growth so robust, declines in R&D as a measure of sales would be expected.
Any stock has the potential to go to the moon, but under-utilized assets or small allocations to develop innovative products which drive future profits won't be helpful to returns on assets/investments.
As for returns-on-equity, earnings quality is only as good as the customers who pay. It's hard to pencil in that a company like AAPL with 50% of its short-term assets lying around in cash can boast a 38% ROE.
In Las Vegas that would be called a magic trick, but in corporate finance, this is referred to as "massaging the balance sheet" (i.e. non-cash adjustments, deferred sales, etc.). It's perfectly legal in many circumstances, and every CFO pulls a few levers now and then.
We have listed a few comments on the financials below and you can view our full AAPL analysis
here
.
Balance Sheet: P, P&E growth in the latest period was the second lowest in the previous two years and about 50% below the average P, P, & E for all periods reviewed.
In addition, a significant portion of cash and other liquid investments are appropriated to foreign operations for supply chain, purchase commitments, etc.
The company has managed inventory well and we do note that growth of inventory in the most recent period was the lowest of all quarters reviewed.
Accounts payable show declines in each Q2 (2010 and 2011). This is interesting because Q2 2010 inventory levels grew 10% against a 6% rise in revenues while Q2 2011 inventory rose a more modest 5% on a -7.8% decline in sales (q-to-q).
Operating cash-flow as defined in our "dual cash-flow" model improved significantly in the latest period. In addition, spreads between operating cash and balance sheet cash continue to widen. We do note that OCF growth in the latest period is half that of last year's OCF growth.
Click to enlarge

Elevated accrual trends are worrisome: One drawback in an otherwise solid balance sheet is a spike in AAPL's accrual ratio, a lofty +12.8% in the latest report compared to a – 7.8% decline in sales (q-q).
The recent Q2 report reveals some mild improvements in revenue metrics, but these are offset by modest declines in capital productivity.
Balance sheet summary: The message we see is that management may be pulling in the reins a bit, possibly indicating a tone of cautiousness.
Fair Value: Based on our eight quarter analysis, we estimate fair-value to be approximately $362 per share, adjusted for balance sheet changes and non-cash items.
For the record, our Q2 2011 fair-value estimate is very similar to the $338 Q1 target we presented in a report released
Feb.10, 2011
. Our call was met with much resistance and we heard a lot of comments like "ridiculous," "low-ball," etc.
But, recent price action and a lower fair-value estimate coming out of our Q2 numbers only reinforces what we were attempting to convey then. Valuations don't always reflect the fundamentals. Three months ago they didn't and now they are closer to being on the same page.
Recommendation: Our change of heart is by no means a screaming "BUY." It is, however, more reasonably priced than anytime we can recall in the past few years. Although we are sniffing around at these levels, market risk and AAPL's pull-back warrant some caution.
Traders would be encouraged to maintain tight stops from current levels, while investors with a longer horizon might consider taking partial positions in the $332 area and add on any pullbacks to $325 or below.
Disclosure: I have no positions in any stocks mentioned, but may initiate a long position in AAPL over the next 72 hours.
Additional disclosure: Article contains link to report on our website and and article published on Feb. 10, 2011.