MLPs have become popular with investors after the Alerian MLP Index shot up 150% off its low in late 2008. In addition their yields are relatively high with tax advantage treatment. MLPs receive tax preferences because they are building energy infrastructure in the US, a national priority. However tax hassle comes with the distributions. The annual tax package is sent on a K-1 form around March of each year and is not easy to understand. Many unit holders need assistance from tax accountants or computer tax packages and then have to keep track of annual tax data while owning the investment.

For those who like MLPs but would rather purchase shares in corporations there is an alternative. Kinder Morgan and Enbridge Energy, 2 leading MLPs, have set up limited liability corporations, which own units in their partnerships. Each share is backed by one unit and tracks its price moves.

Kinder Morgan:
Kinder Morgan Partners.........(NYSE:KMP)
Kinder Morgan Management..(NYSE:KMR)

Enbridge Energy:
Enbridge Energy Partners........(NYSE:EEP)
Enbridge Energy Management.(NYSE:EEQ)

Kinder Morgan explains how stock dividends (in KMR) are paid, based on distributions paid to unit holders in KMP (Enbridge Energy has a similar arrangement with its two companies.):
"Distributions to KMR shareholders, which are paid in the form of additional shares, are based on the amount of the cash distributions paid to KMP unitholders. Because distributions of additional KMR shares are made proportionately to all of our shareholders, distributions will not be includable in the gross income of our shareholders for federal income tax purposes and no Form 1099 will be issued."
More important than tax considerations are the businesses and each has an excellent track record of growth.

Kinder Morgan is one of the largest pipeline transportation and energy storage companies in North America with more than 37,000 miles of pipelines and 180 terminals. The pipelines principally transport natural gas, refined petroleum products, crude oil and carbon dioxide (CO2).

KMP has been making substantial investments in the Haynesville Shale in Louisiana, and the Eagle Ford Shale in Texas, expanding infrastructure to get natural gas from these supply basins. Additionally, KMP builds new pipelines to move natural gas around the country and is acquiring additional terminals, responding to growing demand for ethanol. It also is developing crude oil reserves in the Permian Basin in West Texas, and is expanding infrastructure to transport CO2 for enhanced oil recovery projects as high oil prices increase demand for production from existing domestic oil fields.

Enbridge Energy is a leader in energy transportation, delivering crude oil, liquid petroleum and natural gas and it operates natural gas midstream businesses. The Liquids Pipelines segment (60% of the business) is the US portion of the world's longest liquid petroleum pipeline, which transports crude oil and natural gas liquids from reserves in western Canada to refining centers in the Midwest and Ontario, Canada. The Natural Gas Transportation segment consists of subsidiaries operating in the Mid-Continent and Gulf Coast regions. Enbridge Inc. (NYSE:ENB) is the general partner of Enbridge Energy and the largest unit holder with 26% ownership.

After completing a major expansion on its Alberta pipeline, Enbridge is proposing a number of pipeline system expansions in North Dakota, and Saskatchewan, to add transport capacity for increases in crude oil production from the Bakken and Three Forks formations. Capital spending through 2013 will be measured in billions of dollars.

These companies have excellent growth records for distributions. KMP distribution rose from 63 cents in 1996, to $4.40 in 2010, and is guided to be $4.60 this year. EEP distribution was $1.18 in 1993, and that grew to $2.024 in 2010, with $2.055 this year (assuming the current distribution is continued). The EEP distribution growth target is 2-5% between 2010-2013. KMR yields 7.0% from the stock dividend (based on the $4.56 distribution rate in Q2) and EEQ yields 6.6% based on the present distribution.

Distributions are divided by the market prices to calculate stock dividends. Even without capital appreciation, tax free dividends from added shares will increase the investment's value significantly and only modest appreciation is needed to earn a 10% annual rate of return.

KMR --- 10 years - (click charts to enlarge)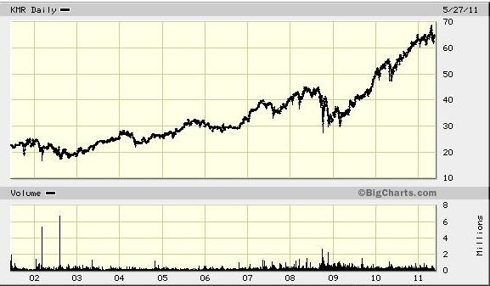 EEQ --- 10 years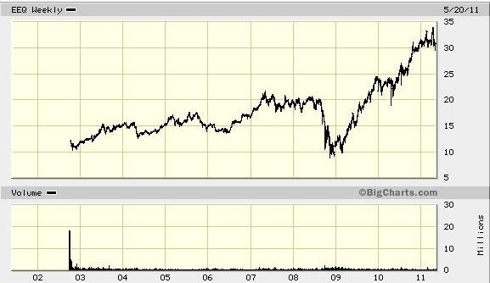 Disclosure: I have no positions in any stocks mentioned, and no plans to initiate any positions within the next 72 hours.