Standard & Poors shows the Basic Materials as being the 2nd worst sector year-to-date in 2011, up only .84%, lagging only the dreaded Financial sector, which was down -2.99%, as of May 25th. One might think that such poor share performance would suggest lousy future growth prospects for Basic Materials stocks, but, on the contrary, Standard & Poors shows the 2011 estimated EPS growth for this sector as second only to Energy stocks - (click charts to expand):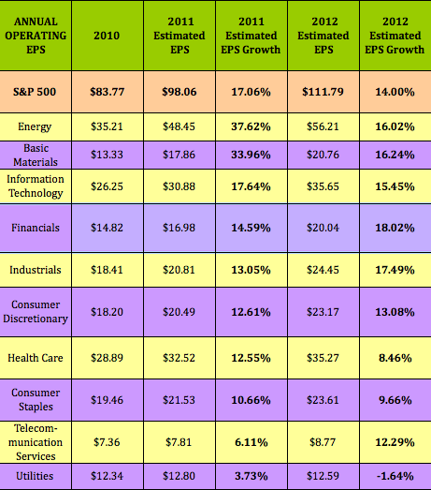 (Data Source: Standard & Poors. EPS Estimates as of 5-18-2011)
Digging back further into past years, 2006 was the record year for overall S&P earnings, and even though 2010 was a good year, only 5 out of the 10 sectors managed to exceed their 2006 aggregate EPS figures: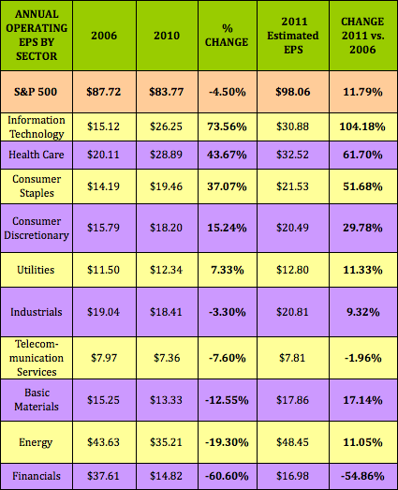 The Basic Materials sector, along with most other sectors, is projected to beat its record 2006 Operating EPS in 2011, by over 17%, and also in 2012, by over 55%.
So, with all this near-term projected future growth for this sector, we tried to find some Basic Materials dividend paying stocks with low 12-month PEG ratios, and respectable financial ratios, and we came up with 3 companies in the Major Diversified Chemicals sub-industry, Dow Chemical (NYSE:DOW); Huntsman (NYSE:HUN); and Olin (NYSE:OLN):


Like many other firms during the financial downturn, these 3 firms had EPS challenges over the past 5 years. However, their recent quarter-over-quarter EPS growth looks a lot better, and their EPS growth for the next 12 months is projected to be from 20% to over 25%, which gives them attractive low 12-month PEG's.
Financial Metrics:


Although these aren't high dividend stocks, they do have respectable dividend yields, and a conservative dividend payout ratio. OLN's ROE, ROI and Debt figures are the most attractive of the three.
These 3 dividend stocks also have relatively high options yields, which far outweigh their dividend payouts over the next 8 months, paying you 3 to 6 times the dividend amount. The covered call and put options trades we've listed below all expire in in Jan. 2012, which gives you the further advantage of not having to pay taxes on the option money you receive now, until 2013, (if you hold the options till 2012).
OLN's $25 Jan 2012 calls are the furthest out of the money, so, although the static yield is the lowest of the 3 call trades, the potential assigned yield is higher. You can find more details for these and other covered call trades in our Covered Calls Table.
If you want to achieve a lower break-even entry price, these cash secured puts also offer attractive high options yields, and they have the advantage of giving you a fast cash yield, as opposed to waiting to recoup some of your investment via quarterly dividends. You can find more details for these and other covered call trades in our Cash Secured Puts Table.
Disclosure: Author is short Dow puts, and long OLN shares.
Disclaimer: This article is written for informational purposes only, and is not intended as investment advice.



Disclosure: I am long OLN.

Additional disclosure: I am also short DOW puts