lt has been awhile since we last posted our S&P 500 (NYSEARCA:SPY) sector weighting charts, so now is as good of a time as any as we head into the long weekend. As it stands now, Technology remains the biggest sector in the S&P 500 with a weighting of 17.89%. The Financial sector remains the second biggest at 15.16%, followed by Energy (12.66%), Health Care (11.67%), and Industrials (11.02%). The two Consumer sectors (Discretionary and Staples) are the last two sectors with double digit weightings, and then Materials, Utilities, and Telecom are all way down in the 3s.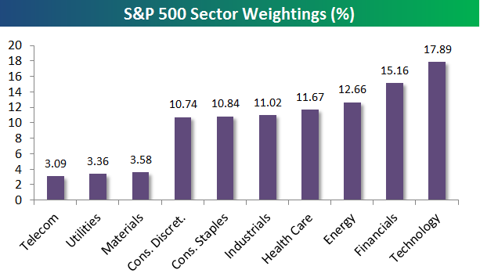 Click to enlarge
While the Technology sector holds on to the top spot, it has lost quite a bit of ground recently. As shown below, Technology's weighting has dropped 1.33 percentage points over the last six months. Consumer Discretionary and Consumer Staples have both lost ground as well, but not nearly as much as Technology. The sectors that have gained the most ground over the past six months are Energy (1.04 percentage points) and Health Care (0.49 percentage points). The Industrials sector has also seen a small increase in weighting as well.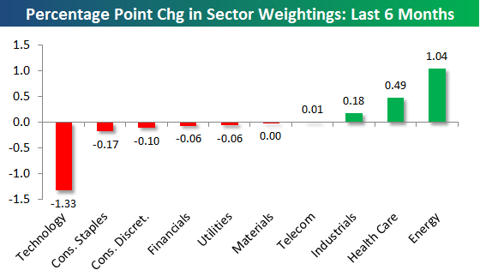 Click to enlarge
Below we provide charts showing the historical changes in sector weightings for the ten S&P 500 sectors. In each chart we highlight the historical average since 1990 as well. The recent rollover in Technology can be seen pretty clearly in its chart. After bouncing back above its long-term average during the early part of the current bull market, the Financial sector has recently dipped back below its average. Health Care, on the other hand, has moved slightly above its average.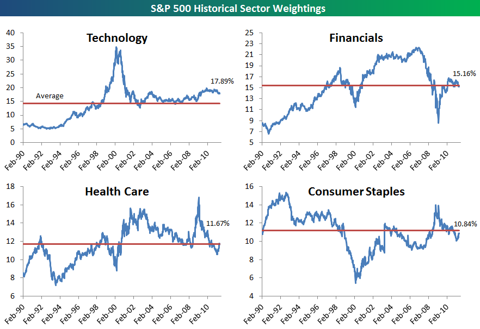 Click to enlarge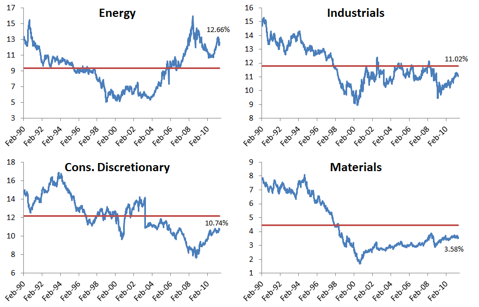 Click to enlarge

Click to enlarge
(Click charts to expand)