In addition to my own scans and watch lists, I use two main sources to follow options-related news: Daily Seeking Alpha columns by Frederic Ruffy and Andrew Wilkinson. While I get great use out of these sources and have even made money thanks to them, you have to be careful not to chase the stocks or options they mention. Often, by the time you receive an alert or summary, contracts have already had too much volatility and upside priced into the premium. Nevertheless, occasionally, you can find examples to capitalize on. Below I detail options brought to my attention by these sources and how investors might consider playing them - or the underlying security - if at all, during the trading week.

This week's recap and analysis include contributions from one other source of options information: Briefing.com's InPlay service. Briefing provides alerts on notable options activity throughout the day.

Because my coverage spans most of Friday's trading day, including early in the session, some information may change. As with all of my articles, use my suggestions and analysis as the impetus for future research. And remember, Monday's a holiday in the U.S., therefore the market stays closed for an extra day, reopening Tuesday morning.

Research in Motion (RIMM): I had planned to write an article discussing the recent class action lawsuits filed against Research in Motion. Andrew Wilkinson, however, beat me to it with his Friday options recap:
Click to enlarge


Click to enlarge
The suits that have been filed thus far come as absolutely no surpise to me. In a comment I made under one of my Seeking Alpha articles on RIMM, I basically predicted them.



Click to enlarge

RIMM did issue a defense against the allegations. And they should prepare themselves for a continued defense. I fully expect more class action suits, particularly after the company reports earnings later in the year, assuming they miss. Consider what I wrote in relation to RIMM's odd decision to lower guidance, but then predict a blow-out fiscal year.
Click to enlarge


Click to enlarge<
*May 3, 2011, Seeking Alpha



*May 9, 2011, Seeking Alpha

The latest reports should prompt even more concern over RIMM's guidance. Yet, Wilkinson notes bullish call buying related to RIMM:
Click to enlarge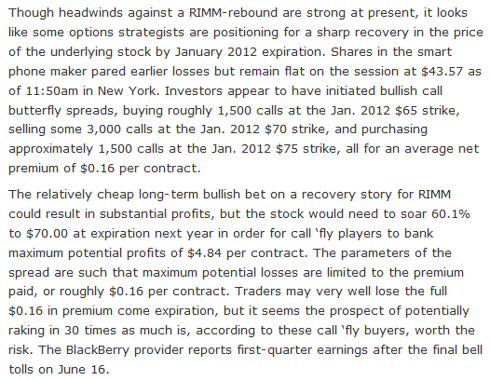 Click to enlarge
I think my history of RIMM article writing makes my opinion clear on this play. My strategy of buying RIMM LEAPS put options warrants debate, but I think RIMM bulls and bears can agree on one thing: Make sure you set aside some time to tune into RIMM's June 16 conference call. It will likely be a pivotal day for the company and the stock.

Advanced Micro Devices (NYSE:AMD): As I have inferred in previous Seeking Alpha articles, you are not going to find a writer who believes in "full disclosure" more than I do. First, I had my ego beaten out of me long ago. And a forced dose of humility is the best thing that ever happened to me. Being "right" or "wrong" means little; I prefer to evolve. To that end, if my experiences and mistakes can help others in addition to myself, I feel some level of obligation to air them from time to time.

Whenever I see AMD options cross one of my feeds, I react. Here's the blurb Briefing.com sent out early Friday morning:
AMD Jun 9 calls are seeing interest with 7470 contracts trading vs. open int of 35.5K, pushing implied vol up around 2 points to ~37%.
I made some mistakes trading AMD options not too long ago. After the company fired CEO Dirk Meyer on January 10, 2011, I was a buyer of AMD February $9 calls on the resultant weakness. Between January 11 and 14, I purchased these calls at prices between $0.34 and $0.15. In essence, I chased the thing down, setting my cost basis at about $0.22 per contract. Below you can see my activity from February 8, when I sold my AMD February calls at $0.04 each for a significant loss. You can also see AMD's price history between the time Meyer stepped down and the February options expiration date.

*The sale data comes from my Schwab account. The price history is courtesy of Yahoo Finance.
Click to enlarge


Click to enlarge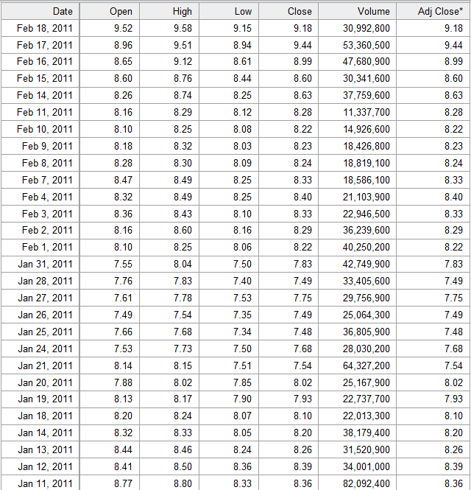 Click to enlarge

From all intents and purposes, I sold at the bottom. From here we can start going over my mistakes. I should have never been in this trade at this point, at least not from its origination point. This type of thing does not happen to me too often. In this case, however, I threw the rulebook out of the window.

I believed so much that the market overreacted to the Meyer news (AMD was on an uptrend, having crossed $9.00 the day before Meyer "resigned) that I let emotion take over. I averaged down for the worst of reasons - no reason at all other than stubborn emotion. Had I followed my own rules, I would have stopped myself out, taken a small loss, and moved on. Instead, I sold at the point where time decay appeared to have killed me and the trade looked un-salvageable.

Of course, promptly after I sold these two items moved AMD higher and then high enough that had I not closed my trade, it would have turned a handsome profit the day prior to expiration. I have already established my error in staying in the trade, but had I just ridden the calls to worthlessness, I would have been shocked by a profit.

I outlined my major mistakes, but I also have learned, through this and other experiences, that you're almost always better off paying a premium for in-the-money calls as opposed to taking a shot at out-of-the-money plays. When going with an out-of-the-money option, I now almost always find a way to either hedge my bet and/or offset some of the cost of the play. For instance, if I am bullish, why not sell an out-of-the-money put or, better yet, sell a further out-of-the-money call in addition to the long end of the transaction?

I hope my experience helps inform your decision-making process, if you are undertaking one, with regard to AMD. Options traders could very well see another move up past $9.00. I don't disagree, but if I decide to play it I will certainly learn from the checkered history I have with that sentiment put in action.

Intel (NASDAQ:INTC): In the same blast, Briefing spit out the following blurb regarding seemingly bearish put activity in Intel:
INTC Jun 23 puts are seeing interest with 3530 contracts trading vs. open int of 80, pushing implied vol up around 1 points to ~22%.
About an hour later, however, Briefing updated activity in both AMD and INTC with the following note:

Click to enlarge


Click to enlarge

Intel has fought back nicely from its April lows, trading as high as $23.96 in May, before settling in a $22 to $23 or so range. Clearly, it's a company that needs to find its way again. That said, I tend toward the opinion of fellow Seeking Alpha contributor Robert Weinstein, who recently wrote about Intel increasing its dividend. Weinstein suggested the possibility of selling INTC July $22 puts. Given INTC's nice-looking dividend this might be the best way to play the stock, outside of just buying it outright at market.

If you sell INTC puts, you must be willing to buy (to get "put") 100 shares of INTC for every contract you sold at the contract's strike price on or before options expiration day. Therefore, if you expect a pullback, want to collect premium income by writing puts, and are OK with being long INTC at the strike you select, I would look long and hard at something like the INTC July $22 puts, which, as of intraday Friday, traded at $0.64 each.

By becoming an owner of INTC in July, you set yourself up to receive dividends from the company going forward. You could not do this simply holding onto long calls.

Disclosure: I have no positions in any stocks mentioned, and no plans to initiate any positions within the next 72 hours.