REITs are an important and often overlooked asset class. Many are especially wary of REITs due to the recent real estate crisis, including many that believe there are more problems to come. Nonetheless, in this low interest rate environment, many investors and trustees must find options that provide yield, especially since several now fear that bonds do not carry their normal level of capital safety.
One popular choice to add to an income portfolio is the agency mortgage REIT. REITs must distribute at least 90% of their taxable income in order to eliminate the need to pay income tax at the corporate level. Under the current tax laws, REIT dividends are taxed as ordinary income, and not at the lower corporate dividend rate.
Agency mortgage REITs possess some of the higher yields in the market, with some very interesting advantages and risks that make them, in many ways, different from most other REITs or equities.
What is an Agency Mortgage REIT?
Mortgage REITs invest in the mortgages on property rather than the underlying property. Some mortgage REITs concentrate on commercial property mortgages, while others concentrate on residential property mortgages. Within the world of residential mortgage REITs, there are two primary subdivisions: those that own mortgages insured by federal agencies and those that own mortgages without agency insurance, or non-agency mortgage REITs. Agency mortgage REITs are supposed to have portfolios made up principally of mortgages insured by the federal agencies Fannie Mae (OTCQB:FNMA), Freddie Mac (OTCQB:FMCC) and/or Ginnie Mae.
These government agencies make mortgages and then issue a mortgage-backed security (MBS). An agency MBS comes with an agency guarantee and an implied U.S. Government guarantee. These federal agencies' implied or quasi-government guarantees have, so far, been proven virtually as solid as any paper issued directly by the Treasury. The U.S. Government has preferred to bail-out the agencies that are now effectively bankrupt. As borrowers default on these agency loans, the agencies continue to either pay on their behalf or buy out the defaulted loan from the owner(s). Buying out loans can have a volatile affect upon the agency REIT's quarterly income, yield and asset valuation.
Most Agency REITs use a relatively high level of leverage to increase the anticipated spread, or difference between borrowing costs and MBS returns. With this leverage, most agency REITs now offer annual yields between 10% and 20%. Spreads have been high due to historically low borrowing costs. Future returns will decrease where the spread decreases due to higher borrowing costs, and the decrease should also be levered.
Examples of Agency REITs
Through screening I have previously identified several companies that primarily invest in agency paper using the above-described REIT model, including six paying a yield between 12% and 19%.
Annaly Capital Management, Inc. (NYSE:NLY): Current Yield: 13.7%

American Capital Agency Corp. (NASDAQ:AGNC): Current Yield: 18.5%
Anworth Mortgage Asset Corporation (NYSE:ANH): Current Yield: 13.8%
Capstead Mortgage Corp (NYSE:CMO): Current Yield: 12.4%
Cypress Sharpridge Investments (NYSE:CYS): Current Yield: 18.8%
Hatteras Financial Corp (NYSE:HTS): Current Yield: 13.9%
Should you be interested in investing broadly in this sector, iShares created the FTSE NAREIT Mortgage REITs Exchange Traded Fund (NYSEARCA:REM) that tracks the performance of the index of residential and commercial mortgage real estate, mortgage finance and savings associations sectors. While this may be a nice way of acquiring diversification, it has underperformed these six companies, in whole and part, due to non-agency REIT exposure. This could end up being a good or bad thing over time.
Year to Date Performance
This group was range bound for the first half of the year. Investors appear to be waiting on the sidelines for clarity on interest rate changes and housing generally. The coming end to the Federal Reserve's buying bender and short speculation levels may push these assets into a volatile event. There will probably be two events, as there will first be rate changes and then dividend changes. Click to enlarge:
Three-Year Performance
The three-year chart (click to enlarge) shows a general level of performance by HTS, CYS, CMO and NLY, with REM significantly underperforming and AGNC significantly outperforming.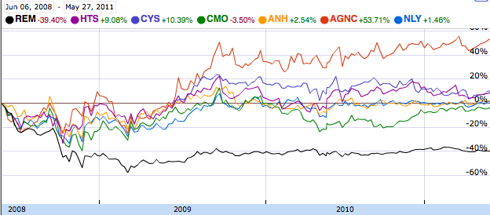 A comparison of the two charts indicates that much of the non-correlation between agency and non-agency mortgage paper has left the market. It also indicates that much of the prior outperformance by AGNC was due to its slightly higher leverage and that this outperformance may have stalled due to the now levered fears over shrinking spreads. Its yield continues to be above average, and may be due for a correction. The whole asset class appears to be maintaining a range, and this range will likely break-out on one direction within the coming months.
Many investors believe either an interest rate change or second real estate correction is in order. These REITs average about 5% short interest. The asset class is not without its risks. Higher yielding income is always accompanied by added risk, so allocate accordingly. Other opinions are always welcome.
Disclosure: I am long NLY.

Disclaimer: Yield is but one consideration in choosing an investment, and each investment should be considered relative to the total portfolio and its objectives.