A Repreive: After 10 consecutive months of outflow totaling $44 billion, according to Investment Company Institute, muni bond mutual funds have finally put together two back-to-back weeks of positive inflow--albeit, modest at $38 and 63 million, repectively. Additionally, "AAA" rated, 10 year municipal bonds are the lowest they've been since November of last year prior to the popularization of the muni crisis (click to enlarge image):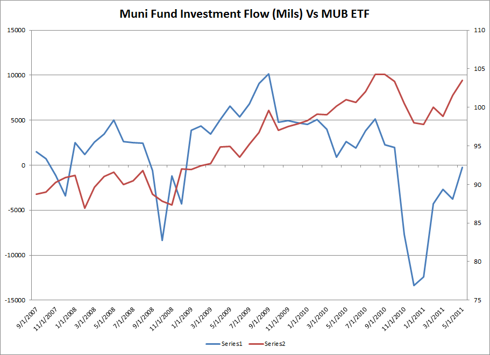 Yes, Virginia, There's Been a Muni Rally: Observers will point out that there has been a rally in muni bonds already and it too late to be buying.
I'm not sure it's over for the muni bond funds and CEFs. The funds' flow has turned around and retail investors are likely to keep on buying even if bond values decline slightly as the yields are still compelling.
The following case can be made for muni CEFs' consideration:
With the economic recovery expanding the coffers of state governments along with a new sense of budgetary discipline being employed, state finances are improving—albeit, not to the levels of the pre-recession.

Tax revenues up 9.1% in the 1Q for 47 states.

The constant outflow of monies from muni mutual funds seems to be abating and may represent the end of the panic phase of retail muni investing.

The near-term supply of new munis have also declined thereby intensifying demand for the investments.

Muni bond yields have begun to decline (prices rising) substantiating higher demand and valuations (in the retail sector, higher prices beget higher prices).

Loss of tax-exempt status would actually increase the value of grandfathered muni bond which would become even more valuable particularly if a new round of tax increases are initiated;

Muni CEFs may be positioned for an extended run like high yield CEFs experience from their trough and to what would appear fair valuation.
Our focus stock this week is Nuveen Municipal Value Fund 2 (NYSE:NUW). Unlike our focus stock last week in the muni space, Federated Premier Muni Income Fund (NYSE:FMN), NUW doesn't employ leverage so the risk of rising interest rates has been eliminated as a potential downside to the stock price if and when rates rise.
NUW pays an annualized monthly yield of 5.8% and its taxable yield equivalent is 8.8% and it trades at a slight discount of 0.8% having traded at a slight premium for the past year. Its portfolio is small at approximately $200 million in assets, it has no debt and its expense ratio is 0.69% which is well below the peer average of 1.4%.
NUV's average duration is 10.6 years with an average maturity of 25.5 years. The knock on the portfolio is that it has about a fifth of its investments in states with budgetary problems: Illinois and California. Three quarters of the portfolio is rated "A" or better. Illinois is facing some significant near-term refinancing.
Disclosure: I am long FMN.