While forecasting sales estimates for Apple's (NASDAQ:AAPL) iPhone and iPad presents with a variety of difficulties, projecting Macintosh sales for 2011 and 2012 isn't all that hard. Macintosh sales have been on a nice, consistent upward trajectory and regularly observes an easily recognizable pattern of both seasonal and sequential growth trends. You can find my 2011 iPhone estimates here, my 2012 iPhone estimates here and my 18-month outlook on iPads here.
If there is one projection that I've consistently nailed over the past several years, it's been in forecasting Macintosh sales growth. The reason Macintosh sales is relatively easier to predict is because there's only one quarter where there is a consistent sequential decline. And that is in Apple's fiscal Q2. Other than fiscal Q2, each quarter's Macintosh sales is higher than the previous quarter.
2009 was the only exception to this seasonal trend out of the past 7-years. And that was largely due to the fact that we were in the middle of a financial crisis during the quarters in question. Still, even then there was the same recognizable pattern of growth where Q2 was the lightest quarter of the year.
Here's how the Macintosh seasonal cycle unfolds: What we tend to see is a strong fiscal Q1 follow through on the back of a massive record spike in sales during Apple's back-to-school shopping season (fiscal Q4). Almost every year for the past 6-7 fiscal years, fiscal Q4 has always represented a massive spike in sales over the previous three quarters.
What's amazing about this is that we almost always see follow through in the next 3 quarters. Fiscal Q1 sets a new record, Q2 sees a sequential decline that largely falls below the previous year's fiscal Q4 sales. Then we see a new record again in fiscal Q3 followed by the massive spike in Q4. Rinse and repeat every year. Notice the obvious seasonal trend in the chart below (click to enlarge images):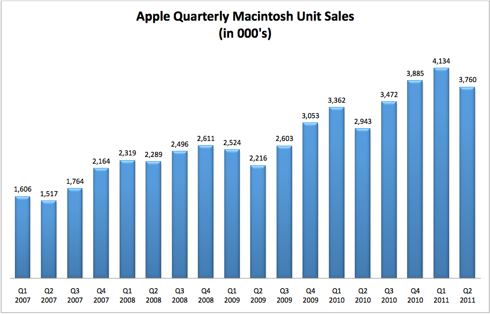 Click to enlarge
Fiscal Q3 2011 Macintosh Sales Estimates
The seasonal trend in Macintosh sales suggests a Mac number somewhere above 4.134 million units. Apple's fiscal Q3 unit sales have surpassed Apple's fiscal Q1 every year since 2005. Yet, the key question is not whether Apple's fiscal Q3 will surpass it's fiscal Q1 in unit sales, the question is: by how much? The data below lays out the growth rate between Apple's fiscal Q1 and fiscal Q3 in terms of unit sales:
2010: 3.27%
2009: 3.13%
2008: 7.63%
2007: 9.84%
2006: 5.82%
2005: 13.0%
Notice that over the past two years the growth rate between fiscal Q3 and fiscal Q1 has slowed to about 3.2% on average. If we get that same 3.2% growth this year, unit sales would come in at about 4.267 million or 133,000 units higher than in fiscal Q1.
The Year-Over-Year Growth Trend
Yet, the sequential and seasonal trend is only one part of the story. We also have to look at what the year-over-year growth rate has been over the past few quarters to get confirmation of the seasonal trend. How do we know that this isn't an 8% seasonal growth year like in 2008 and not a 3% growth year like last year? That is largely determined by what the year-over-year growth has looked like this year.
Macintosh unit sales grew to 4.134 million units or 23.0% in fiscal Q1 2011 over the 3.362 million Macs Apple sold in 2010. We saw much of the same in Apple's recently reported fiscal Q2. Mac sales grew to 3.76 million or 27.8% over the 2.943 million Macs Apple sold in Q2 2010. If Apple were to sell 4.267 million Macs in fiscal Q3, that would represent a 22.9% year-over-year growth rate which is more or less directly in-line with the year-over-year growth trend in 2011.
There are also a wide-variety of intangible reason why I think this 4.267 million Mac number makes the most sense. First of all, the iPad 2 is likely to be a smash hit this quarter. Apple will probably sell about 10 million iPads in fiscal Q3. That is likely to put at least some pressure on Macintosh sales.
Apple's management has pointed out there is no noticeable cannibalization of Mac sales from the iPad. I think that for the most part Apple's management is probably correct on this end. But there will probably be at least a few thousand lost purchases to iPads this quarter notwithstanding.
Thus, based on a $1,300 average selling price (a whole trend I don't want to get into), Apple should report around $5.55 billion in Macintosh revenue this quarter. I'll make some very slight revisions to this estimate once I get a chance to analyze some Gartner data.
Fiscal Q4 2011 Macintosh Sales Estimates
As mentioned above, Macintosh sales tend to explode in fiscal Q4. This is largely due to the back-to-school shopping season where students go out and buy a computer for college. Also in a lot of cases, Apple introduces new Macs at the world-wide developers conference held in June which results in a lot of purchases.
So lets take a look at what the sequential trend looks like between Apple's fiscal Q3 and fiscal Q4. Apple has never sold fewer Macs in fiscal Q4 than it does in fiscal Q3 -- at least not in modern history. The data below represents the sequential growth rate between Apple's fiscal Q3 and fiscal Q4:
2010: 11.9%
2009: 17.3%
2008: 4.6%
2007: 22.7%
2006: 21.3%
2005: 4.6%
Assuming that we get something closer to what we saw last year in terms of sequential growth between Apple's fiscal Q3 and fiscal Q4, Apple would report 4.78 million Macs in Q4. That would represent a 23.0% year-over-year rise in Macintosh sales in Q4. That is directly in-line with the 2011 growth trend in Macintosh sales.
Yet, that being said, if Apple comes out with some revolutionary new Macintosh at this year's WWDC in June or if fiscal Q3 shows higher than expected cannibalization as a result of strong iPad sales, my fiscal Q4 estimates can change by as much as 5% under extreme circumstances. More likely, we'll see some sort of a 1-2% final revision to my estimates.
Based on my average selling price projection of $1,290.00 for fiscal Q4, I expect Apple to record roughly $6.17 billion in Macintosh revenue in fiscal Q4. Here is what fiscal 2011 Macintosh unit sales and revenue will probably look like through 2011: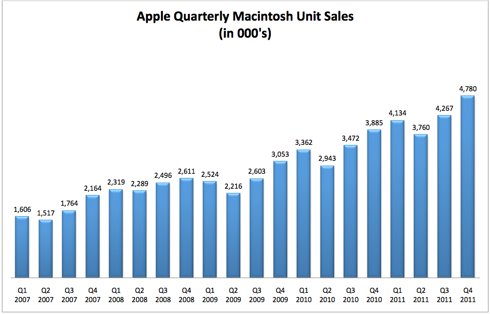 Click to enlarge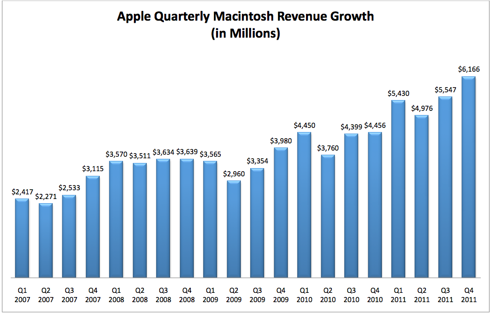 FYE 2012 Macintosh Sales Estimates
Carrying this same methodology into 2012, here's a brief run-down for what one can more or less expect to see for Apple's fiscal 2012. With the exception of the financial crisis, what we tend to see in Apple's fiscal Q1 is about a 5%-10% sequential rise over Apple's fiscal Q4. This year, Apple saw a 6.7% sequential rise in Q1 over Q4. In 2010, by contrast, Apple saw a 10% sequential rise between Q1 and Q4.
If we assume conservatively that Apple sees a mere 5% sequential rise in sales over the 4.78 million Mac sales estimated for Q4 2011, Apple would report sales of about 5.019 million macs in Q1 2012. That would represent a tapering of Apple's year-over-year Macintosh unit sales growth down to 21.4%. That's a sound conservative estimates.
From there, we could pretty much lay out with what will probably happen with the rest of the fiscal year. Once an analyst has a firm grip on what is likely to happen in any year's fiscal Q1, he or she could easily determine with a very high level of accuracy what is likely to happen for the rest of the year (+/-3%).
Fiscal Q2 generally represents a steep decline due to seasonality. In 2011, Apple saw a 9.0% sequential decline in unit sales between fiscal Q1 and fiscal Q2. In 2010, that decline was 12.5%. In 2009, Apple saw a 12.2% decline and in 2008 Mac sales slid by 1.0% -- but again 2008 data is largely irrelevant given the economic circumstances of the time.
Assuming a conservative 11% sequential decline in fiscal Q2 2012, Apple would sell about 4.467 million Macs on the quarter. This would represent an 18.8% year-over-year rise in Macintosh unit sales on the quarter. Again, this number is largely conservative and Apple could sell well above that.
Fiscal Q3 2012 again is judged by making comparisons to Apple's fiscal Q1. Over the past few years we've tended to see a 3.0% sequential rise over Apple's fiscal Q1 as noted above. So based on that type of a sequential growth rate, Macintosh sales should come in at about 5.170 million units in fiscal Q3. This would represent a modest 21.2% year-overyear rise in sales.
Finally, as the Q4 2011 forecast above demonstrates, we could assume a 10% sequential rise in Macintosh sales over Apple's fiscal Q3. Based on this assumption, Q4 2012 Macintosh sales would come in at about 5.687 million units. This would represent a 19.0% year-over-year rise in Macintosh unit sales on the quarter. The two charts below contain my outlook for the rest of fiscal 2011 and my initial expectation for Apple's fiscal 2012 for Macintosh sales.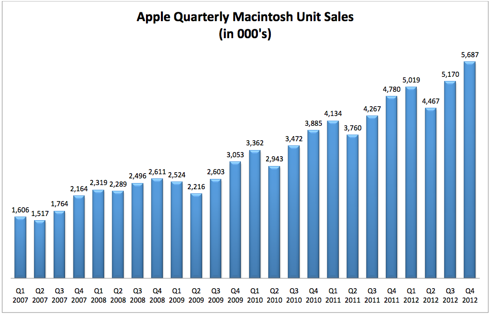 Click to enlarge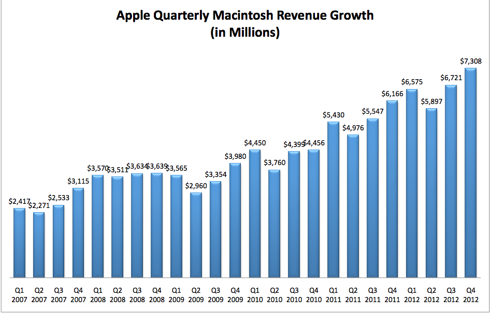 Click to enlarge
My previous articles referenced above contain my iPad and iPhone estimates which, in conjunction with this article, lays out a large part of my revenue expectations for 2011-2012.
Disclosure: I am long AAPL.