The latest short interest data are out for the two weeks ending May 13, 2010 (see a list of solar short interest at NASDAQ.com). There are three main changes from my review of the health of solar companies and short interest in solar stocks in "Solar's Debt-to-Equity Ratios Remain OK Despite Disappointing Earnings."
Short interest in First Solar (NASDAQ:FSLR) has reached new highs along with Energy Conversion Devices (NASDAQ:ENER). Ja Solar Holdings (NASDAQ:JASO) experienced a large drop in short interest that continues a sharp decline from a tremendous peak in January. In the previous charts, I plotted relative short interest to make it easier to see the changes over time across multiple stocks. In the chart below, I plot the actual shares since there are only three stocks (click to enlarge images):
Short interest in FSLR and ENER have reached new highs while JASO continues to drop sharply from its highs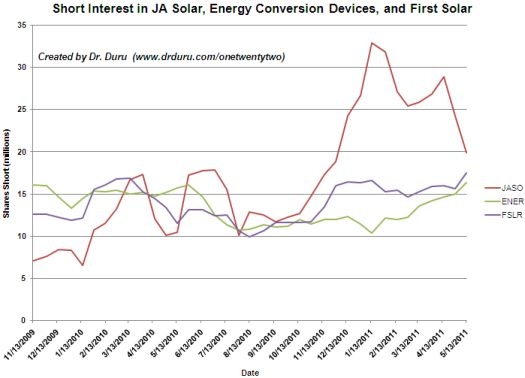 Source: NASDAQ.com
The building pressure on FSLR has likely helped push the stock to ten-month lows. For example, on Wednesday, hedge fund manager James Chanos was quoted at the Ira Sohn Investment Conference touting First Solar as a short; Chanos has consistently pounded this theme on several media outlets for quite some time now. While the short-term downtrend remains steep, (post-Chanos) trading on Thursday and Friday suggest some kind of bounce may finally be sustained – at least into overhead resistance levels. A "hammer" pattern, where buyers lifted FSLR well off the lows, was followed by heavy and consistent buying the next day. FSLR continues to look attractive at these levels (now for short-term swing traders as well as longer-term investors).
Given that shorts are 36% of the float, it will only take a small positive catalyst to get the stock lifting to ever higher prices.
Buyers attempt to nail a bottom for First Solar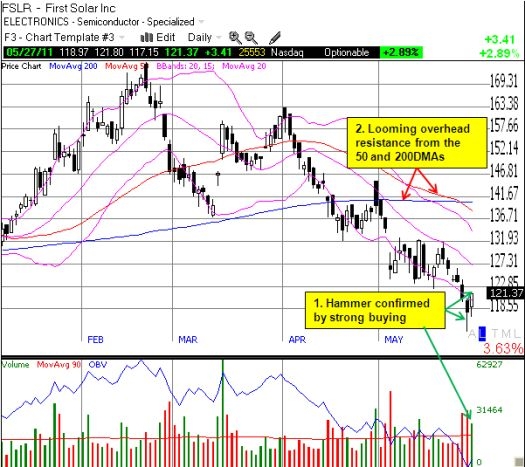 Chart created using Telechart
Be careful out there!
Full disclosure: long FSLR and JASO