Last week was another relatively quiet one in the U.S. financial markets. Uninspiring economic data, lowered growth estimates for China, and debt crisis management in the EU couldn't inspire much excitement. Among major indexes we follow, the only moves greater than 1% were in the commodities. Let's look at some of the details.
Week in Review
Stocks: Stocks are struggling to generate any kind of momentum. Four weeks of defensive sector rotation gave way to a counter trend move. Materials and energy stocks led the way with both sectors gaining better than 2% on the week; they were the only S&P sectors to post gains. Recently, hot consumer staples, utilities and health care were the laggards.

Among major foreign stock markets, Brazil's Bovespa broke a seven week slump with a 2.7% gain, while the Shanghai Composite fell 5.2%, coming back to the January support level.
Bonds: There was robust demand for the week's Treasury auctions, driving yields down especially in the 5-7 year range. TIPs also had a good week, erasing the last couple of weeks of losses. Little action in munis or corporate issues. The bond market hangs tough at these high prices.
Commodities: The CRB index continues to trade around the 340 support level, this week with an upward bias, after a buy call from Goldman. Silver was the big winner, gaining better than 8%, while gold added a more modest 1.6%. WTI crude oil finished above the $100 mark. After the prior week's big moves, the grains were little changed.
Currencies: The U.S. Dollar index sold off in the latter part of the week to finish near the 50 day MA and the 75 support level. The euro, for all the focus on saving Greece from becoming the first domino in a wider collapse, rose 1% against the greenback. Sterling and Yen posted similar gains, while the Swiss Franc rose 3.2% to make a new high above $1.17.
The Week Ahead
Stocks: The SPX closed just above the 50 day MA but remains 2% below the year to date high on a closing basis. The low volume indicates little buying pressure. We would like to see a new high, preferably with stronger volume, to start adding to equity positions. For now stocks are moving within the relatively narrow range that has held since mid-February. This can be frustrating for traders but is just fine for long term holdings and dividend stocks in particular. It is also a market environment that is friendly to conservative option strategies like covered call writing.
With little of significance to note on the broader indexes, it's worth mentioning that my stock screens are finding a surprising number of bank stocks that seem to be building bases at current levels. Banks have badly lagged the market for quite some time now, for obvious reasons. I am not recommending them and not yet buying them myself. However I am making a short list of quality banks with growing earnings and revenues, and whose shares are selling at fairly compelling valuations. A couple of examples are U.S. Bancorp (NYSE:USB) and BB&T (NYSE:BBT).
Click to enlarge: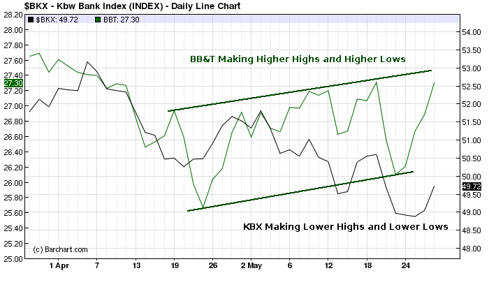 Click to enlarge

Bonds: With Treasury yields continuing to fall, it's not difficult to see us getting back to a 2 handle on the 10-year and low 4s on the long bond. This is amazing given everything that has happened in commodities and the U.S. Dollar, to say nothing of the public debt situation. Demand continues to be quite strong at these high prices. Skeptics will point to QE, not without some justification, but is it the only thing propping up this market?
My answer is to roll out my 25 year chart of the 10-year yield, which hasn't made an appearance here in a few months. Consider all of the different market cycles and economic conditions over this span of time: Tech bubble and crash, rise of the Asian economies, wars, real estate mania, financial crisis. It's all in there, and the yield just continues to fall. I have been watching this for what seems like an eternity now, and it has helped me to tune out the noise and remain comfortable in my long term bond allocations. Of course there is a real lower limit and no trend lasts forever. My question, now as ever, is what will break it, and more importantly...when?
Click to enlarge: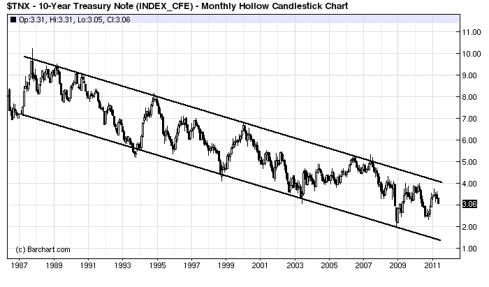 Click to enlarge

Commodities: Commodities are finding a bargain hunting bid after the sharp drop early in the month. Seen in a longer term perspective, these prices may well be justified, but most commodities are not a long term buy and hold asset class, so we have to take a trader's perspective. On a shorter term basis, this looks like a tradeable rally in a number of the commodities.
For longer term positions like commodity ETF allocations, technically the bias in many of these is to the downside. Oil is the largest component of the most widely held commodity ETFs and WTI crude seems to have strong near term support in the high 90s, where buyers continue to find prices attractive. Even so it's difficult to see a sustainable move much higher given the supply and demand fundamentals. I continue to see the low 300s on the CRB index as a more attractive entry point for commodity allocations. Finally, and without much comment, we take a look at a monthly chart of the CBOE gold index.
Click to enlarge: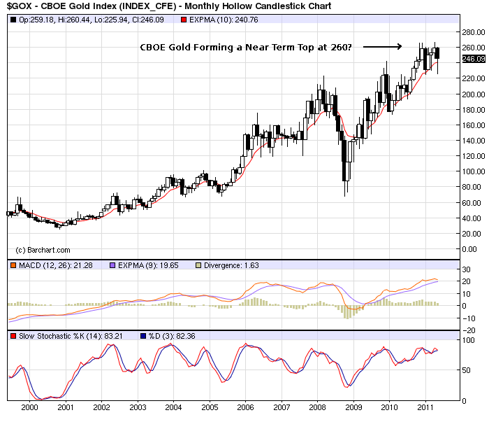 Click to enlarge

Currencies: With the U.S. Dollar back to its losing ways after a nice rally in the first half of the month, we have a different tone going into June. Concern about the EU has been offset by fiscal uncertainty and falling bond yields in the U.S. However, Dollar futures are at a support level and it's too early to say we will see ongoing declines and a series of new lows. The U.S. Dollar collapse has become a popular meme of late, but it doesn't appear justified by the data or by current events.
The real beneficiary of EU troubles has been without a doubt the Swiss Franc. The Franc and gold safe haven trade has been a good one going back to the financial crisis. Performance comparable to an equity index with low voltility. Question is, how much longer?

Disclosure: I have no positions in any stocks mentioned, and no plans to initiate any positions within the next 72 hours.