With political impasse framing resolution of the EU sovereign debt crisis, the momentum in the global banking sector has reversed course. Continued uncertainty on a consensus solution to Greece's fiscal situation has not only threatened its weak neighbors, but has increasingly limited solutions for the European bank sector. Against this backdrop, new issues are emerging.
First, the results of the European bank stress test are to be announced next month. With more challenging stress assumptions than last year's, more than (last year's) six European banks will fall below the minimum capital required. While some European banks have been raising capital, (e.g. Italians at the behest of the Bank of Italy), a larger number will be coming to market. Equity market appetite in light of comparative performance will be sorely tested. The emergence of recent easing of Basel III rules for EU banks on eligible hybrid capital for Tier I capital purposes serves to underline this – such measures would be unnecessary unless the amount of capital-raising expected is significant. Despite this attempt, credit market appetite for more bank paper given sovereign risk and uncertainty is not guaranteed.
Elsewhere, developments in the US remain mostly benign and emerging market (EM) credit growth continues strong. However, recent BIS data show some worrying developments. A substantial part of dollar credit has been extended to borrowers outside the US. While credit growth to US households and businesses has only just stopped declining, outside the US it has reached 10% growth.
Most of this has been undertaken by emerging markets borrowers. It is unlikely that local EM banks are providing US dollar denominated loans – most are not permitted beyond actual on-balance sheet dollar deposits by the local banking regulator. BIS data suggests London, Hong Kong SAR and Singapore markets are the source. A weakened US dollar vs EM currencies and near zero short-term US interest rates offer EM borrowers an opportunity.
Looking forward, with US interest rates poised to rise and expected concurrent increase in US exchange rate volatility, borrower risk increases.
click to enlarge image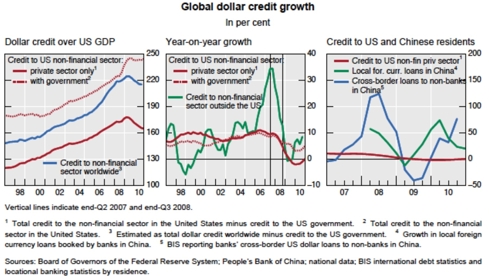 Funding turmoil in the European bank funding market is adding to the dollar short position. European banks are significantly dependent on wholesale funding as reflected in domestic loan to deposit ratios in excess of 100%. While there has been a small recovery in covered bond issuance, sovereign debt turmoil has curtailed bank funding sources. Witness the renewed competition for traditional customer deposits in many local markets. BIS data shows European banks have shifted back to obtaining US dollar funding to compensate – US dollar short position in the inter-bank market has been rising since last year. While this may be hedged with cross-currency swaps, a liquidity-driven dollar shortfall similar to that seen during the recent financial crisis would not be unexpected.
Since the start of 2011, both the US and European bank sectors have under-performed their EM counterpart. Strong underlying fundamentals, financials and prudent local sector regulation continues to support the EM bank trend. The out-performance gap vs its developed market peers has widened since the start of this year. In recent months, US banks have been buffeted by continued mortgage market concerns, still weak credit growth and continuing government probes.
While solutions to the European bank sector problems have been identified, politics continue to rule making for poor investment visibility.
Disclosure: I have no positions in any stocks mentioned, and no plans to initiate any positions within the next 72 hours.