Enterprise Products Partners (NYSE:EPD) is the largest publicly traded energy partnership, owning a vast array of natural gas, natural gas liquid (NGL), and oil transportation, storage, and processing assets.
EPD has been a spectacular performer over the last decade, rewarding investors with distributions that have grown at an 8% compounded annual rate and total returns well over 1000%.
I've wanted to see how EPD plans to continue this stellar record. So last week, I met with Enterprise CEO Michael Creel and CFO Randy Fowler to discuss the company's long term strategy.

Gain on $10,000 Invested in EPD in January 2000 (click to enlarge images):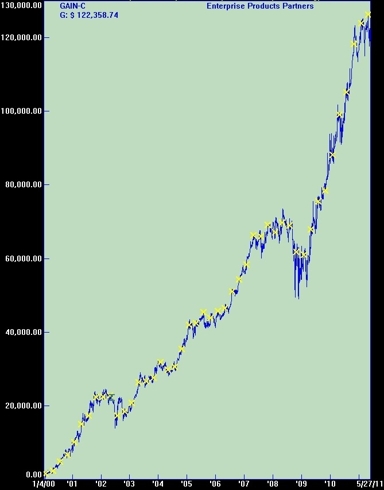 Marcellus Liquids
Several MLPs have been clamoring to ship gas and NGLs out of the prolific Marcellus shale play. With Marcellus production ramping up dramatically, this will be a wildly profitable business. Creel discussed the different possibilities with me, noting that other MLPs are poorly positioned to get liquids from the Marcellus to existing fractionation and petrochemical facilities. For example, one MLP has a costly scheme to pipe liquids to the eastern seaboard and then shuttle them on specially outfitted ships all the way to the Gulf Coast.
By contrast, EPD has pipelines and rights-of-way from its Teppco merger already in the area. By paralleling existing pipes and reversing some segments, EPD already has a pretty good path from the Marcellus to Mont Belvieu. EPD is still talking to producers at this point and has not announced any plans. But I think they are a good bet to win this lucrative business.
Natural Gas Liquids (NGLs) Are the Key
EPD has more than $5 Billion in ongoing expansion projects. Most of it is devoted to aggressively expanding its presence in rich gas areas like the Eagle Ford shale. Producers have been tripping over each other to ramp up drilling in these areas, as they focus on producing rich gas that contains lots of Natural Gas Liquids (NGLs), rather than dry gas (which is barely profitable in some basins). The rig count in the Eagle Ford, for example, has doubled just in the last year. So EPD's projects in these areas should fuel strong growth for the next few years.
With this in mind, I asked Creel about a thesis which I have previously outlined here: the big growth story for EPD and many other MLPs is mostly about NGLs and the NGL boom is all about the oil/natural gas price ratio. This is manifested in the increasing correlation between MLP and crude prices over the last few years.
Alerian MLP Index (AMZ) and crude oil prices: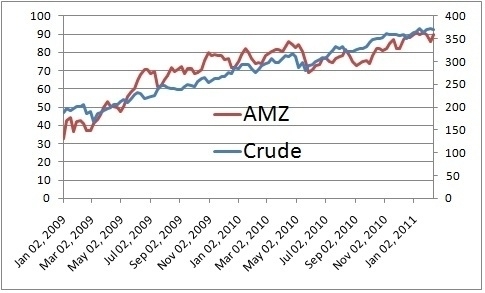 Creel largely agreed with this. To summarize: the petrochemical industry can use either petroleum feedstock (naphtha) or natural gas feedstock (NGLs) to produce ethylene and other products. While petroleum prices have soared, the revolution in drilling techniques has made natural gas and NGLs cheap in the U.S. So the petrochemical industry has been hurriedly switching from petroleum derivative feedstock to NGLs. In fact, the NGL cost advantage is so great that the U.S. has become one of the world's most competitive ethylene producers. Only Iran and Saudi Arabia come close, and that may not be for long. Iran has significant political risks and Saudi Arabia's ethane production is in decline.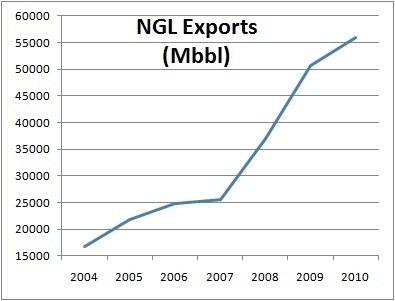 EPD is ideally positioned to cash in on the NGL boom. Over half of its operating margin comes from the NGL value chain: it processes gas, it fractionates NGLs, and it transports both raw and finished NGLs. Moreover, EPD has a strong presence in the areas that produce rich gas with the most NGLs.
Creel tacitly concedes that big growth relies on the oil/gas price ratio remaining high. When asked how things would be if oil and gas were priced at BTU parity, he quips: "That would sure take the fun out of it!" Indeed it would. EPD would suffer a double whammy: gas processing and fractionation margins would drop from the current, near-record levels, and producers would choose to leave more NGLs in the gas stream, leaving EPD with diminished volumes of NGLs to fractionate and transport.
Creel thinks it's a near certainty that the oil/gas ratio will remain high. If gas prices get close to $6/mcfe, he sees U.S. producers quickly ramping up production. In the meantime, rising demand in the developing world, as well as geopolitical crises, will keep oil prices high.
I asked Creel about the prospects for global NGL competition as the rest of the world adopts the drilling techniques that have revolutionized U.S. production. For example, companies like FX Energy (NASDAQ:FXEN) and Conoco (NYSE:COP) are ramping up shale gas production in Poland. Creel dismisses this as a challenge, noting that the liquids content in these areas has not been established and there is no infrastructure to use it anyway.
I agree with Creel's outlook. I don't see gas prices rising significantly and oil prices will be boosted by growing global demand. Moreover, if I were a U.S. petrochemical producer I would favor NGLs, even if they cost more, because the supply is domestic and much more secure. Who wants to rely on petroleum-based feedstock, when the next Middle East conflagration could severely disrupt supplies for months, or years?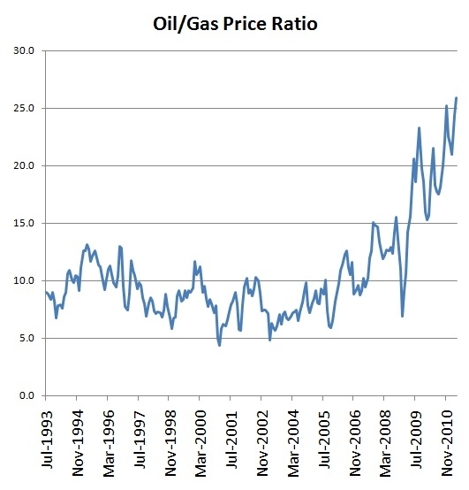 A Little Diversity and a PPI Boost
When Enterprise merged with Teppco, it acquired some additional petroleum products pipelines. This business is now around 15-20% of EPD's overall portfolio and mostly benefits from FERC tariff increases. Under FERC regulation, interstate liquids pipelines are allowed to raise their rates by the Producer Price Index (PPI) plus 2.65%. Looking past all the talk of "core inflation," the reality is that PPI has increased at an 11% annualized rate over the last six months. Even if it drops to 0 for the next six months (which is unlikely, in my opinion), EPD has the potential for a 5.5% + 2.65% revenue increase. Creel and Fowler agreed that this could be material for EPD.
EPD does have some expansion plans for petroleum product pipelines, such as a recently announced a joint venture with Energy Transfer Partners (NYSE:ETP) to ship crude from Cushing to Houston. However these plans are modest compared to the massive buildout of NGL-dependent infrastructure, which dominates EPD's expansion budget.
What to Do
I've met once before with EPD management. Both times, I've been as impressed with them as I am with EPD's results. Enterprise is one of the most unitholder-friendly MLPs. It recently absorbed its general partner, so the general partner "tax" (which is as high as 45% for some MLPs) is now 0 for EPD. EPD is the only MLP with a distribution re-investment plan, offering a 5% discount. It also maintains one of the most conservative payout ratios for large-cap MLPs. Last quarter, it paid only 70% of distributable cash, retaining the rest to fund growth.
In short, EPD is a well-positioned company with great management. With a yield that's only 150 basis points above the 30-year Treasury, it's a not a spectacular bargain, but a decent buy. Its recent growth has relied on a certain commodity price scenario (natural gas that is cheap and plentiful relative to petroleum). Its long-term strategy is doubling-down on that bet. I think it's a good bet to make, but investors need to be aware that they're making it.
Disclosure: I am long EPD.