Railroads evoke different images or memories for each of us. For some, it is the whistle in the middle of the night. For others, travel to exotic places on the Orient Express. In the United States, the business of railroads is to haul goods across our fair land. The money losing enterprise of people moving is left to the government.
In 2009, the railroad freight industry generated $49 billion in revenue, down due to the recession from $63 billion in 2008. Seven Class I railroad systems account for 90 percent of the industry's total. In 2009, in addition to the seven Class I freight railroad systems – systems with annual operating revenue of $378.8 million or more – operating in the United States, there were 23 regional railroads and over 500 local railroads.
In 2009, the major rail-carried commodities (in terms of ton-miles) included coal (42%), intermodal traffic (trailers and containers on flatcars) (14%), farm products (predominantly grain and soybeans) (11%), and chemical products (10%).
Railroad stocks are closely tied to the overall economy. During the recession they suffered considerable drops in revenue and income. It was during this time that Warren Buffet famously bought Burlington Northern Santa Fe. As the economy gains strength, these companies will prosper.
click to enlarge images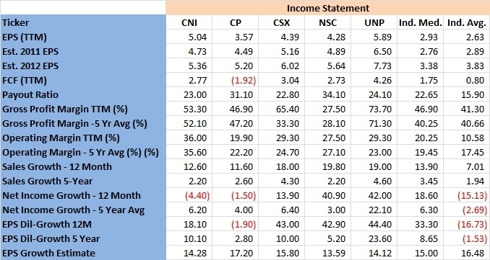 All five companies are showing strong earnings for the trailing twelve months and each is above the industry median and average. Analyst estimates for FY11 and FY12 are more mixed. The projections for CNI see a current year decline with a rebound in 2012. The other companies are expected to show continued growth in FY11 and FY12.
All of the companies, with the exception of CP are free cash flow positive. This is important in a capital-intensive business and all the more so since each company pays a dividend. As we can see, gross profit margins vary from company to company. Interestingly, gross margins for the trailing twelve months are fairly close to five year averages. The one noticeable exception is CSX where the GM for the trailing twelve months is twice the five year average. This bears watching as 65% gross margins are an anomaly for CSX. We see similar patterns for operating margins approaching each company's five year average. This would indicate that the worse seems to be over for the railway companies and that efficiency's and cuts made during the recession are holding.

The balance sheets for these particular companies are reasonably sound. Long term debt as a percentage of total capital is not considered excessive for any of these companies. We think CP has the weakest balance sheet of the group with more debt as a percentage of capital than any other company except for CSX and no free cash flow. It should be noted that the industry median LTD/Capital ratio is 37% and the industry average is 34.7% whereas CP carries a long-term debt to capital load of 44.6%.

All of these companies have been trading at the bottom half of their 52 week trading ranges. They pay a fairly good dividend that is well covered by earnings and/or free cash flow. The companies are trading a PE levels that are a slight premium to the market's PE. This premium reflects anticipated EPS growth of about 15%-16%. Valuations made on the basis of price to sales or price to book appear to be higher than what might otherwise be justified. To account for different levels of debt and market caps, we include several enterprise valuation metrics.
Conclusion
Railway stocks may be a good place to be in the next few years. If growth estimates of about 15% are realized, these companies would look cheap today. They pay dividends yielding around 2%; good for these days and making it worthwhile to wait for price appreciation. Of the five presented here, we like Union Pacific the best. It offers a good combination of earnings growth, margin expansion, balance sheet strength and valuation.
Disclosure: I have no positions in any stocks mentioned, and no plans to initiate any positions within the next 72 hours.