Is 48x earnings too pricey for Ulta?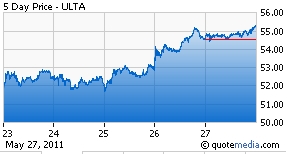 Ulta Salon, Cosmetics & Fragrance, Inc. (NASDAQ:ULTA) has seen its share prices rising at an accelerated pace since issuing Q3 2010 guidance. Ulta entered the long Memorial Day weekend on a two day upswing, rising 4.57% to $55.25. Ulta is now trading at $55.25, just under its 52 week high and has a P/E ratio of 47.63. The question on my mind is, will investors continue to be willing to pay the premium to own ULTA heading into an earnings call on June 6? I think they will.
ULTA's P/E ratio is high for their industry, extremely high. Competitors Macy's (NYSE:M) and Regis (NYSE:RGS) are trading at 12.98x and 30.26x earnings, respectively. The industry is trading at an average of 15.39x earnings. So why would investors pony up the extra money to own ULTA? Three reasons:
Positioning. Ulta has positioned themselves as the one-stop shop for "prestige, mass, and salon products." This positioning is paying off with an average earnings surprise of 17% over the last four quarters, as Michael Vodicka points out here. Moreover, in retail, location! location! location! is important and Ulta has positioned itself in high traffic, off-mall locations. Often, these locations are strip malls anchored by chains Bed Bath and Beyond (NASDAQ:BBBY) and DSW Shoes (NYSE:DSW). Both of those chains beat estimates in the last reporting quarter: a correlation not to be overlooked

Float and Short Interest. Yahoo! published float as 46.4M of 60.65M shares outstanding. Insiders hold a healthy 25.75%. And with 77.8% held by institutions, very few shares remain for speculative retail investors. Add in short interest of 4.29M as of May 13 and there is a strong potential for upside momentum. The 4.5% gain on two day volume of 775,700 is an indication of this.

True cost. The current P/E ratio is actually 20% lower at 38.63 if it's calculated with this year's earning estimate of $1.43 per share. Also interesting: earnings/EBTIDA, a more accurate measurement of value, is 17.63.
Ultimately, innovation demands a premium and investors are usually willing to overpay for growth. Matthew Galgani of Investor's Business Daily compared Ulta to Home Depot (NYSE:HD) in terms of their business concept. One could also draw a correlation between Home Depot's high multiple during its growth years and Ulta's current high multiple. According to Amy Crane's HD analysis, from 1996 to 1999 Home Depot's average high P/E rose from 30.7 to 69.8.