As many long-time followers of Boeing (NYSE:BA) understand, the firm's decision on what to do next with its workhorse 737 (the plane best known for being flown by low-cost leader Southwest) could make or break the company during the latter part of this decade and into next. One of the key things Boeing has been trumpeted for in the past has been its keen foresight in building the revolutionary, mostly-composite, point-to-point aircraft--the 787 Dreamliner--while its main rival Airbus (OTCPK:EADSY) pursued the gargantuan A380 double-decker, the latter betting on the proliferation of the hub-and-spoke model and high-density flights between major airports across the globe. Though there is a market for both the 787 and A380, most experts agree that Boeing placed the better bet in directing its resources at the fastest-selling plane in aviation history. This time around, the major decision rests in the narrowbody arena.

How Big is the Narrowbody Market?

Narrowbody planes are used for short to medium haul routes and have traditionally been favorites of low-cost airlines (note: we are not talking about the 787 Dreamliner or the A350XWB--they operate in the small widebody jetliner segment). But before we dive into the competitive landscape and expectations for future market share between the six competitors (yes, that's not a typo: 6), let's put into perspective just how important of a market opportunity we are talking about.

Boeing estimates that the single-aisle market (the narrowbody market)--which by its methodology accounts for not only its and Airbus' planes but also Bombardier's CS100 and CS300 and Embraer's E-190/195 family and a variety of other smaller players--represents nearly $1.7 trillion in value during the next 20 years--that's 21,160 units at list prices. For perspective, Boeing expects to deliver between 485-500 commercial planes of all sizes this year (let's say, 388 narrowbodies), while Airbus expects to deliver as many as 530 total commercial aircraft in 2011 (let's say, 419 narrowbodies). So, we're talking about a market that is roughly 26x Boeing's and Airbus' 2011 production/deliveries (which will be accelerated significantly in coming years). If we use Airbus' more conservative narrowbody expectations of 17,870 single-aisle aircraft during the next 20 years, the market is still more than 22x current production.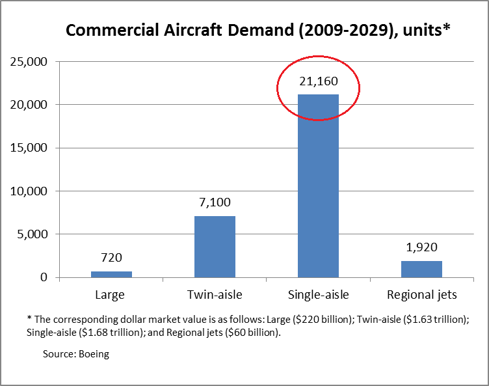 Though no customer, to my knowledge, has ever paid list prices for an airplane and any prudent investor should wrap a nice margin of safety around any forecast (especially ones coming from self-interested OEMs), the narrowbody market is still the largest market for airplanes, either measured by units or dollar value, during the next 20 years (yes, even greater than the twin-aisle market, which includes Boeing's revolutionary 787 and Airbus' A350XWB). The proliferation of low-cost carriers, emerging-market demand (particularly intra-China), and the need for more fuel-efficient, replacement planes toward the latter part of this decade substantiate Boeing's single-aisle delivery forecast--all very credible drivers.

Boeing seems to think that such a market is sufficient enough to support a number of competitors, though Airbus believes that only through future alliances will commercial aircraft makers be able to effectively share insufficient demand. Such varying opinions come about due to a differential of only about 3,300 planes (21,160 less 17,870) in the single-aisle market during the next 20 years, indicating that the mix of aircraft deliveries (single-aisle, twin-aisle, large) is still very important in estimating the success or failure of narrowbody participants.

The Soon-To-Be Crowded Narrowbody Market

Let's now move on to the competitors: Airbus has already shown its cards and plans to re-engine its A320 with fuel-efficient geared turbofans from United Technologies' (NYSE:UTX) Pratt & Whitney division (or the Leap-X from CFM International--GE and Safran), dubbing this plane the A320neo (new engine option). Impressively, the A320neo has garnered over 332 commitments (including 130 firm orders) since its announcement, and Airbus expects to have nearly 500 by the Paris Air Show next month, both greater than my original expectations. Airbus claims that re-engining the aircraft will make the A320 15% more fuel efficient, a percentage improvement that likely heads south in a hurry given the additional weight, maintenance costs, etc of a new powerplant. Nonetheless, this is a meaningful improvement, and airline customers that have had their backs against the wall due to fuel prices have taken notice. The A320neo is due to enter service October 2015.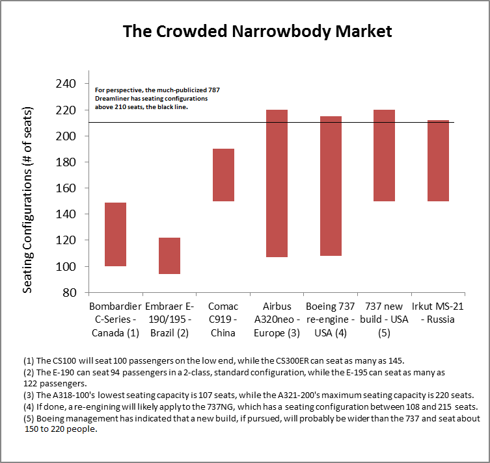 Interestingly enough, Bombardier's CSeries (CS100 and CS300) is powered by the same engine as that offered in Airbus' A320neo, Pratt & Whitney's geared turbofan. The Canadian jet-maker suggests, however, that its new CSeries is 20% more fuel-efficient than narrowbodies currently flying today, perhaps giving it a slight edge over the A320neo in the 100-149 seat category, a segment that has seen many new airplanes come and go and little success in years past (Boeing's 717 the most recent; Airbus smaller A318 is the black sheep of the A320 family).

But while Airbus' A320neo is landing orders left and right, Bombardier's CSeries hasn't had one since Republic Airways agreed to buy 40 jets and take options for 40 more over a year ago, and Airbus seems to think that the new A320neo has now made the CSeries irrelevant. Bombardier claims it will have another order from the "first operator" (perhaps Lufthansa) this year, but this year-long order drought is definitely something investors should take notice of, particularly given the lack of historical success in the 100-130 seat arena. Either way, Bombardier likely has the advantage in the 100-149 seat category (given that its planes will be lighter than the A320neo and use a similar, efficient powerplant), but investors should not rule out Embraer (NYSE:ERJ) in the coming years as well. Bombardier's CSeries is due to enter service in 2013.

Enter China. Boeing's risk-sharing business model that sources parts from around the world, though admirable and largely responsible for 787 delays due to out-of-sequence work, has also led in part to the transfer of technical engineering know-how across the globe, including Asia. In what seems to be the norm for aerospace executives, Comac (Commercial Aircraft Corp. of China) claims that its brand-new C919 will be 15%-20% less expensive than the current 737 and its foreign counterparts, pretty much matching Airbus' and Bombardier's claims for their respective narrowbodies. Though it's hard to believe that this 15%-20% will come from operating cost improvements, Comac is working with overseas suppliers, including CFM International (GE and Safran), to make the plane's engines (Honeywell, United Technologies, and Parker Hannifin are reportedly other suppliers), so such performance claims are certainly within the realm of possibilities.

Plus (and perhaps in support of Airbus view regarding future alliances), Comac has teamed up with Bombardier, sharing parts between the CSeries and C919 (both planes are narrowbodies, but they do not overlap in seat configurations--see chart above). Such a partnership could propel Comac into a legitimate global competitor, while potentially reducing Boeing's and Airbus' presence in the Chinese narrowbody market (Bombardier and Comac would have the narrowbody seat range covered from 100 to 190-plus seats once their respective planes are launched). Chinese airlines continue to buy Boeing and Airbus planes today, but there's a very strong likelihood for this to change in the years subsequent to the launch of the C919 in 2016. Perhaps needless to say, key customers of the C919 include the nation's three biggest carriers--Air China, China Eastern, and China Southern.

Russia, as well, is using Pratt & Whitney's geared turbofan in its Irkut MS-21 offering--the same powerplant as the CSeries and the A320neo (as you may have noticed by now, United Technologies' Pratt & Whitney division has carved out a nice presence in the narrowbody arena with its geared turbofan--see page 10 of presentation here). The MS-21, which has garnered 150-plus orders, is expected to be as much as 10%-15% more efficient than comparable Boeing and Airbus aircraft flying today. Goodrich and Rockwell are other suppliers on the MS-21, providing additional credibility to this aircraft. Interestingly, the Russian narrowbody seems to have a sticker price that is materially below that offered by Boeing's 737 and Airbus' A320, providing new customers with a bargain with respect to capital costs. The MS-21 is expected to enter service 2016.

In a business where one has to estimate what customers want and what the competitive landscape will look like 20 years from now (usually the time it takes for new builds to hit peak production from the initial concept on paper), it's easy to see why Boeing is dragging its feet on this tough decision about what to do next with the 737. Making matters worse is that Southwest, its largest customer, seems to want a more efficient narrowbody now to deal with fuel costs rather than wait for a brand new narrowbody build from Boeing that wouldn't hit runways until 2019-2020, or maybe after that (if performance on its 787 is any indication).

Boeing, however, estimates that a re-engined 737 would be about 10% more fuel efficient, but at the end of the day, only yield a cost reduction of 2%. This is not that compelling, especially since re-engining the 737 would require unique work on the landing gear to allow for clearance for the new powerplants, unlike the A320. A brand new build of the 737, using technology derived from the Dreamliner (lighter materials, more electrical power, etc.) could improve operating efficiency as much as 20% -- a claim that now seems redundant within the next-generation narrowbody arena.

Who Has the Best Narrowbody Plane?

As of right now, Bombardier seems to have the best plane in the 100-149 seat segment, while the A320neo seems to be the best offering in the 149-210 seat segment (pending a decision by Boeing). However, neither the CSeries nor the A320neo have been delivered, so such performance claims cannot be substantiated--and OEMs do have a tendency of wearing their sales hats when discussing benefits to the customer (this report seems to agree--there's an interesting cost table beyond that link as well). If Boeing re-engines the 737 for delivery in 2016, it would be sacrificing a definitive lead in the narrowbody arena come next decade, but it may better retain its existing backlog of 737s and valuable customers like Southwest that want more fuel savings now (plus, Boeing would remain competitive at a time when a significant amount of replacement planes will be needed). However, an all-in 2% improvement seems marginal for a comparatively more complicated re-engining process than that of the A320, and especially relative to a 20% gain if Boeing pursues a brand new plane.

Depending on what route Boeing takes, the firm is not in an easy spot (hence the ongoing delay in its decision). The best move for Boeing, in my opinion, is to leverage technology gained by its 787 development and tack on even more efficient engines than that of today on a brand-new 737 to enter into service in 2019-2020. Even though it may feel some pain in 2017-2020 as its narrowbody deliveries likely plunge due to the A320neo (Boeing will have delivered its entire backlog of 2,100-plus narrowbodies by 2016), it should ensure a market share lead for a number of years beyond 2020 (Airbus won't pursue a new build in the narrowbody arena until about 2027 to replace the A320neo). Though a focus on the long-term makes sense (the intermediate-term will be painful if a new build is chosen), we'll see what the jet maker decides to do, hopefully by later this year.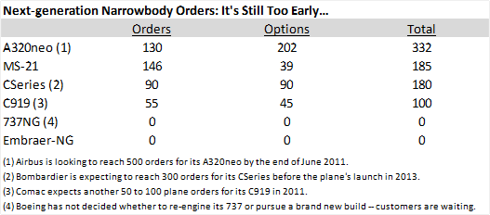 In terms of new orders in the pipeline, spectators and investors should keep an eye on United, which has to replace some of its aging 757s and A320s, Ryanair, which seems to be seriously considering the C919 and the MS-21, and of course, Southwest, which has the pressure on Boeing for a potential re-engining of its 737.

How Will Share Evolve in the Narrowbody Market?

Let's talk about how market share may evolve within the narrowbody arena during the next two decades, assuming Boeing does decide to build a brand new 737, which seems to be the company's preference. As talked about above, we're looking at a narrowbody market representing about 21,160 planes, according to Boeing. But how should we look at demand for each region? For starters (and again piggy-backing on Boeing's market outlook), Asian demand will be the largest at 6,710 planes, followed by Europe (5,380), North America (5,180), and Latin America (1,800). Demand from the Middle East is estimated at 1,100 narrowbodies and from the CIS (Commonwealth of Independent States)--Russia--at 570, with Africa the balance (420).

Let's assume that Boeing's and Airbus' narrowbody backlogs are relatively safe (a reasonable estimate given recent production accelerations)--that's about 2,100 deliveries for Boeing and about 2,300 deliveries for Airbus. Let's also assume that the A320neo has the majority of deliveries during 2017-2021 and that Boeing's next-generation 737 (a new build) has the majority of deliveries during 2022-2026--a slight edge is given to Airbus in aggregate as there should be a significant number of narrowbody replacements (737 Classics, A320s, MD-80/90s) needed during the latter part of this decade. Let's then break up the remaining expected deliveries in similar percentage fashion by region using the derived 16,760 planes as the starting point (21,160 less 2,100 less 2,300): Asia (31.7%); Europe (25.4%); North America (24.5%); Latin America (8.5%); Middle East (5.2%); CIS (2.7%); and Africa (2%).

Given Comac's and Bombardier's recently-announced cozy partnership, it would not be surprising for both of them in aggregate to receive about half of Asian narrowbody demand during the next two decades (that's through the end of 2030), with a combined 40% captured by Boeing and Airbus (and the balance by Embraer and the MS-21). In Europe and North America, a rough estimate would be almost three-fourths of that market going to incumbents Airbus and Boeing--which are well-established in these regions--and the balance split evenly between remaining foes, with a slight tilt toward Bombardier (Canada). Let's split up the remaining regions roughly equally (slight favor toward Boeing and Airbus due to their incumbent status), with the exception of the CIS, which we'll estimate that the MS-21 will take roughly half of that region's share. We've now arrived at a very rough estimate as to what share may look like within the narrowbody market over the next two decades.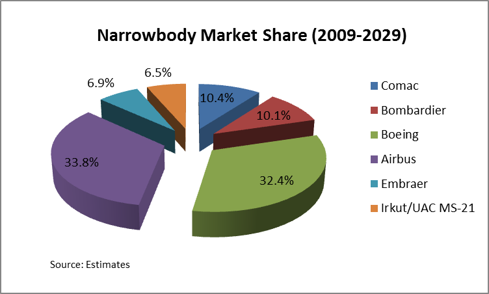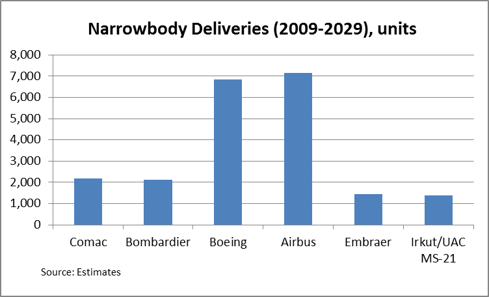 This is certainly not the duopoly we've been used to, and while any number of a million different factors, could throw these estimates off the mark, investors should expect significant competition within the narrowbody arena during the next few decades. Importantly, the estimate for Boeing and Airbus to aggregate roughly 14,000 narrowbody deliveries during this 20-year period, backs into average annual deliveries of about 700 per year (meaningfully below this year's production rate of 800-plus and those of subsequent years, which are even higher). Interestingly, if we performed this exercise using Airbus' market forecast, expected average annual deliveries during this 20-year period would be even lower than 700 for the incumbents--materially below today's levels.

But even if this competition doesn't translate into meaningfully lost market share for Boeing and Airbus, look for the huge discounts inherent to the aerospace industry to only increase in magnitude, pressuring pricing and margins for all commercial OEMs beginning toward the latter part of this decade. There may be upside for Boeing and its suppliers during the current delivery upswing (expected to last through 2015), but the latter part of this decade may spell trouble for the commercial OEMs. A safer long-term bet on aerospace is likely found within the supply chain, which we'll examine later in part II of this saga. Stay tuned!

Disclosure: I have no positions in any stocks mentioned, and no plans to initiate any positions within the next 72 hours.