The big story this quarter will undoubtedly be Apple's (NASDAQ:AAPL) unprecedented $2.5 billion revenue beat of analyst expectations when it reports its fiscal Q3 earnings results this July. See my earlier article detailing every aspect of Apple's fiscal Q3 revenue here.
Another big story this quarter will likely be focused on Apple's highly depressed valuation and P/E ratio. If Apple continues to trade sideways when it reports earnings in July, its P/E ratio will fall into the 13's which is the lowest in 10-years and far below the financial crisis lows if one considers Apple's unamended earnings at the time.
A consensus poll of Wall Street analysts are expecting Apple to report $5.61 in earnings per share on approximately $24.5 billion in revenue for fiscal Q3. Yet, my analysis by contrast, suggests Apple will report something closer to $6.76 in EPS on $27.053 billion in revenue. I expect revenue to be largely driven by explosive sales of Apple's iPad, iPhone and Macintosh computer.
Last quarter, out of 48 analysts polled, I came in 2nd place behind Jeff Fosberg of the Apple Finance Board in most accurately predicting Apple's revenue and earnings with a cumulatively margin of error of only 1.46% according to Fortune's Philip Elmer-DeWitt (see here). In fiscal Q1 2011, I came in 5th out of 41 analysts polled by Fortune with a 3% error rate. And in fiscal Q4 2010, I came in 5th out of 38 analysts polled by Fortune with a mere 1.87% error on the quarter.
Thus, if Apple reports something more in-line with my expectations, this would represent yet another 92.6% growth rate in earnings per share (EPS), and a 72.3% growth rate on the top-line.
That eclipses the growth of Netflix (NASDAQ:NFLX) (75.97 P/E), Amazon (NASDAQ:AMZN) (84.08 P/E), IBM (NYSE:IBM) (14.06 P/E), Microsoft (NASDAQ:MSFT) (9.84 P/E), Cisco (NASDAQ:CSCO) (12.85 P/E), Intel (NASDAQ:INTC) (10.38 P/E), Baidu (NASDAQ:BIDU) (73.87 P/E), Google (NASDAQ:GOOG) (20.23 P/E), Oracle (NASDAQ:ORCL) (22.33 P/E) and just about every other large cap tech stock out there.
Netflix (75.97 P/E), Amazon (84.08 P/E) and Baidu (73.87 P/E), supposedly being huge growth stocks, sure are getting their asses handed to them by Apple on the growth front. Yet all three trade at nearly 5-7x Apple's current valuation.
The two tables below (click to enlarge images) contain my revenue and earnings estimates for Apple's fiscal Q3 2011. I expect Apple's trailing 12-months of earnings per share (TTM EPS) to rise to $24.24 from the current TTM-EPS of $20.99. As of Friday's closing price of $337.41, Apple is only trading at 13.92 times July's TTM-EPS of $24.24. At 18x earnings -- the valuation Apple traded at for most of 2011 or throughout the months of January, February, March and April -- Apple would trade at $436.32 this July.
[Click to enlarge]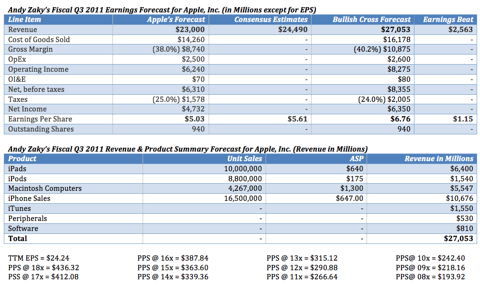 In terms of the various line-items on Apple's income statement, the analysis below lays out exactly how I arrived at each particular estimate. Each line item is carefully contemplated based on seasonal, sequential and yearly trends, product mixes, and an analysis of Apple's guidance.
Gross margin to come in at 40.2% conservatively
In the conference call, Apple guided for 38.0% in gross margins for fiscal Q3 based on a less favorable product mix in sales between high margin products (iPhones) and relatively lower margin products (iPads). Gross margins came in at 41.4% last quarter which was 290 basis points higher than the 38.5% Apple gave for the quarter.
Over the past 5 quarters, Apple has beaten its gross margin guidance by an average of 261 basis points. The highest beat was by 308 basis points in the very same quarter as the current quarter last year (fiscal Q3), and the lowest beat was by 190 basis points in fiscal Q4 2010. More recently, Apple beat its fiscal Q1 guidance by 250 basis points and its fiscal Q2 guidance by 290 basis points.
The table below compares Apple's gross margin guidance with its actual results since 2007. Please note that Apple changed its accounting principles in fiscal Q1 2010 to move away from iPhone subscription accounting. Yet, when analyzing guidance, it only helps to know how Apple guided based on the accounting principles of the time. Thus, Q1 2007 - Q1 2010 is based on pre-amended data.
Based on the past two quarters, if Apple reported a similar guidance beat as in fiscal Q1 and fiscal Q2, gross margins would come somewhere close to 40.7% - 40.8%. Yet, I think that higher than expected iPad sales will account for a bigger reduction in total company gross margins.
Thus, conservatively speaking, I'm looking for Apple to report about 40.2% in gross margins -- though I'm fully aware that Apple could potentially report a higher number based on this rich guidance history. This is yet another example of why Apple's guidance is very important to those who actually know what they're talking about, and why the best investor-analysis consistently outperform Wall Street.
Operating expenses
In the conference call, Apple offered OpEx guidance of $2.5 billion for fiscal Q3. Yet, I'm expecting Apple to report about $2.6 billion in OpEx on the quarter. In fiscal Q1 2011, Apple reported $2.471 billion in OpEx which was $146 million above its $2.35 billion guidance for the quarter. Last quarter, Apple basically offered almost perfect guidance coming in a mere $6 million below its $2.35 billion estimate. However, I think certain factors in Apple's fiscal Q3 will lead to another miss much like we saw in Apple's fiscal Q1. The table below compares Apple's guidance to actual results since 2007: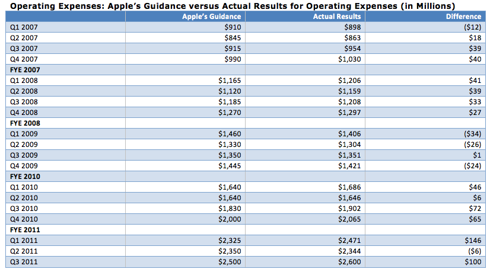 Click to enlarge
OI&E, tax rate and shares applicable to common stock
One can carry the same exact analysis above to Apple's OI&E and tax rate. Believe it or not, there is a consistent trend with both. Apple has tended to over-estimate its tax rate by hundreds of basis points in the past but has recently started to offer slightly more realistic numbers. Apple is guiding for a 25% tax rate on the quarter. I'm looking for Apple to report about 24% in taxes and that can actually prove to be pretty high. It's very possible to see a 22% or even 23% tax rate.
On the OI&E front, Apple has tended to give very tight guidance -- usually a factor of between $3 million and $20 million. Yet, in the vast majority of cases, Apple reports $3 to $5 million higher than its guidance. However, that being said, over the past two quarters, Apple reported OI&E that was $20 million and $13 million above guidance in Q1 and Q2 respectively. Given the most recent history with OI&E, I'm estimating that Apple will beat its QI&E by exactly $10 million.
Determining the number of diluted shares Apple will report at the end of the quarter is actually given to us through Apple's guidance. Apple gives every item necessary to produce a full income statement. One can arrive at Apple's applicable shares through the use of basic algebra. Apple will report between 940 and 941 million diluted shares in fiscal Q3. That is up from the 936 million diluted shares in fiscal Q2.
I'll likely be slightly updating these estimates directly ahead of Apple's results in July.
Disclosure: I am long AAPL.