Financial Services stocks have significantly underperformed the overall market for well over the year as the chart below shows. Here are three undervalued stocks that could rebound when the financial sector revives.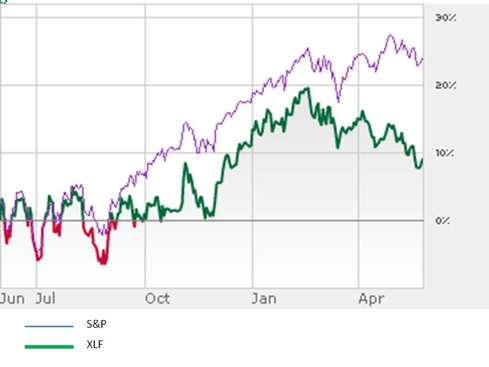 Click to enlarge
Bank of America (NYSE:BAC)
- Bank of America Corporation, a financial holding company, provides banking and nonbanking financial services and products to individuals, small- and middle-market businesses, large corporations, and governments in the United States and internationally. The company's Deposits segment generates savings accounts, money market savings accounts, certificate of deposits, and checking accounts; and Global Card Services segment provides the U.S. consumer and business card, consumer lending, international card and debit card services. Its Home Loans & Insurance segment offers consumer real estate products and services, including mortgage loans, reverse mortgages, home equity lines of credit, and home equity loans. It also provides property, disability, and credit insurance.
Valuation and Price Targets – Bank of America is one of the most unloved companies in the stock universe. It is in the crosshairs of about every state and federal regulatory agency for actions taken by it and Countrywide during the housing bubble and meltdown. However, under all the negative headlines is an undervalued equity that should reward shareholders over the long term. BAC is selling at 11 times 2011's projected earnings and 7 times next year's consensus. It sells at less than 55% of its book value and several company directors have recently purchased shares. Bank of America historically sold at between 10-15 times earnings prior to the financial crisis. BAC sells at $11.69. As the economy and the company's balance sheet continue to improve, it should eventually be valued again at somewhere in that range. Putting a 10 multiple on 2012's EPS estimates of $1.71 gets you to $17 a share. Both Citigroup and Credit Suisse have $18 targets on Bank of America.
Goldman Sachs (NYSE:GS)
- The Goldman Sachs Group, Inc., together with its subsidiaries, provides investment banking, securities, and investment management services to corporations, financial institutions, governments, and high-net-worth individuals worldwide. Its Investment Banking segment offers financial advisory, including advisory assignments with respect to mergers and acquisitions, divestitures, corporate defense, risk management, restructurings, and spin-offs; and underwriting securities, loans and other financial instruments, and derivative transactions.
Valuation and Price Targets – Quite possibility one of the few companies that is more reviled than Bank of America right now, Goldman Sachs' valuation is quite compelling at these levels. GS sells at 10 times this year's earnings and around 7 times 2012's projected earnings. The company's stock has been hurt by various investigations and regulatory actions. It sells at a 1% dividend yield and little to no insider selling in the last 6 months. Goldman sells at less than a 1 PEG and less than 2 times trailing revenues. It is going for near the bottom of its five year valuation range based on P/E, P/B, and P/CF. The stock goes for $138.66 a share. Price targets are at $156 at S&P and $194 at Credit Suisse.
Wells Fargo & Company (NYSE:WFC)
- Wells Fargo & Company, through its subsidiaries, provides retail, commercial, and corporate banking services primarily in the United States. The company operates in three segments: Community Banking; Wholesale Banking; and Wealth, Brokerage, and Retirement. The Community Banking segment offers deposits, including checking, market rate, and individual retirement accounts; savings and time deposits; and debit cards. Its loan products comprise lines of credit, auto floor plans, equity lines and loans, equipment and transportation loans, education loans, residential mortgage loans, health savings accounts, and credit cards. This segment also provides equipment leases, real estate financing, small business administration financing, venture capital financing, cash management, payroll services, retirement plans, loans secured by autos, and merchant payment processing services; purchases sales finance contracts from retail merchants; and a family of funds, and investment management services.
Valuation and Price Targets
– WFC sells at just over 10 times this year's earnings and around 8 times 2012's projected earnings. It has a 1.7% dividend yield. It sells at the bottom half of its five year valuation bases on P/E, P/B, and P/CF. It has beat or met earnings estimates over the past four quarters. The company has an AA- rated balance sheet. WFC sells at $28 a share. Wells Fargo is a core holding of Berkshire Hathaway (NYSE:BRK.A). Credit Suisse has price target of $34 a share and Oppenheimer has a price target of $38.

Disclosure: I have no positions in any stocks mentioned, but may initiate a long position in GS over the next 72 hours.