Globecomm Takes Managed Services to New Heights But Its Stock Still Trades Too Low
As an investor relations consultant for Globecomm Systems Inc. (NASDAQ: GCOM), a globally renowned satellite systems integrator, I get paid to explain the company's business to the investment community while highlighting its investment merits. Therefore, readers of this story should take into account that I am biased. However, if you bear with me as I highlight Globecomm's competitive strengths, and am honest about the risks it faces, I think you might feel compelled to further research this interesting and innovative company which I believe presently trades at a third of its fair value despite being cash rich and reporting consistent profits for 7 straight years.
For over 20 years, my investor relations work has concentrated on technology and telecom companies. I have seen many "story stocks" come and go, weathered the internet and telecom industry crashes, and followed the impact that sector rotation and capital spending trends have on industry participants. This background and perspective provide me with the requisite experience to address the potential for GCOM shares, which seem to be poised for a breakout.
During my association with Globecomm, now approaching 14 years, the company has gone through a massive transformation. Since its IPO in 1997, GCOM shares traded at a fraction of its enterprise value with no real public company peers. In large part, this seemed to have resulted from its perception as a pure-play satellite systems integrator that had thin margins as a reseller of base station equipment. Leveraging its core competency in satellite engineering and land-based mobile communications, over the past few years Globecomm has remade itself into a leading global provider of managed network services. Globecomm Revenues 2008-2011E:
click to enlarge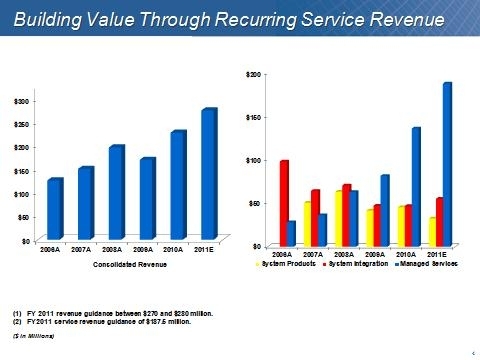 Source: Globecomm
Globecomm's financial results now benefit from a significant amount of recurring revenues that led to 100% earnings per share growth in the company's most recent fiscal year. However, the stock's P/E multiple is a third of its EPS growth rate and trades at a significant discount to its nearest comparables in both the managed services and satellite/wireless telecommunications equipment sectors.
Among the pure-play managed services stocks, most have disappointing financial results, but their valuations are lofty in part due to industry consolidation. In January of this year, Verizon Communications Inc. (NYSE: VZ) said it would purchase Terremark Worldwide Inc. at a premium of 35% or $19.00 a share, a deal valued at nearly $1.4 billion. Terremark Worldwide (NASDAQ: TMRK) touts itself as a leading global provider of IT infrastructure services. Leveraging data centers in the United States, Europe and Latin America with access to diverse network connectivity, Terremark delivers government and enterprise customers a comprehensive suite of managed solutions including managed hosting, colocation, disaster recovery, security, data storage and cloud computing services. TMRK traded at about $14 per share before the deal with Verizon was announced. For its last fiscal year ended March 2010, Terremark had $292 million in revenues and lost money for the third year in a row.
A week later, Time Warner Cable Inc. (NYSE: TWC) announced the acquisition of NaviSite Inc. (NASDAQ: NAVI) for an amount in excess of $210 million in a bid to offer more Web-based services to its business customers. The deal values NaviSite at $5.50 per share, a 33% premium over its pre-deal closing price of $4.13. For its most recently completed fiscal year, NaviSite had $126 million in revenues and had finally reported a profit after years of losing money.
Another managed services stock is SAVVIS, Inc. (NASDAQ: SVVS), which also has lost money for three straight years. With nearly a billion dollars in annual sales and $662 million in net debt, the company has a market capitalization of $2.3 billion.
Managed services stocks have benefited from investors' growing appreciation for the value of hosted applications and cloud computing. Business models for these companies typically boast recurring revenues, high margins, "sticky" customers, and proprietary processes for building competitive barriers. Globecomm management threw its hat into the managed services ring after two decades of building complex best-of-breed satellite/mobile-based networks for marquis customers around the world. The company set out to assemble and manage its own global communications network.
This network now includes world-class facilities with global teleport locations in America, Europe and Asia which are linked by a global MPLS (a highly scalable, protocol agnostic, data-carrying communications process) system, and maintains multiple connections to public networks and the Internet cloud, redundant fiber rings, and emergency backup power systems with 24x7 network operations centers and data centers.
Globecomm's managed network services include content distribution, hosted content solutions, interactive content to mobile devices, PC network management, hosted voice services, VSAT multi-mode and seamless maritime connectivity, 3G/path to 4G hosted mobile services, global secure IP-based services, end-to-end IP triple play network designs, and more. Through organic growth initiatives and a few acquisitions in the managed services space, Globecomm has added customers and assets to its network, which provides substantial operating leverage.
For the third fiscal quarter reported in May, the company's services revenues comprised 74% of consolidated revenues. Globecomm increased guidance for full year services revenues to over $185 million, about 32% higher than fiscal 2010. High margin managed services revenues bolstered the company's financial performance, elevating adjusted EBITDA for the third fiscal quarter by 67% to $9.2 million, which is the reason for announcing adjusted EBITDA guidance at a midpoint of $32 million for the full year.
The balance of Globecomm's revenues, projected to be about $90 million for fiscal 2011, is from its other businesses, including design, integration, installation, testing and commissioning of facilities and complex communications networks. Work is centered on development projects for satellite earth stations, uplink centers, broadcast/multimedia centers, IP-based networks, cellular/wireless networks, broadband networks and maritime networks. For both the managed services and equipment sides of it operations, almost all customers are businesses or government agencies that come to Globecomm for their mission critical communications requirements.
Equipment stocks that represent the closest comparable include Comtech Telecommunications Corp. (NASDAQ: CMTL) and ViaSat, Inc. (NASDAQ: VSAT). Comtech, with a market capitalization of $760 million, is trading at around $28 per share after a series of setbacks that brought the stock down from the $50-range about two years ago. ViaSat has a market capitalization of $1.7 billion, net debt of $280 million and sales of $799 million, putting its enterprise value to sales multiple at 2.5x versus GCOM's 1.0x.
Globecomm - Superior Performance and Lowest Valuation

Metric

VSAT

GCOM

SVVS

TMRK

NAVI

Market Cap

$1.7 B

$300 M

$2.3 B

$1.3 B

$210 M

Enterprise Value

$2.0 B

$265 M

$2.9 B

$1.8 B

$257 M

Debt

$325 M

$10 M

$784 M

$604 M

$51 M

Cash

$45 M

$45 M

$122 M

$69 M

$5 M

Sales (TTM)

$799 M

$256 M

$973 M

$341 M

$131 M

P/E (TTM)

50.7x

28.2x

NA

NA

10.9x

P/S (TTM)

2.1x

1.2x

2.3x

3.8x

1.6x

EV/Sales

2.5x

1.0x

3.0x

5.3x

2.0x

EV/EBITDA

12.7x

9.6x

12.8x

22.1x

10.6x

P/Book Value

2.1x

1.7x

11.1x

22.8x

NA

Return on Assets

2.7%

5.0%

2.2%

2.95%

2.14%

Return on Equity

4.7%

6.4%

NA

NA

NA
Source: Yahoo Finance data as of May 13, 2011, except TMRK and NAVI, which are calculated at April 5, 2011 prior to completion of acquisition.
Should Globecomm be valued as an equipment company or a communications services company? Historically, it likely may be perceived to be a satellite equipment and integration company. Presently, the business looks far more like a managed services company. Either way, the stock is very cheap.
On a sum of the parts analysis using peer multiple averages from the table above for an enterprise value to fiscal year 2011 projected sales (which is three quarters of the way over for GCOM), Globecomm's managed services business is worth $629 million -- $185 million x 3.4 (the average EV/Sales multiple for SVVS, TMRK and NAVI). The balance of projected consolidated revenues for fiscal 2011 of $90 million x 2.5 (the EV/Sales multiple for VSAT) is worth $225 million. The combined businesses are valued on an EV/Forward Sales basis of $854 million, nearly 200% higher than where Globecomm's share trade today.
Although, with 67% of estimated 2011 revenues expected to come from managed services according to guidance in its most recent earnings report, Globecomm should be viewed as a managed services company and trade at the higher multiple assigned to stocks in this group. And with 28 consecutive quarters of profitability and rapid top and bottom line growth driven by its managed services business, there are many reasons to buy GCOM shares.
Disclosure: I have no positions in any stocks mentioned, and no plans to initiate any positions within the next 72 hours.
Additional disclosure: This story was written by Jordan Darrow, a consultant with investor relations boutique Darrow Associates, Inc. With offices in Long Island and New York City, Darrow Associates implements investor relations strategies focused on long term performance for small capitalization companies in select industries. Globecomm is a client of Darrow Associates; the firm receives compensation in the form of a monthly retainer for representation.