The recent market gyrations have permitted investors another bite at Alcoa (NYSE:AA) shares at an apparent discount. The stock has found a floor slightly below $16 and has bounced off it three times in 2011.
Alcoa one-year chart and volume (click to enlarge images):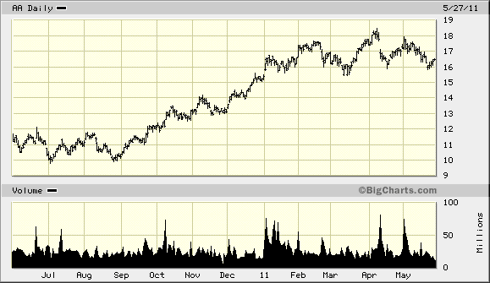 Click to enlarge
Let's analyze this equity a bit deeper.
Background
Alcoa (AA) is one of the world's largest producers of aluminum, as well as one of the largest suppliers of alumina, an intermediate raw material used to make aluminum. Aluminum and alumina represent more than 80% of Alcoa's revenues. Non-aluminum products include precision castings and aerospace and industrial fasteners. Alcoa's products are used globally in aircraft, automobiles, commercial transportation, packaging, building and construction, oil and gas, defense, and industrial applications. It is a global company operating in 31 countries.
In addition, it has investments and operating activities in Australia, Brazil, the People's Republic of China, Guinea, Iceland, Russia, and Saudi Arabia. During 2010, it completed the acquisition of Three Rivers Aluminum Company doing business as Traco. In July 2010, the Company completed the sale of its Transportation Products Europe business.
Fundamentals
The underlying metrics of the company have to be reviewed in light of the huge declines in revenue and earnings during the Great Recession. Alcoa was hit hard. The investment thesis includes a view that it is a cyclical company on the mend.
Alcoa's balance sheet is a mixed bag. The debt-to-equity ratio is 69 percent: on the high side. The return-on-equity and return-on-assets are 6 percent and 2 percent, respectively. These figures are not strong on an absolute basis nor relative to AA peers. However, the ROA and ROE are gradually improving since the crushing events of 2008. On the other hand, the 1.3 current ratio is sound. Long-term debt has been dropping, cash / equivalents increasing, and owner's equity rising smartly.
Revenues have risen 15 percent YoY. A look back at annual revenues indicate a peak-to-trough 37 percent tumble. The green shoot of recovery began in 2010 and continue into 2011. Margins and EPS have followed.
As a primary fundamental value investor, I review several metrics as part of my due diligence. Alcoa appears to offer good value based upon several such analytics.
Price / Earnings Multiple – The current TTM P / E is 24X. The 2011 and 2012 consensus street EPS estimates are $1.33 and $1.47. I believe these projections are too low. AA has beat the street two of the last four quarters; as the materials sector stocks pick up global economic tailwinds, the company should be a prime beneficiary. Nonetheless, using the street EPS figures, the forward P / E ratios come to 13X for 2011 and 12X for 2012. Looking back at the multiples prior to the economic peak of 2007, a market multiple of 17X for this year and 16X for next year appear reasonable to me. That would indicate a $22 to $24 stock.

Enterprise Value – The EV is an indicator as to what a company is worth as an ongoing business concern. It is usually calculated as market cap plus debt, minority interest and preferred shares, minus total cash and cash equivalents. AA has a current EV of $24.50 a share.

EBIT / EV – EBIT is Earnings Before Interest and Taxes. The subject ratio offers another indicator as to how well the company is generating profits as a function of value. It's often referred to as a component of the Magic Formula. A ratio greater than 10 percent is considered strong. Alcoa offers a 9.5 percent calculation. Not bad.

Price / Book – Alcoa trades at a conservative 1.2 P/B ratio.
Also noted is Alcoa's Free Cash Flow (Operating Cash less Capital Expenditures) history: annual FCF was negative between 2006 and 2009. It went positive by approximately a billion dollars in 2010. Management has stated their expectation for the company to generate positive annual FCF going forward. I point out that while FCF was negative in 2011 1Q, this was primarily a result of increasing inventory and working capital. I will watch this figure closely. However, assuming the business is ramping up for growth, we may anticipate cash washing back in later this year. Alcoa generally exhibits their weakest EPS in the first quarter of the year.
Technical Charts
Alcoa stock had been channeling higher since late last year. It broke the channel during the May market downturn. However, it appears to have found a base somewhat below the $16 mark, appearing to have done so for the third time since the beginning of the year. Once in a channel (up or down) the tendency is for a stock to revert to the channel. I think this may be the case for AA.
This view is bolstered by the Slow Stochastic study (one-year chart) turning the corner. I'd like to see the MACD follow suit. The On-Balance Volume indicator also looks to be turning positive on the shares.
In any event, while Alcoa stock fell below the 50-day moving average, it remains comfortably above the 200-day MA.
The recent price action has been on generally declining volume, indicating a lack of conviction while the stock was falling or upon last week's partial recovery.
As a fundamental investor, I submit the numbers tell a convincing story. The charts don't provide an exclamation point for the shares, nor do they show me market sentiment is overly negative, either.
Recent Developments
An integral part of my analysis always involves trolling the news wires as well as listening to quarterly earnings web casts and management discussion of results. Here the AA story shines brightly.
Management reports end market strength for aluminum products during the first quarter and continuing right on through to at least mid-year; all part of a multi-year three-to-five year up cycle. Higher gross margins were forecast as the year progresses.
A six-year aircraft production backlog was noted, with Boeing (NYSE:BA) and Airbus leading the way. Powerful multi-year moves such as this are typical for that industry.
The global growth / recovery in automobile production should bode well for AA, too. Cars are expected to have more aluminum components built into them to reduce weight and increase fuel efficiency.
Furthermore, the truck industry has yet to hit high gear. Growth is projected in the low single digits now, but the company reported that they expect the rate to ramp up to high single digits soon. China will lead the way as that country's economy expands and their infrastructure improves: thereby creating demand for on-road transportation of products.
Bottom Line
I believe that Alcoa is a Buy. It's a global leader in the right sector (Materials) at the right time. The company's management is focused upon cash generation and participating in multi-year ongoing moves in the aircraft and auto business.
AA shares are undervalued. My view is that the stock can run to $22 a share within a year. Using Friday's close as a benchmark, I therefore see a potential 33 percent upside, with a one-percent dividend kicker.
The primary risk to this thesis is a general global industrial slowdown due to any number of ego-political events. Given the company's strong presence in the U. S., Australia, China, Brazil, Russia, and other several emerging markets, I suspect it would take a significant, sustained crisis to bring them all down at once.
As a Dow Jones Industrial component, there is also an element of risk tied to the stock's inclusion in a number of Etas and Index funds: it can be whipsawed up or down as part of the "commoditization" of these equities within these investment pools. Indeed, Alcoa's beta of 2.1 offers volatility as an opportunity or a curse, contingent upon investor disposition.
Disclosure: I am long AA.