A ruler stock is a well-known term that refers to equities where earnings, if plotted on a graph, form an upward sloping straight line. Examples include companies such as Coca-Cola (NYSE:KO), McDonalds (NYSE:MCD), Procter & Gamble (NYSE:PG), and Abbott Labs (NYSE:ABT). Disruptions in those earning trend lines are rare and often of little consequence, and if you exclude extraneous charge-off's, they are virtually non-existent. The Johnson & Johnson (NYSE:JNJ) Tylenol poisoning scare in the 1980's is one such example of an unusual occurrence. The scare jarred the company's earnings picture, but absent that event, normal operating earnings were maintained. These types of stocks, the best of the best, are and can be pure buy and hold securities for many investors. Opportunities to buy them at excellent valuations are rare.

My three primary pillars of investing utilize the facts and estimates of fundamentals, the art of technical analysis, and the measures of various valuation standards. Any one of these tools can be used to uncover a security for further analysis. However, all three are considered of utmost importance in the final selection of a security. Often the hunt is conducted using a single tool of one method, which in this case, was to seek a stock with a current yield at or above the yield levels of the past 25-30 years. Realizing that Abbott Labs meets the yield criteria, the company became the target of additional investigation.
Fundamentals
Abbott Labs, from its profile in Yahoo,
engages in the discovery, development, manufacture, and sale of health care products worldwide. It operates in four segments: Pharmaceutical Products, Diagnostic Products, Nutritional Products, and Vascular Products. Additionally, the company provides blood glucose monitoring meters, test strips, data management software, and accessories for people with diabetes; and medical devices for the eye, including cataract surgery, lasik surgery, contact lens, and dry eye products.
Earnings grew over 100% from $1.78 to $4.17 between the years 2000 to 2010. Estimates for 2011 are for a further increase to the $4.60 area. Dividends during this same time frame grew from $0.17 a quarter to the current $0.48. The table below highlights the dividend increases and annual dividend payments on the ownership of 100 shares since 1983.
Year

Quarterly

Dividends

per

share

Annual

Div

. $'

s

on

100

shares

1983

$

0.01562

$

6.25

1990

$

0

.

.0525

$

21.00

1995

$

0.105

$

42.00

2000

$

0.19

$

76.00

2005

$

0.275

$

110.00

2011

$

0.48

$

192.00

The table below extrapolates a 6% annual dividend increase, which is less than Abbott's historical increase of 8.5%, out to 2040. In addition, the table uses the current market price to show the yield on cost over this time frame.
Year

Annual

Dividend

Yield

on

cost

Annual

Div

. $'

s

on

100

shares

2015

$

2.42

4.7

%
$

242.00

2020

$

3.24

6.29

%
$

324.00

2025

$

4.09

8.42

%
$

409.00

2030

$

5.81

11.27

%
$

581.00

2035

$

7.77

15.08

%
$

777.00

2040

$

10.40

20.18

%
$

1040.00
Valuation
The price earnings ratio (PE) of the shares has declined from over 30 in 2000 to the current level of 17.5, which places it in the lower range of the historical levels. This further signals good valuation. Over the last 30 years the dividend yield on Abbott has held in a range from as low as 1.5% to a high of 3%. Recently the yield spiked to a rare 4% level after a 9% dividend increase in April. A recent rally in the shares has reduced the yield down to 3.7%. A dividend increase next year identical to 2011 indicates a yield of 4% based on current prices. A price decline to $48 gives the shares a 4% yield. An opportunity to buy Abbott at these yield levels is very rare.
Technical analysis
The shares are currently correcting an overbought condition. Initial support should be in the $50-$51 price area where short term indicators will likely indicate an oversold level. Strong support rests in the $45-$47 zones.

Click to enlarge: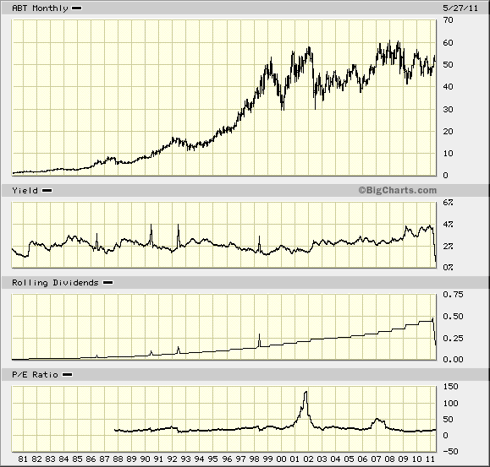 Conclusion
As mentioned earlier, my methods are simple. The chart above illustrates the keys to this analysis.
A long consolidation during which earnings have increased substantially.

A period where dividend yield levels climb to the upper deciles of the historical range.

A period in which dividends have shown a steady increase year to year.

A decline in PE ratio's to lower levels of valuation.
An investor without a position in Abbott can begin buying initial positions at current prices. In addition, shares should be bought down to the $45 to $47 level if given the opportunity. It is my strong belief that a pullback back to the $48 price, coupled with a corresponding 4% yield, will induce strong buying support from income investors.

Disclosure: I am long JNJ, ABT, MCD.