As of Tuesday at least 10 million shares of Molycorp (MCP) will be unlocked. The stock has traded higher since the news pertaining to the partial unlock and the relock. A bottom has been set now that investors know that the insiders are keeping a majority of their shares. The unlock pressure on Molycorp had caused a pulled back of over 25% in anticipation of this event. As about 3/4 of this pressure has been pushed forward, we can now expect the stock to rebound vigorously in the next few weeks.
Future unlock worries may also be mitigated now that a pattern is beginning to emerge. It is very likely that ninety days from now we will see just another tem million shares unlock and another relock of the remaining shares over the following two quarters. Knowing this, the effect of the next unlock should be much more dampened and even help to boost the stock's current price as these future fears are reduced.
And now the company is REE-Loaded and ready to make profits. An investor waiting to get into rare earths could not pick a better time to get into either of the two early lead majors. At some point in June China will be announcing the rare earth export quota for the second half of 2011. All indications still point that China is trying to better control their rare earth resources. The most likely events are that China will either be in line with the first half 2011 quota, or will reduce exports even further. Since the beginning of the year China has fought to reduce REE smuggling (too limited effect), has begun forming a rare earth exchange, has raised REE export taxes, has begun differentiating light and heavy exports, has raised REE environmental discharge limits, has begun consolidating the industry, has stopped granting more REE licenses, and has included REE's mixed into metal alloys into their quota amounts.
Investors will be expecting for China's announcement to show that everything is status quo for REE prices and that they will continue rising. In anticipation of this event investors will start accumulating rare earth stocks and begin driving up the prices. Since Molycorp was heavily shorted into the unlock, a short squeeze will begin forming and the overall short volume will begin unwinding. Rare earths will once again become the front and center investment news once the China announcement is made. For a period of about two weeks in late June rare earth stocks will surge as all the media attention brings in the fast money and momentum traders. By this point the short squeeze should be in full effect and we will be seeing new all time highs.
While everything written above is how the next couple months should play out, I do not like to invest based upon momentum or media fascination but rather based upon fundamentals and probability. My price target for Molycorp is $472 per share by the second half of 2013 with forward earnings of $31.60 per share. At first glance this may seem very high when comparing it to the targets provided by other analysts. These firms however have been behind the eight ball and have been continuously playing catch up with their expectations. At the beginning of this year MCP was suppose to post very high losses. Even the 2013 earnings were estimated in the four dollar range and are now estimated 100% higher. The fundamental reason for the analysts being behind is that they are estimating the situation very conservatively and not providing a balanced view.
The critical flaw to the investment house models is how they determine future pricing. Their view, and it is a correct view, is that high prices will drive more companies to explore and more supply will come on line in the distant future. As such, it appears that most of the models use the discounted China internal prices as their future price set. These prices are seen as the price floor. The issue is that China's prices reflect an almost balanced market, where as the rest of world spot prices reflect an unbalanced market. Most of the rare earth projects will not make it to market in the record times that they are predicting. For the foreseeable future, Lynas (OTCPK:LYSCF) and Molycorp will be the only majors in town and the supply deficit will continue.
It appears that China's policy is to target keeping their internal demand supplied and then setting the remainder as exportable. This has now resulted in the rest of the world to be about 35% undersupplied and has rocketed up prices. Current projections by Lynas estimate that by 2014 the total world supply will be short by almost 12%. This would mean that the average price in 2014 may be about 1/3rd of the way between today's internal China prices and the rest of world spot prices. For Cerium and Lanthanum, that means that an internal China price of around $22000/kg might be better modeled as double that value. It is still not as high as today's mid 130's, but applying equilibrium to the supply and demand assumptions yields base model assumptions that are much higher.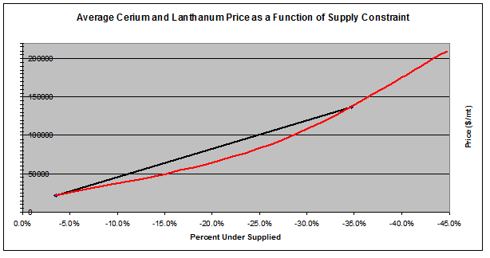 Click to enlarge
(Click to enlarge)
Analyzing the past few years of supply and demand data (rough estimates actually) can also help to predict what will happen if China cuts back similar to last years 8000 mt second half year quota. If that were to happen, then the rest of world markets would be under supplied by 44% versus today's 35%. While this does not sound big, it looks like it could lift even LREE prices by 50% through this action alone. Even this data may not yet reflect the reality of our current situation. Many Japanese companies had previously stockpiled REE's to reduce their dependency on China. Know one knows the rate at which these companies are producing versus how much if at all they are replacing their stockpiles. As these companies stockpiles run low they will be forced to buy in the spot market and pricing pressure would increase exponentially.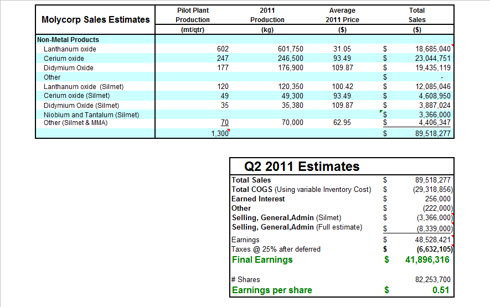 Click to enlarge
(Click to enlarge)
The analyst second quarter estimates look to be in line with my view. One interesting fact is that if REE prices rise by 50% in the third quarter then Molycorp should be looking at earnings in excess of $1 per share in that quarter alone. In the second quarter the expanded pilot plant capacity and the new Silmet capacity will be driving earnings. The true short term benefit of the Silmet capacity is that this product is not subject to the Grace Lanthanum contract and will be sold at spot prices. As there is very limited information about Silmet at this time a few assumptions were needed. The biggest assumption is that the Niobium and Tantalum business income is enough to cover their employee costs. This assumption came from watching a video interview with Silmets CEO that occurred before the merger. In that video and MCP's presentations it appears that Silmet was feed short on REE feedstock, but still surviving from the niobium and tantalum income. The selling general and admin expenses for Silmet were estimated using average 2008 Estonian metals workers published wages and listed personnel numbers. Even if these numbers are off it should not matter very much as they were being offset by the niobium and tantalum income. The tax liability for 2Q was also reduced by 22M per notes that Molycorp has built up some past tax credit. The total REO production is assumed to be 1300 mt for the quarter. This is on the higher side of Molycorp's production estimates. As they have plenty of open production at the Silmet plant it is assumed that if they can not ramp up the pilot plant as fast as planned that they can easily shift more production to the Silmet facility. The resulting earnings after applying these assumptions is $.51 per share in the second quarter. If prices keep rising as mentioned above then it looks like MCP could realistically see full year earnings for 2011 of $3.40 per share.
Know one knows what the future will bring but this company sure looks like it will be one exciting ride with many ups and downs. For now however, the most likely direction looks like Molycorp will be seeing new highs in the not to distant future. Some of these numbers may shock some folks, but please take some time to review my past posts and their foresight and accuracy when forming your opinion.
Disclosure: I am long MCP.