The world grain inventories were already depleted from truly terrible weather in 2010. Now we are seeing even worse weather so far this year. China is experiencing its worst drought in 50 years. The government says this weather is decimating a major grain belt, and it is leaving livestock without water. Fish farms have been ruined. Who knows the long term effects? More than 4.3M people are having trouble finding drinking water. Actually this last is a much bigger problem throughout China, which has a long term drinking water problem. The Chinese have released extra water from the Three Gorges Dam to partially alleviate the drought downstream of the dam in the Yangtze drainage basin. If there is no rain by June 10, the Chinese will lose the ability to do even this.
Not to be outdone, Europe is in the midst of its worst drought in 44 years. Parts of central Europe are at under 40% of their average rainfall from Feb. - Apr. Agritel recently forecast that France's soft wheat crop yield could dip 13% to 6.31 tons per hectare vs. 7.25 tons in 2010. This yield would be slightly lower than in 2003 and 2007, the last droughts that damaged crops in France. The Farm Cooperatives Association in Germany cut its wheat harvest estimate by 7.2% on the year. These figures could worsen due to expected near term high temperatures and further dry weather. The only good news is that Russia has lifted its export ban. Its crops are doing well compared to last year.
The U.S. has had a worst in a century flood of the Mississippi River, which destroyed millions of acres of crops along the river. Amazingly many areas that have not flooded are experiencing drought conditions (even in Louisiana). This is more true of the southwest U.S. , especially the southern and western parts of Texas and New Mexico. Hawaii is experiencing drought conditions (the U.S. Drought Monitor). About 45 percent of the U.S. winter wheat crop was in very poor or poor condition, the U.S. Department of Agriculture said May 23.
South America is experiencing a variety of drought conditions. Columbia and Venezuela are suffering from severely dry weather. This is hurting this year's cocoa crop. If it kills many cocoa plants, the impact will carry over to next year. In the more southern areas of South America, they experienced drought in the summer months of Dec. - Feb. The 2010 drought killed trees in the rain forests. The carbon impact of the 2010 drought may eventually exceed the 5 billion tonnes of CO2 released following the 2005 drought (leading to faster global warming and ever more violent weather). A 2,300-year climate record University of Pittsburgh researchers recovered from an Andes Mountains lake reveals that as temperatures in the Northern Hemisphere rise, the planet's densely populated tropical regions will most likely experience severe water shortages as the crucial summer monsoons become drier. The Pitt team found that equatorial regions of South America already are receiving less rainfall than at any point in the past millennium.
If all of the above were not bad enough, the monsoon season is coming up soon for Asia. Significant flooding is expected. The world is indeed in a very bad food situation.. The good news is that you may be able to profit from this. Three relatively safe and easy ways to profit are to buy any or all of the DBA ETF, the MOO ETF, and the CRBA ETF. The CRBA offers exposure to a global universe of listed companies engaged in the production and distribution of agricultural products including grains, livestock, fertilizers, chemicals, seeds, traits and equipment. The DBA is a rules-based index composed of futures contracts on some of the most liquid and widely traded agricultural commodities such as corn, wheat, soy beans, and sugar. The index is intended to reflect the performance of the agricultural sector. The MOO ETF seeks to replicate the price and yield performance of the DAX global Agribusiness Index. The fund normally invests at least 80% of total assets in equity securities of U.S. and foreign companies primarily engaged in the business of agriculture, which derive at least 50% of their total revenues from agribusiness.
A partial list of the individual agribusiness companies you might invest in is: Potash Corp. (NYSE:POT), Mosiac (NYSE:MOS), Agrium (NYSE:AGU), CF Industries (NYSE:CF), Syngenta (NYSE:SYT), Intrepid Potash (NYSE:IPI), Bunge Limited (NYSE:BG), Terra Nitrogen (NYSE:TNH), CVR Partners (NYSE:UAN), Deere (NYSE:DE), Agco (NYSE:AGCO), CNH Global (NYSE:CNH), Monsanto (NYSE:MON), DuPont (NYSE:DD), Brasil Foods (NYSE:BRFS), (Cresud) CRESY, Adecoagro (NYSE:AGRO) and (Cosan) CZZ. I have notably left out a long list of Chinese companies. There may be some great bargains there. However, many of those stocks have suffered from the reverse merger purge syndrome that has infected the market. I hesitate to get others involved in that. However, for that reason alone there may be some great bargains there. You can pursue this on your own if you wish.
Let's take a quick look at the technicals of the above mentioned ETFs.
The 1 year chart of CRBA: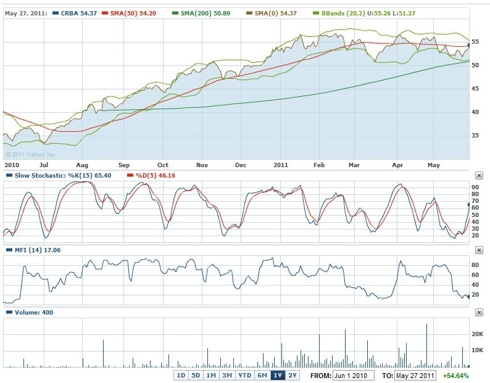 (Click to enlarge) 
The 1 year chart of DBA: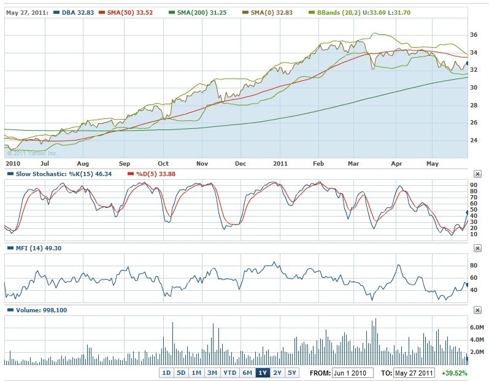 (Click to enlarge) 
The one year chart of MOO: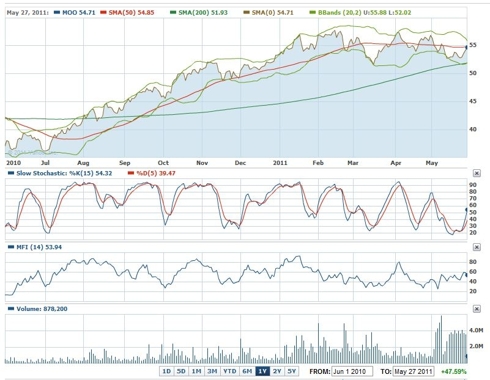 (Click to enlarge) 
All of the above show similar graphs. They all appear to be or to have been in a consolidation phase. Given the predicted crop shortages in China, Europe, and the US, one would expect these ETFs to break out of their consolidation phases soon. The World Crop Report from the USDA (May 11) was also bullish for grain prices.
The MOO ETF seems to be the nearest to breaking out. The volume is increasing dramatically. This may be the best near term investment of the three. It is always helpful to price performance if many people are flocking to an investment. People are more wary of futures investments (the DBA), and the CRBA is not nearly as well know as either of the other two. The CRBA price performance could suffer due to this. The illiquidity of the CRBA might also be a problem in a market sell off (perhaps due to the EU credit crisis). It could fall dramatically with high volume selling of a low volume ETF.
To manage risk in this uncertain market, it may be best to average into any position you decide to take.
Good Luck Trading.
Disclosure: I have no positions in any stocks mentioned, but may initiate a long position in MOO over the next 72 hours.