This is the fifth article in a series testing the 30-year-old "Dogs of the Dow" strategy of investing in top dividend-yielding stocks for comparative returns when applied to other stock indexes. It answers the question, "Which index dogs grabbed the most gains?" in a one-year backtest.
Investopedia describes the Dog investing system as:
an investing strategy that consists of buying the 10 [index] stocks with the highest dividend yield at the beginning of the year. The portfolio should be adjusted at the beginning of each year to include the 10 highest yielding stocks.
Two previous articles discussed a five-year backtest for the Dogs of the Dow system. As already explained, this article reports a one-year backtest applying the dog strategy to the final three of seven indices: S&P 500, Russell 2000, and Aristocrats. In a prior test, the Dividend Yields 2010 to 2011 article compared projected versus actual dividend yields for a year to reveal the margin of error in forward-looking yield assumptions for each index.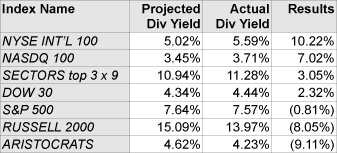 Can Dividend Yields Predict Net Returns?
To answer that question, a Dogs of the Index investment strategy was backtested on seven indices. Tracking for a year (March to March) revealed what net profit (or loss) was generated by making a $1,000 investment in the top 10 high yielders in each index, then selling them all. Subtracting the initial investment and broker fees from dividends paid -- plus the gross profit from sale of shares -- revealed which indices generated the best net returns.
S&P 500 index dogs produced a lower dividend yield through March 2011 than projected in March 2010 by 0.81%. However, this collection of stocks fetched high net gains of 24.87%. All 10 stocks tested in the index generated better than 10% net gains for the year.
[Click all to enlarge]

Click to enlarge
Reynolds American's (NYSE:RAI) 45.32% net return led the index, aided by a 2:1 stock split. Verizon (NYSE:VZ), Qwest (NYSE:Q), Altria (NYSE:MO), CenturyLink (NYSE:CTL), and Windstream Corp. (NASDAQ:WIN) all produced better than 20% gains. Four stocks at the back of this pack were Frontier Communications (NYSE:FTR), Progress Energy (PGN), Pepco Holdings (NYSE:POM), and AT&T (NYSE:T). Total returns for S&P 500 dogs were $2,475.23.
The Russell 2000 index dogs also threw lower actual dividend yields by 2011 than projected in March 2010 by 8.05%. Still, when it came to net returns, the average for this group of 10 stocks was 20.06%.

Click to enlarge
Dominated by nine financial sector stocks, with one technology issue, all 10 Russell 2000 index dogs fetched positive returns in excess of 6.5%. This group of stocks was led by Kohlberg Capital Corp (NASDAQ:KCAP), with 53.76% net returns, followed by the single technology sector equity, Alaska Communications (NASDAQ:ALSK), at 31.14% net gain. The other financial issues included in descending order: MFA Financial (NYSE:MFA), Hatteras Financial IHTS), American Capital Agency (NASDAQ:AGNC), Resource Capital (NYSE:RSO), Walter Investment (NYSEMKT:WAC), Anworth Mortgage (ANM), Blackrock Kelso Capital (NASDAQ:BKCC), and Invesco Mortgage Capital (NYSE:IVR). Russell 2000 index dogs combined price gains and dividends resulted in a $2,007.77 net or 20.06% gains from $10k invested on March 22, 2010 and sold on March 21, 2011.
Aristocrat dog prospects of taking top gainer honors were doomed by three companies fetching negative gains, including one that failed to declare a dividend after more than 25 years of steady increases. Average net returns for these 10 stocks were a mere 4.77%.

Click to enlarge
Veolia Environnement (VE) was the truly lame dog in this kennel yielding no dividends and a negative net return ($111.20) for the test period. Abbott Laboratories (NYSE:ABT), and Johnson & Johnson (NYSE:JNJ) also brought the group down with negative net returns. On the bright side, four stocks threw in net gains of more than 10%, led by CenturyLink with 22.51%. The thee other plus-10% gainers were Consolidated Edison (NYSE:ED), Leggett & Platt, Inc. (NYSE:LEG), and Kimberly-Clark Corp. (NYSE:KMB). Additional positive net gain Aristocrat contributors were Cincinnati Financial (NASDAQ:CINF), Cintas Corp. (NASDAQ:CTAS), and Pitney Bowes (NYSE:PBI). Ten stocks comprising Arisocrat dogs combined price gains and dividends resulted in a $484.84 net from $10k invested on March 22, 200 and sold o March 21, 2011.
Final results for this round show the 10 Dogs of the S&P 500 fetched top gains compared to those of Russell 2000 and Aristocrats.

The answer to the question, "Can dividend yields predict net returns?" is again a resounding "no," based on the numbers put up by the 10 dogs of the S&P 500, which showed only modest dividend yields and whose actual dividends were less than projected. Still, S&P 500 dogs managed to blow away the field with annual net returns of 24.87%. In the previous article, the NYSE International100 index showed the greatest improvement in actual yields beyond those projected, but managed singularly negative net returns compared to all six other indices.
In conclusion, the answer to the question, "Which index dogs grabbed the most gains?" is the 10 Dogs of the S&P 500 index.