When it comes to stocks, "cheap" is good but often it's just a value-trap, with the low valuation signaling problems ahead. One of the ways to get around that is to combine "cheap" with "working." I decided to run a screen to identify some candidates to investigate further. Here is what I did:
Universe: Russell 3000
Trailing PE: < 10X
YTD Price Return > 6%
75 stocks made the cut, so I decided to refine a bit further. As many times a company with a low PE may be burdened by too much debt, I decided to cap the Net Debt to Capital at 15%, which is below the average of the S&P 500. This left 33 names, still too many.
Growth in sales and earnings is another way to avoid a value trap, so my next step was to require that both sales and EPS have grown over the past year. These parameters reduced the list to 24 -- still too many.
The final step was to look at forward estimates, which existed for most of the names, and to cull any names that appeared to be trading at higher than 10 PE on a forward basis. I also pulled out a company that is being acquired. The final list had 17 names:
[Click to enlarge]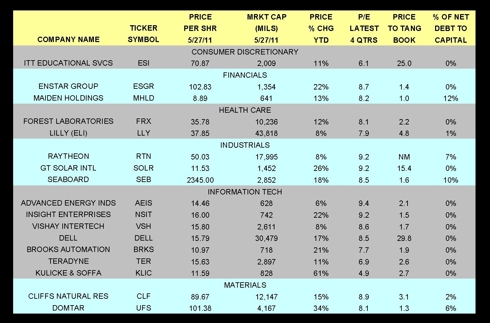 This list seems to have something for everyone, with six different economic sectors represented. Almost one third of the list is large-cap, with the balance split evenly between mid-cap and small-cap. One sector that stands out is technology, which makes up almost half of the list.
One name that stands out to me is Insight Enterprises (NASDAQ:NSIT), which I have followed for many years. The company just authorized a $50mm repurchase program that actually makes a lot of sense. The company is a direct-seller of IT products to small- and medium-sized businesses. With $69mm on its balance sheet net of debt, the company, which generates substantial FCF ($95mm in 2010 as measured by NI + D&A -CapEx) can certainly afford to buy back shares at a PE below 9 on a forward basis.
Most of the rest of the technology names are semiconductor-related, with the exception of Dell (NASDAQ:DELL). In a sea of cheap large-cap tech names, Dell certainly doesn't stand out except for the fact that it is actually up YTD.
Seabord (NYSEMKT:SEB) is an interesting company (pigs and shipping, among other businesses), with no analyst coverage and a price that certainly doesn't make it seem like it wants you to buy its stock. With 74% inside ownership, it probably doesn't care. I am not sure why the company remains public, but it has been and remains very cheap in my view, with a double-digit return on capital.
As with any list, there will likely be some winners and some losers. In this case, two powerful attributes come together: Low Valuation and Positive Price Momentum. We have further improved the odds by requiring a strong balance sheet as well as some other growth attributes.
Disclosure: I have no positions in any stocks mentioned, and no plans to initiate any positions within the next 72 hours.