My recent meeting with Enterprise Products Partners' (NYSE:EPD) CEO Michael Creel and CFO Randy Fowler inspired me to consider why I'm happy to own EPD instead of Kinder Morgan Energy Partners (NYSE:KMP). Both companies have been fabulous performers over the last 10 years. But there are a few reasons that EPD will favor unitholders more in the future.
Click to enlarge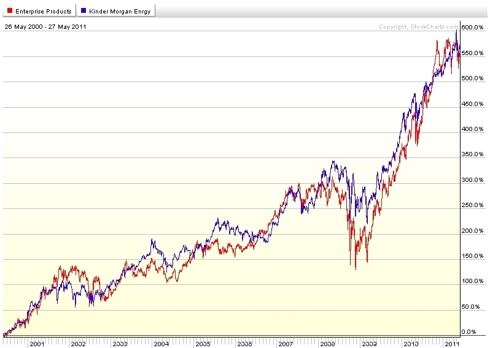 1. Incentive Distribution Rights (IDRs)
Sadly, I suspect many KMP unitholders don't even know what IDRs are. Many Master Limited Partnerships (MLPs) like KMP are associated with a General Partner (GP), which holds IDRs entitling it to tiered percentages of the partnership's cash flow. As distributions rise above specified thresholds, the GP skims off ever greater percentages - usually starting at 2% and going all the way up to a cap of 50%. KMP's general partner, KMI, has a top skim rate of 50% and a current take of about 45%. This means KMP needs to increase cash flow by nearly 10% just to increase distributions by 5%. KMP's distribution growth rate has made it a great stock in the past, but the high IDRs are increasingly dragging on that growth rate.
EPD recently bought out its GP, so it has no IDRs at all. None. Zero. If distributable cash flow increases by 10%, there's 10% more available for EPD unitholder distributions.
2. Distribution Re-Investment
EPD offers a distribution re-investment plan which re-invests your distributions at a 5% discount to the average of high and low prices for five trading days prior to the the distribution date (typically 6-7 days after the ex-date). KMP offers no distribution re-investment.
If you want to re-invest automatically, you can own the Kinder Morgan I-shares (NYSE:
KMR
). KMR distributions are paid out in additional shares but there is no discount. In fact the way the shares are bought (using the average price of 10 days
before
the ex-date) often results in a premium, because prices typically ramp up just prior to the ex-date. Now here's a key point:
EPD's DRIP price is calculated after the ex-date, when shares are typically cheaper.
So for example, the last EPD DRIP price was $41.81 without the 5% discount and only $39.72 after the discount. If the price had been calculated the way KMR does it, the price would have been $43.03.
3. Payout ratios
Depending on how you calculate capex, EPD only pays out about 80% of its distributable cash flow, a conservative policy that leaves a comfortable cushion to grow distributions and re-invest for growth. By contrast, KMP pays out 97% of its distributable cash flow. In some quarters in the past, it has paid out more than its distributable cash.
Is KMP a terrible stock? Of course not. But, EPD has a number of features that make it much more unitholder-friendly and a more attractive investment going forward. If you insist on owning Kinder Morgan, at least consider buying KMR, which trades at a substantial discount to KMR (as described
here
).
Disclosure: I am long EPD.
Additional disclosure: I sometimes trade the KMP-KMR spread (buy KMR stock and KMP puts), but have no plans to do so in the next 72 hours.