In an earlier article I discussed Rockwell Medical Technologies (NASDAQ:RMTI) and its potential movement based on a new drug approval and also possible inclusion into the Russell 2000 index. In that article, I also discussed Bacterin (BONE), another biotech stock that also may be included in the Russell rebalancing. Bacterin is a very unique Biotech stock in that it has consistently grown revenues every year, has doubled them each of the last two years and is planning to double them again this year. Along with doubling of revenues the company is planning to be EBIDTA positive this fiscal year. Let's take a closer look at what Bacterin does and what potential is for future revenue and profitability.

(Click charts to expand)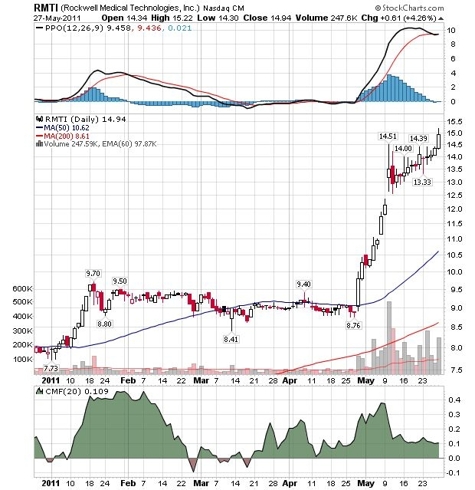 Bacterin consists of two divisions, which both have very large potentials. The first division just recently launched a new product is the Biologics division. The Biologics division is a creator and developer of revolutionary bone graft material. The total markets for products they address are over $8.5B. A recent product launch, Bacterin's hMatrix® is an acellular matrix processed from donated human dermal tissue that is used to replace damaged tissue or repair, reinforce or support soft tissue defects. The estimated market for this material is over $2.5B. Currently their production facility can be scaled to over $120M in revenue.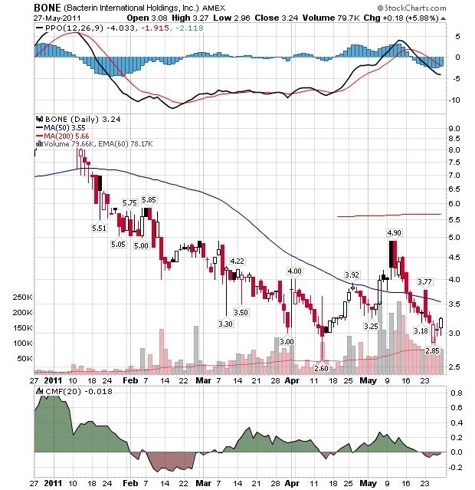 The second division is the Medical Device and Coating division. Bacterin has developed a proprietary antimicrobial coating for orthopedic implants that prevent or reduce staph infections. A recent product launch in Q1 is the needleless connector with anti-microbal coatings. This market alone is over $240M.
These two divisions along with multiple new product offerings are expected to keep revenues doubling each year going forward. One of the keys to understanding how this growth is going to happen is to look at the expanding sales forces. The direct sales force has more than doubled in the last year. Independent distributors have gone up almost 4 times and when MedAssets (NASDAQ:MDAS) acquired Broadlane last November this doubled the potential sites for the Biological division. In Q1 Bacterin was approved to sell to the entire MedAssets network.
Last year's revenues were around $15M. In the first quarter revenues were $6M. From the conference call the company predicts that it will be EBIDTA positive with revenues of around $7M/quarter. Given the company has averaged a minimum sequential quarterly growth rate of 15% it seems likely that by Q3 the company will be well on its way to once again doubling yearly revenues and being EBIDTA positive. With very high margins the area the company has been focusing on has been reducing sales costs. In the past year it has been moving toward a more of a direct sales force model. While it has also spent a lot of money on marketing to get its products into major markets I would expect to see these costs continue to decline as a percentage of sales going forward, leading to profitability in the coming year.
The Russell rebalance will also take place in June, based on today's (the last trading day in May) final closing price. For a company that just joined the AMEX a few months back and (in conjunction with its shareholder meeting) will ring the opening bell in July, this would be quite an achievement. Given its high growth profile in very high margin businesses it seems like a very good match for the Russell selection, although criteria is based on market cap and not on how exciting a growth story the company has ahead of it.