Each week I publish stocks to watch for the upcoming week as potential momentum trades. The stocks below all have a 50k minimum average daily share volume and traded at a 52-week high on strong volume, with a minimum of two times relative volume on Friday, May 27th. In addition, stocks were required to close Friday higher than the open price. This week 20 stocks made the cut, the entire list of 20 stocks as well as the current performance can be viewed on the right hand side of Scott's Investments.
Three stocks on this week's list deserve further attention. The first, Glu Mobile (GLUU), is a highly speculative investment opportunity. The company designs, markets, and sells mobile games. It currently does not have positive earnings, but it's most recent quarterly loss of $.06/share narrowed versus the previous year's quarter. The company has positive cash flow from operations and also has no long-term debt so there is some "margin for error." In addition, Zygna, a leading provider of online games is expected to soon file an IPO. If the Linkedn (LNKD) IPO was any indication of the current appetite for IPOs, a Zygna IPO could generate significant interest and GLUU could benefit from increased attention on the sector.
The PowerShares CEF Income Composite ETF (PCEF) also made this week's momentum list. The ETF invests in a basket of Closed-End Funds that focus on income generation. It currently yields 8.14%, an outstanding yield in a low-yield environment. The ETF has two primary risks/drawbacks. First, it has an expense ratio and management fee of 1.62%. Second, as with almost any dividend, the yield is not guaranteed. The ETF invests in closed-end funds which invest in high-yield, and hence, higher-risk, investment instruments. However, as Michael Tcheyan noted in this article, PCEF has a tactical aspect, "which is to prioritize adding positions in closed-end funds selling at a discount and to trim closed-end funds selling at a premium. This allows PCEF to capture some additional alpha based on shifting market momentum and various asset classes going in and out of favor." For investors seeking exposure to closed-end funds, investment vehicles which are often overlooked, PCEF is a diversified option.
Two weeks ago I featured the drug manufacturer SciClone (SCLN) on my momentum stock list and since then it is up 4.68%. This week we look at another drug manufacturer, SuperGen (SUPG), a low priced stock with a market capitalization of $196 million. SUPG primarily develops drugs for the treatment of cancer and is currently collaborating with Eisai (OTC:ESALF) and Johnson and Johnson (JNJ) to develop the drug Dacogen for the treatment of leukemia. The company has positive earnings, trading at a current P/E of 11.64 and a forward P/E of 14.82. It also has a clean balance sheet with no short or long-term debt and over $2 in cash per share. A small-cap drug manufacturer with positive earnings and a solid balance sheet can be difficult to find. The company did recently reduce 2011 forecasted net income (from $14 million to $12 million) due to added costs involved in the proposed acquisition of Astex Therapeutics. As with with most drug stocks, they can fluctuate based on clinical trial results, FDA approvals, etc. However, SUPG's clean balance sheet, positive earnings, and strong cash position make it an attractive stock.
The chart also shows a breakout out Friday, which will make it worth watching closely this week: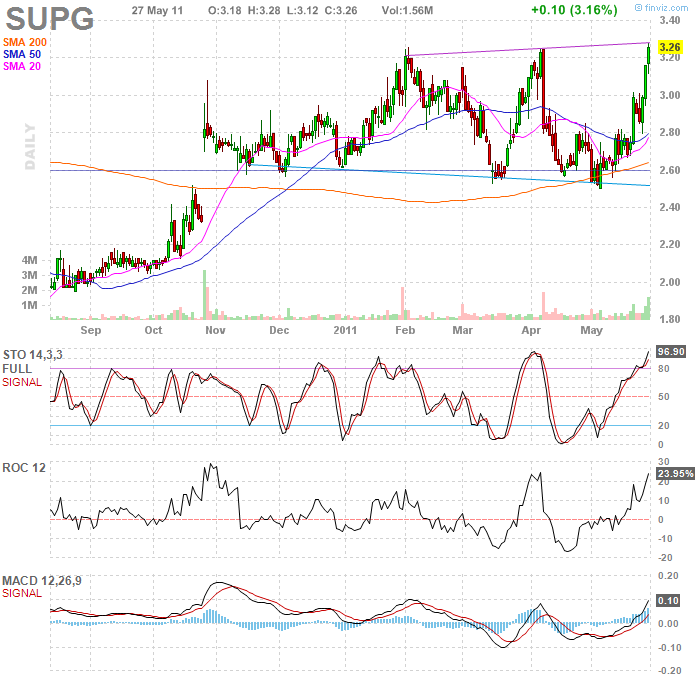 (Click to enlarge)
The full list of 20 stocks breaking out on Friday:
| | | | | | | |
| --- | --- | --- | --- | --- | --- | --- |
| Ticker | Company | 52-Week High | Change from Open | Relative Volume | Price | Change |
| | AboveNet, Inc. | 1.77% | 1.10% | 3.52 | 75.41 | 1.95% |
| | American Vanguard Corp. | 6.70% | 6.03% | 5.62 | 11.95 | 6.98% |
| | Coleman Cable, Inc. | 0.73% | 2.81% | 2.47 | 13.88 | 2.81% |
| | Corcept Therapeutics Inc. | 1.91% | 3.46% | 2.23 | 4.79 | 3.46% |
| | First Republic Bank | 6.89% | 8.74% | 14.34 | 34.6 | 8.74% |
| | Glu Mobile, Inc. | -5.32% | 1.22% | 4.7 | 4.98 | -2.35% |
| | Glimcher Realty Trust | 3.02% | 2.71% | 5.94 | 10.22 | 3.23% |
| | Level 3 Communications Inc. | 3.33% | 4.26% | 2.3 | 2.33 | 4.73% |
| | Merge Healthcare Incorporated. | -6.00% | 2.29% | 2.1 | 5.8 | 3.20% |
| | MicroStrategy Inc. | 1.19% | 6.90% | 2.14 | 145.71 | 7.14% |
| | Odyssey Marine Exploration Inc. | 0.74% | 5.99% | 2.04 | 4.07 | 6.82% |
| | Oncothyreon Inc | 3.04% | 6.28% | 2.13 | 6.43 | 6.81% |
| | PowerShares CEF Income Composite | 0.30% | 0.34% | 3.1 | 26.31 | 0.34% |
| | Pennsylvania Real Estate Investment Trust | 2.78% | 3.59% | 2.47 | 17.03 | 2.78% |
| | Rock-Tenn Co. | 0.38% | 1.61% | 11.22 | 77.62 | 0.56% |
| | Rockwell Medical Technologies Inc. | 2.96% | 4.18% | 3.64 | 14.94 | 4.26% |
| | Sequans Communications S.A. Ame | 2.96% | 8.74% | 3.96 | 15.3 | 11.92% |
| | Smurfit-Stone Container Corp. | 0.36% | 0.49% | 3.12 | 41.25 | 0.54% |
| SUPG | SuperGen Inc. | 0.00% | 2.52% | 3.31 | 3.26 | 3.16% |
| | Telvent Git S.A. | 0.98% | 2.73% | 4.31 | 33.09 | 2.73% |