Many income investors confine their holdings in US stocks, but do companies in emerging markets pay dividends?
Like in the US, some do and some don't. But the WisdomTree Emerging Markets Equity Income Fund (NYSEARCA:DEM) tracks those that do pay dividends – some with relatively high yields. And an income stream that come from currencies other than the US dollar could help your portfolio.
But more about that later. First here's an overview of DEM's performance and holdings.
While the fund has a limited history going back only to 2007, its performance since inception is impressive compared with several benchmarks.
Here's a look at how a $10,000 investment in DEM – assuming you reinvest dividends – performed against the S&P 500 ETF (NYSEARCA:SPY) and the iShares Emerging Markets ETF (NYSEARCA:EEM) since August 2007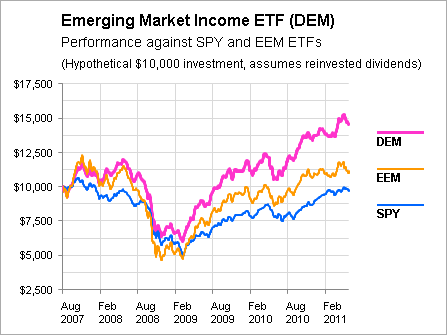 And this chart shows how DEM performed against two US dividend-oriented ETFs, the SPDR S&P Dividend fund (NYSEARCA:SDY) and iShares Dow Jones Dividend fund (NYSEARCA:DVY).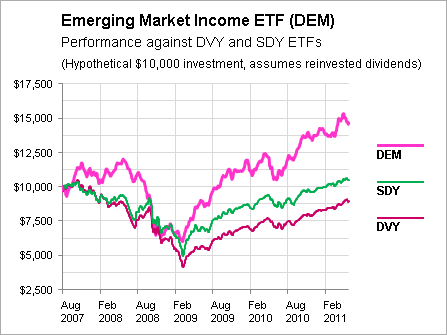 DEM has a standardized SEC yield of about 3.6% right now, but it's really difficult to predict future distributions for an ETF that's regularly rebalanced and only has a short track record to go on. However, a look at the cumulative payments (if paid as cash, not reinvested) shows that DEM's overall payout compares favorably to these other ETFs.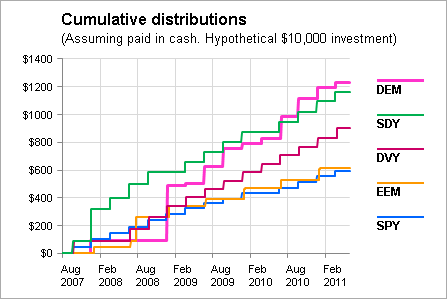 Top emerging market income stocks
The fund tracks the WisdomTree Emerging Markets Equity Income Index. These stocks are selected from the top 30% of another index called the WisdomTree Emerging Markets Dividend Index and then weighted by annual cash dividends paid. (You can find the fact sheet in the company's library section)
What kind of companies make the cut? Here's a list of the top 20 holdings. These seem to be a diversified group of companies in the banking, technology, energy, and telecommunications sectors in emerging market countries (click charts to enlarge).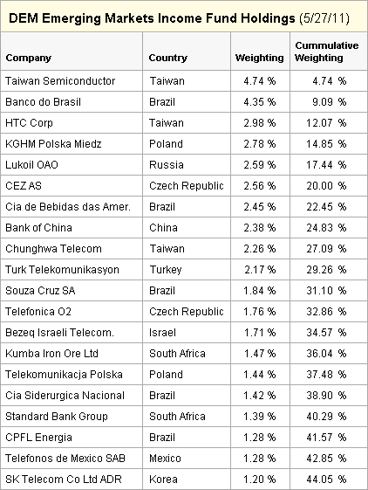 Click to enlarge
And here's a look at weightings by country and by sector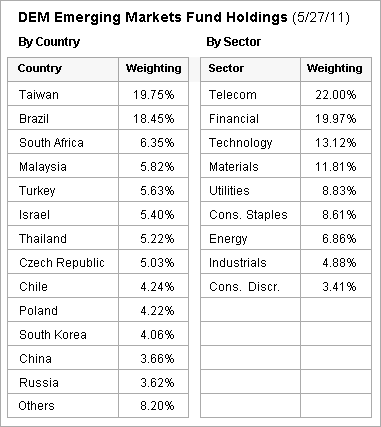 Conspicuously absent is India, which I'd think would have its share of income-generating stocks, yet it does not seem to be represented. As for Israel, it's no longer an emerging market according to MSCI, yet I'm not clear what WisdomTree's policy is on country classifications.
A hedge against the US dollar
As I mentioned above, some of the fund's performance could simply reflect a weaker US dollar.
This chart shows how the currencies of the three largest countries represented in the fund have performed over the same time period. This essentially shows the hypothetical performance of $10,000 invested in each currency (though not accounting for interest paid).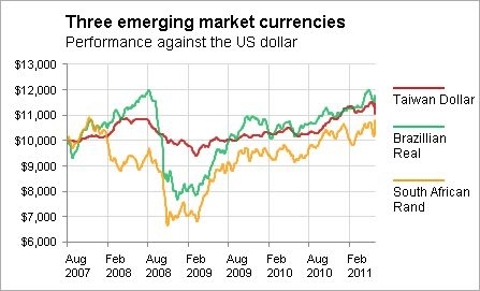 The US dollar gained a lot during the financial crisis in a "flight to safety," but since then, the dollar has been going downhill. If you believe the US dollar will continue to weaken, that adds even more of a tailwind for emerging market stocks.
In a previous article, I was critical of the two US dividend ETFs mentioned above (SDY and DVY) partly because of their ETF structure. In the case of emerging market income stocks, I actually prefer the ETF structure because there's not an easy way to invest individually in some of these stocks, let alone set up a DRIP program for reinvesting dividends.
And it appears that WisdomTree embraces a dividend-related philosophy to many of its funds, not just for emerging markets.
WisdomTree uses a rules-based methodology to weight companies in our ETFs by a measure of fundamental value — instead of stock price alone. After researching all of the fundamental indicators of value, WisdomTree believes the most-effective metrics are cash dividends, or core earnings.
I tend to agree. The only problem is that the fund has only been around for four years. When you look at some of these emerging market companies on an individual basis, do they really have a track record for paying dividends and raising those payments? Do any of them have impressive track records for boosting their payouts year after year after year?
I took a look at a few. There are some similarities, but some major differences between income investing in the US and in emerging markets. I'll present some of my findings on that issue in a future article about emerging market dividend stocks.
Disclosure: I have no positions in any stocks mentioned, and no plans to initiate any positions within the next 72 hours.