In early September, though Apple (NASDAQ:AAPL) had bounced between $230 and $270 all summer, I was able to conclude that the early September Apple momentum was "for real," that Apple would make significant new highs above its $278 June closing and that the stock would reach $300 a share in just four weeks time - that was $50 above where the stock was trading when I made the prediction for Apple $300 by October.
That was not an easy call to make considering the fact that Apple had rallied and sold off numerous times between April and September - nearly six months - making it difficult to tell whether that big swing from $235 to $250 was real and not just another short-term rally before another bust.
I also mentioned in the article that Apple would reach $350 by January. Again this was at a time when Apple was range-bound for over six months. Interestingly enough, we're in the same exact situation in this current market. Apple has been range-bound for nearly seven months now, trading between $320 and $365.
Moreover, in today's session, Apple saw significant momentum as the stock rallied over 2.5% heading into the close of trading. It was nothing but buying all day long. Thus, the big question on the minds of investors is this: Is this rally for real or will Apple simply fall apart after a few days of rallying ahead of the WWDC? Is this just another short-term buy the rumor and sell the news like we saw in April earnings? Can this momentum carry Apple to fresh all-time highs?
While I do think the "$300 by October" call I made back in September was an easier one to make given Bernanke's announcement of "free money to all" policy at the Jackson Hole Symposium in Wyoming, there are a lot of very promising aspects to this rally that make it far more likely to be a precursor to new highs than Apple's recent rallies which have all ended in monumental failure.
First, as I mentioned a week ago, Apple was sitting at a critical juncture at $330 a share. I made a case for a potential significant inverted head and shoulders in the forming. I think at this point, it's very important that investors go back and fully read that article in light of the past seven days of trading. You can read it here.
In the inverted head and shoulders case presented in that article, I made it very clear that $330 was major support for Apple and that if it were able to bounce off of that price level - which it did exactly - that the stock would have a good shot of rallying to $400 in the short-term. We're talking weeks. Here's an update to that chart below:
Click to enlarge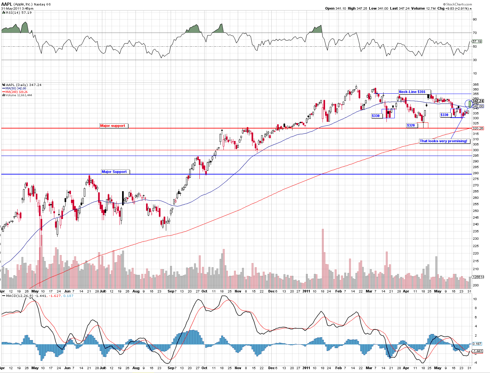 Click to enlarge
Another key component to this inverted head and shoulders is that Apple needs to firmly break above $355 a share - the neckline - on convincing and strong volume. A major break above $355 will lead to an immediate move to $400. I think the highs would easily be eclipsed and the stock will rally to $400 by July earnings.
The next few sessions are very key for Apple. The WWDC is also very key. You don't want to see Apple sitting at technical resistance at the WWDC. That would pretty much put a nail in the coffin to this rally, which will likely end in failure unless Steve Jobs announces the iPhone 5 or iPhone 4S.
So if Apple is trading near $355 and struggles to break above that mark on the day of the keynote and you see the stock start to fall back, that should raise major warning bells for an impending major sell-off. So far we're off to a great start, and I'll keep everyone updated as to Apple's trading progress as the week goes on. Suffice it to say, this is the start of really good things. This could very well be the beginning of the rally to $400 that everyone has been waiting for. Now if this does indeed happen, I also believe Apple will easily eclipse $450 by January. Again, that assumes we do in fact get this June-July rally. Stay tuned.
Disclosure: I am long AAPL.