Each week, we post the results of a backward looking portfolio of no more than five funds using the Konno and Yamazaki Mean-Absolute Deviation Portfolio. We compute the inputs and the algorithm determines which funds should have been included, and the allocations that would have generated a 10% return AND minimized the mean absolute deviation. We assume the investor is at or near retirement, and we have included common retirement portfolio constraints like "Don't include more than 60% in bonds" and that the portfolio can be rebalanced at any time.
Given a universe of the following Exchange Traded Funds (ETFs):
Fixed-Income / Bond Assets: TIP, SHY, IEF, TLT, AGG
Commodities: IAU, SLV, GSG, BDC, USO
Global Equities / Emerging Markets: FXI, EFA, EEM, IEV, IOO
U.S. Equities: OEF, IVV, ISI, IYY, JKD, JKG, JKJ
Leveraged Assets (i.e. Double Longs): DDM, SSO, QLD, MVV
Inversely Correlated Assets (i.e. Shorts): DOG, SH, PSQ, MYY
Leveraged Inversely Correlated Assets (i.e. Double Shorts): DXD, SDS, QID, MZZ
U.S. Equity Sectors: XLF, IYM, XLE, VNQ, XLI, XLY, SMH
The resulting 10% MAD portfolio allocation for the previous 252 trading days was:
| | | | |
| --- | --- | --- | --- |
| Exchange Traded Fund Name & Symbol | Return | Std Dev | Weight |
| Barclays Aggregate AGG | 5.48% | 3.70% | 56.01% |
| iShares Silver Trust SLV | 120.07% | 37.02% | 5.20% |
| iShares Dow Jones U.S. Total Market Index Fund IYY | 27.08% | 12.55% | 24.75% |
| ProShares UltraShort S&P500 SDS | -37.56% | 30.23% | 9.97% |
| HOLDRS Merrill Lynch Semiconductor SMH | 34.00% | 22.41% | 4.06% |
This yielded a 10% return and a standard deviation of 3.18%.
Had we allocated our investable capital into the assets listed above 252 days ago, our performance would have looked something like this (click to enlarge images):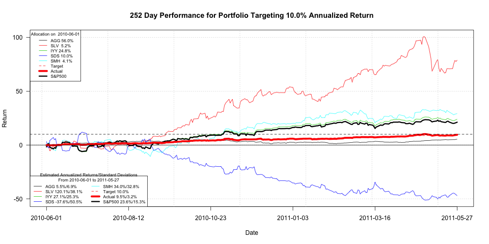 Here are the take home messages for today:
The bond asset remains unchanged with iShares Barclays Aggregate (AGG) and an allocation of 56%. Until last week, the allocation to bonds has been at the maximum allowed allocation for the single bond asset (we're only allowing one bond fund at most and no more than 60% allocation to bonds). For newly retired individuals, this is starting to corroborate the "have your age in bonds" rule-of-thumb and since we began posting results with constraints back in January 2011, we've seen an allocation to bonds at or near 60%. The other bond assets we're tracking (TIP, SHY, IEF, TLT) have also been relatively stable (i.e. low and declining volatility) but the annualized returns have increased slightly since last time. If you're underweighted in bonds, this might be a good time to shore up bond allocations to reduce portfolio volatility and generate stable cash flows.

The commodities asset remains iShares Silver Trust ETF (SLV). While the commodity allocation has been bouncing between 5% and 10%, the model has selected SLV again, but the allocation has remained relatively stable at 5%. SLV was originally allocated at 6% back in January and this portfolio swapped out IAU for SLV some time back in October/November 2010. All the commodities we're tracking (IAU, SLV, GSG, DBC, and USO) rallied for several months, got swatted down within the last few weeks, and looks like they've stabilized again. In fact, SLV had been racking up triple digit annualized returns for several weeks prior to the correction, and looks like it may be on its way back. But then again, maybe not-- only time will tell.
The model has selected the same equity assets again this week: iShares Dow Jones U.S. Total Market Index Fund (IYY) the a broad market index and HOLDRS Merrill Lynch Semiconductor (SMH) for the sector rotation asset. Since the equity allocations seem to be changing each week, a wait and see approach might be more appropriate until stronger signals are present (i.e. a major market index remains selected with a stable allocation). As summer approaches (a.k.a. "Sell in May and go away"), this could be a good time to wait and see. But then again, this goes against the "It's not market timing that counts, but time in the market that defines performance" adage. Regardless, if you're a retirement, having around 30% in equities (not including shorts), is still a safe bet as long as the other asset classes have proper allocations to meet your objectives.
The short/leveraged hedge position remains ProShares UltraShort S&P500 (SDS) and has stayed at the maximum allocation of 10% since we've been posting these results. In fact we ran this portfolio back everyday for the previous four years and nearly everyday, SDS had received almost 10% of the portfolio. The estimated annualized return of -38% has remained the same as last week's results. While this asset doesn't make for a nice buy-and-hope asset, having a little hedge for when the market declines, make this one of the few assets that can be used to mitigate against downward movements, reduce risk, and create a smoother ride for your portfolio.
We compare these results to the S&P500 as our benchmark, which for the previous 252 trading days has returned about 24%, with a standard deviation of 15% respectively. Not only does it look like having "your age in bonds" is a decent rule-of-thumb, but having about 10% in negatively correlated assets in your portfolio is also not entirely irrational if your objective is to obtain a target return of 10% AND minimize the volatility, while maintaining the smoothest ride by actively managing a portfolio of indexed funds.


Disclosure: I am long AGG.