Every year, half of all Americans drink some 400 million cups of coffee. And, despite rising coffee bean prices pushing retail prices higher, coffee drinkers remain loyal to their favorite beverage - a fact not lost on J. M. Smucker & Company (NYSE:SJM), which gets 40% of its revenue from coffee sales.
While most American's think of Smucker's for its fruit spreads, coffee has become the largest contributor to the company's growth thanks to successful brands including Folgers, Millstone and an exclusive license to sell Dunkin Donuts branded coffee at retail stores.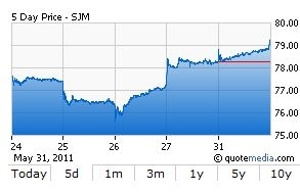 Click to enlargeOver the past year, Smucker's has boosted coffee prices four times, helping the company stay ahead of the input cost curve. This year, NYBOT coffee prices hit a 34-year high before retreating to 280 from 300 cents per pound. In response, Smucker's announced an average 11% increase across its Folgers, Dunkin and Millstone retail brands on May 24th, adding to a 10% increase back in February.
The pass-through strategy has worked for Smucker's. Earnings per share rose 12% year-over-year last quarter, nicely ahead of the 9% jump in revenue. About 4% of the company's sales growth came from price hikes and coffee accounted for about 48% of the company's profit.
Consumer appetite for coffee hasn't waned in the wake of higher prices. Smucker's U.S. retail coffee market sales rose 18% in the most recently reported quarter to $554.7 million while its retail coffee margin rose to 28.5% from 28.1%. Sales of the iconic Dunkin brand rose an impressive 8%. With Smucker's doing a good job passing through input costs, positive news on supply offers upside as retail prices are likely to remain firm despite any pullback in commodity costs.
The company expanded into k-cups too, which added 4% to net sales last quarter. And, sales have plenty of running room, accounting for less than 1% of the company's total coffee volume. Given the popularity of Green Mountain Coffee Roasters' (NASDAQ:GMCR) Keurig brewers, Smucker's is likely to see additional k-cup sales gains in the coming quarters.
The company has done a good job keeping its selling, distribution and administration expenses in check too. The measure dropped to 16.3% from 17.8% YOY. The company's ongoing restructuring will consolidate production and eventually allow for the closing of 6 facilities, further helping margins.
Its retail consumer market sales, widely known for its Jif brand peanut butter, were up 5% on a 7% increase in volume (ex-divested potato products). Peanut prices spiked to 26 cents per pound in December, but have remained stable at $0.22 - 0.24 since the start of 2011. Runners, widely used in peanut butter, are stable at $0.21 - 0.22. Low peanut prices allowed the company to cut retail prices 5%, which in turn boosted volume.
The company also saw strength in its U.S. Retail Oils and Baking Market, where sales rose 4% and 3%, respectively. The strength is partly due to higher Crisco sales, with volume up 27% thanks to aggressive pricing.
As we go forward, Smucker's targets 8% long-term earnings per share growth, with 3-4% coming from organic sales and another 2-3% coming from acquisitions. Free cash flow of $326 million last quarter was up from $301 million the prior year, providing plenty of fuel for shareholder friendly dividends and buybacks.
Since 2006 the dividend has gone from $1.08 to $1.64 per share and since spring 2009, the company has increased its dividend 3 times, by 9%, 14% and 10%, respectively. The stock currently yields 2.3%.
The company has also bought back 3.7 million shares (3% of outstanding) and has another 4% (5 million shares) of outstanding shares remaining on its authorization at the end of last quarter.
Finally, investors should take comfort in management's ability to execute. In the past four quarters, Smucker's has beaten Street estimates each time. As a result, analysts have taken their 2012 estimates to $5.13 from $5.09 30 days ago - bullish for upside from current stock prices.

Disclosure: I have no positions in any stocks mentioned, but may initiate a long position in SJM, GMCR over the next 72 hours.