The Technology Select Sector SPDR Fund (NYSEARCA:XLK) seeks to provide an effective representation of the technology sector of the S&P 500 Index. The Index includes companies from the following industries: internet software and services, IT services, software, communications equipment, computers and peripherals, electronic equipment and instruments, office electronics, semiconductors and semiconductor equipment, diversified telecommunication services and wireless telecommunication services.
As shown in the chart below (click to enlarge images), XLF is up 22.8% over the last 52-weeks. Let's peel back the onion to see if valuations support the recent run in price.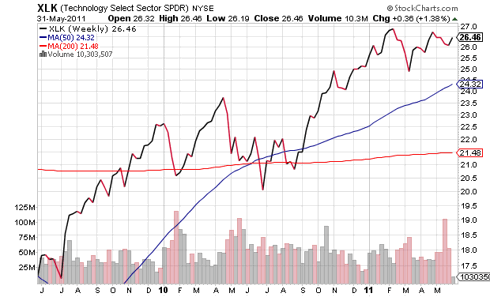 Current Valuation Metrics
Investors should understand the components and the underlying valuations of the stocks in the ETFs they invest in. The table below outlines the top 10 holdings of XLK, which comprise approximately 60% of the ETF.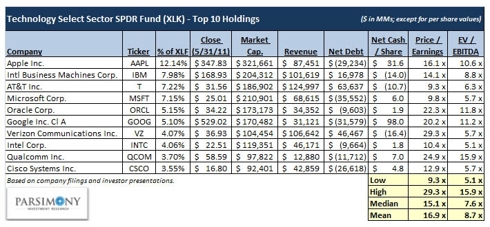 It is important to look at several different valuation metrics when valuing a company. For example, while VZ appears to be overvalued based on it's price/earnings ratio, the company trades at a relatively low multiple of EV/EBITDA.
Historical Valuations
It is also very important to compare valuations over time for the same company. The table below compares current valuation metrics for each of the Top 10 holdings with valuations at the recent trough (3/9/2009) and the recent peak (10/9/2007) of the market.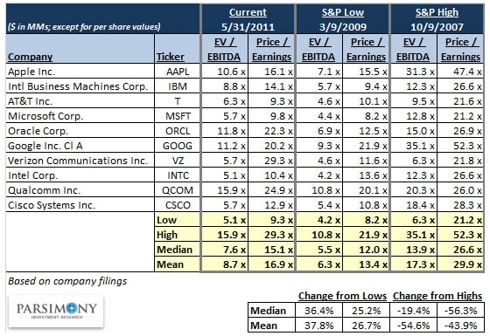 Overall, current valuations are still significantly lower than peak valuations (still down 40-50%). However, current valuations have also come up quite a bit from the lows (up 30-40%). This is probably a good time to remain cautious on the technology sector, in general, until earnings and profitability trends can justify higher valuations. That said, the stocks that are currently the closest to their trough valuation levels (e.g., CSCO, GOOG, INTC) may outperform the sector as a whole in the coming months.
Below is a ranking of the top 10 components based on the percentage change in valuation (EV/EBITDA) from the trough in the market (from largest increase to smallest increase):
Conclusion
Valuation analysis is a good starting point to investigate your ETF. Peeling back the onion and looking at the individual components will help you make better investment decisions...
Disclosure: I have no positions in any stocks mentioned, and no plans to initiate any positions within the next 72 hours.