Buy Cisco: Distinguish Between the Company and the Stock
A recent Street.com article highlighted the success of billionaire hedge fund manager David Tepper of Appaloosa Management. The article discussed how Tepper has distinguished himself as one of the most successful investors in the world; citing how his go-anywhere, deep-value strategy has yielded tremendous long-term returns.
The article also revealed that one of the stocks that Tepper has sold out of his fund among other is Cisco (NASDAQ:CSCO). Reading the article made me question why I was still holding Cisco. Because if a successful fund manager with such a prestigious track record considered Cisco unfit to hold, than what was my justification for holding it? The major debate with Cisco is the extent to which the company's problems are market issues beyond its control and how much is due to competitive share gains from rivals. Cisco continues to sit on billions in cash. The major question remains, how can wisely reinvest their capital to create more innovative ways to compete? If they can do that, those patient investors will be rewarded handsomely.
It continues to be a major challenge to not value Cisco, by any measure. The argument remains that its equipment still powers more than half the Internet. The company had to deal with poor performance results, many of which allowed the likes of F5 Networks (NASDAQ:FFIV) and Juniper (NYSE:JNPR) to catch up in the routing and switching space.
When one looks at Cisco from a fundamental perspective, they will see a company with $25 billion of net cash (cash less debt) and trades at 9 times earnings (excluding net cash). Cisco has also provided double-digit returns on capital, and it is a dominant player in the industry, which is poised to grow at a faster rate than the economy. The obvious question is, what is the market missing? I am not convinced that continuing to overlook a value power like Cisco makes the market efficient.
Other concerns that the market may have likely has to do with its lost confidence in Cisco ' s management; primarily John Chambers. The market has now taken a wait-and-see approach with Cisco; one that I think is justified considering the company's recent performance and even worse the fact that the stock has not gone anywhere in almost a 10 years. Based on the recent Q3 earnings report I got the early sense that the stock may not move for another 10 years.
The company reported revenues of $10.87 billion or 5% year over year. Within the top line figure, product revenue rose almost 3%, with switching down almost 10% year-over-year, routing rising more than 7%, and new product revenue growing about 15%. Switching was up a bit less than 5%, routing was up better than 11%, and new products were up a bit below 2%. The concern has been and remains profitability as gross margin fell. To add insult to injury, guidance for Q4 was weak by most analysts' standards which resulted in a less than stellar stock performance.
There seems to be some renewed optimism in the stock over the past several days. The chart below shows that investors have seen a buying opportunity in Cisco and so far have seized the value. Now it is up to Cisco to sustain the momentum.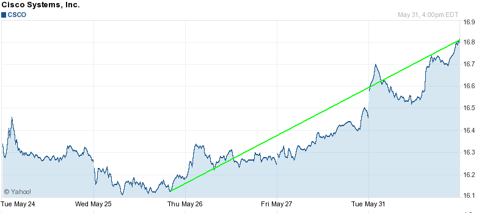 Click to enlarge
(Click to enlarge)
Summary
Cisco is no longer the untouchable champion of networking, and the company has had a pretty dodgy record of making successful acquisitions. That is not tantamount to saying that Cisco is a lost cause. Instead, management needs to get more realistic about its operating structure and its prospects; these include getting more aggressive on cost cuts and taking unrealistic forward growth guidance off the table.
The recent success of the blade servers is evidence that Cisco can still deliver. Clearly the company is able to execute in a relatively new area yet it has been tagged for its lack of execution. Credit is now more than deserved for having produced results that demonstrate Cisco's approach is taking hold and that it deserves additional time to cultivate value to shareholders.
Disclosure: I am long CSCO.