The internet security company, Virnetx (NYSEMKT:VHC), is in the midst of some near-term catalysts that could move the share price well above $30. Any of these catalysts by themselves is significant, but the fact that they are all happening within a short period of time is especially bullish.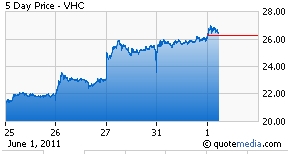 Number one: Cowen initiates coverage. Cowen just started following Virnetx with an outperform rating and a price target more than 40% above the May 26th closing price of $23.14. The Cowen report seems conservative, and I expect other analysts will be racing to come out with more aggressive outlooks. No analyst wants to miss the next big thing.
Number two: Another catalyst will be their presentation at the Cowen conference on June 2nd. Kendall Larsen, CEO and president of Virnetx, stated that they would be presenting the same information that was delivered at the shareholders meeting. At this point, Wall Street is just beginning to become aware of Virnetx, and the New York presentation should generate new interest. Despite the recent run-up, this company is not yet popular or well known by the majority of Wall Street investors.
Once Wall Street becomes aware of its potential, buying activity should increase dramatically. I would bet that the VHC presentation will be well attended by Wall Street heavyweights. Even more important will be the private meetings between Kendall Larson and institutions. The short sellers are in an extremely vulnerable position here, and inadvertently they could provide us with even more upside.
Number three: At the recent annual shareholder meeting, Kendall Larson gave an impressive presentation, sharing more information than expected. Here is a synopsis of what was delivered. Since there are no written transcripts or recordings, the interpretations are close but not perfect. All of my information comes from shareholders who were at the meeting, as well as an investment banker who closely follows the company. I will start with some comments by Kendall Larson:
"As the largest shareholder, I can assure you my interests are aligned with yours. We are in a position where we WILL take off."
"The core patents (135 and 180) have both passed 100% reexamination by the USPTO." (That's very unusual.)
"We only file the suits we are confident we will win."
"Can you assume licensing negotiations are going on?" "Yes." "Can we announce today?" "No, but will be forthcoming."
"With $73M at the end of Q1 in the bank, there is no need to raise money by selling more shares...no dilution."
Kendall Larson's comment on the lawsuit against Siemens (SI): "I can't say how much, it's just really big."
"As to the value of Virnetx, you are only seeing the tip of the iceberg, 90% of the value is below water."
Additionally, the following points were made:
All the vendors being sued will be required to license with Virnetx in the future.
ETSI is not a European standard, it is a worldwide standard and Virnetx products will be licensed worldwide.
There will be special dividend distributions in the future.
The 211 patent issued in April was quickly added to the current lawsuits.
With 3GPP, the standards were optional. 4G LTE will be mandatory.
VHC owns VPN technology, period.
When the company was started, they had 15 patents and 32 applications for patents submitted. Now they have 60 patents and have submitted 100 applications for patents.
Gabriel goes across multi platform environments and multi device environments.
Virnetx will market two products: the Patent license and a Technology license.
They are trying to figure out how best to market SDNI whether it be by license, Joint Venture or build it themselves.
They have one of the top five patent portfolios in the world.
Some of Microsoft's (NASDAQ:MSFT) products are not covered in the license they have. (Kendall said to stay tuned).
Two of the current lawsuits are 9 figure deals.
Virnetx is and will always remain stockholder friendly. Kendall is the largest shareholder and is not selling. He told shareholders to stay long.
Kendall restated the importance of the ETSI Declaration.
The floor regarding any license was 1%. He had a chart that showed a 1-2% license for those partners with large revenue and 2-5% for everyone else.
We should have news by the end of the current quarter.
The company may provide service for the SDN Registry.
They continue to develop more IP.
Re the pending litigation, he had to be a tight lipped persuant to legal counsel, but he did say everything is going really well.
The market is growing rapidly, here are the most recent estimates:
$120 billion in 2011
$150 billion in 2012
$180 billion in 2013
$200 billion in 2014
Over $200 billion in 2015
VHC will have 80% of the market.
It was encouraging to hear that we will be getting news by the end of Q2. Since we are only a month away from that date, I would expect the share price to move up in anticipation of a near-term announcement. Most likely, the news will be good. In my conversations with management, they have been very upbeat, and this optimism was confirmed by Kendall Larson's presentation at the shareholders conference.
Another important piece of information came when Kendall stated that they will be paying out special dividends in the future. This indicates his belief that there will be substantial revenue as a result of patent settlements and licensing agreements, or it could indicate his awareness of a buyout.
In my previous blogs, I stated that a reasonable buyout price would be $50 per share. Given the new patents and lawsuits, as well as Kendall's recent statements, I now believe a price tag of $75 per share is more appropriate.
An important fact that is overlooked by the market is that Kendall Larsen has not sold any shares. His optimism about the future of the company is so strong that he is not taking any money off the table. As an insider who knows more about this company than anyone, he believes the share price will rise from this level. If he thought the company was overvalued now, or if he saw problems on the horizon, he would have sold shares. Following his lead could be the best place to put money. If the market were to mirror his actions, there would be no sellers.
With all that is going on, the future for VHC looks bright. They proved themselves with the Microsoft settlement, and now as shareholders, we just need to keep our eyes open and wait. Over the last few weeks, institutions have begun buying, and as the word gets out, this trend should be amplified. Internet security is vital, and VHC provides superior solutions that are backed up with solid IP. I believe shareholders will be pleasantly surprised if a buyout is announced because the valuation could be higher than anybody ever anticipated.
Disclosure: I am long VHC.