The MSCI USA High Dividend Index outperformed its broader parent, the MSCI USA Standard Core, by a handsome amount since June 1995, the earliest backtest date for the index. That's a good omen for dividend income oriented investors.
Let's look at the relative performance of those two indexes and then "reverse engineer" the MSCI methodology to simulate the constituents of the high dividend index.
MSCI only releases index constituents to index subscribers. So far there is no investment fund that specifically tracks the index. They do, however, publish their methodology. We use a simulation of their methodology to make a pretty good guess what stocks are in the index.
If there were an investment fund that tracked the high dividend index with replication, we could simply download the fund holdings. Unfortunately, there does not appear to be such a fund. We contacted MSCI about funds tracking that index and they were not aware of one. There should be one in our view. No doubt one will come along soon. Get on the ball out there ETF sponsors -- this is a good one.
click images to enlarge
Figure 1 shows high dividend index total return outperformed its broad USA large-cap/mid-cap parent index in backtesting from June 1995.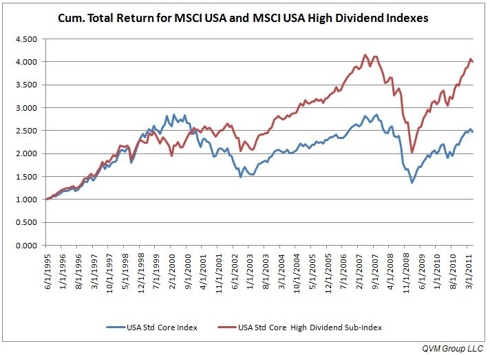 Click to enlarge
Figure 2 shows annual rate of change for each index. They look similar most periods, but the times of difference make all the difference in the end.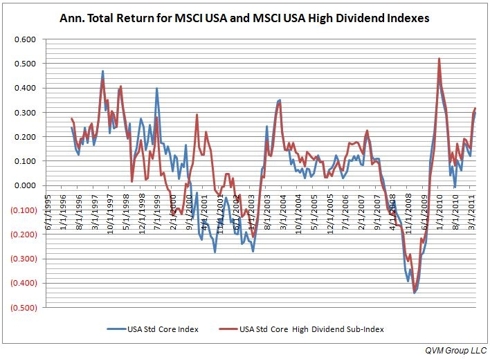 Click to enlarge
Figure 3 shows the ratio of the total return of the two indexes, and that in exuberant growth times, the broad index substantially outperforms the dividend sub-index. The great outperformance of the broad index occurs in the build-up to the dot.com bubble and bust. However, the dot.com period aside, there has been a clear trend over the past 15+ years of the high dividend index outperforming the broad index.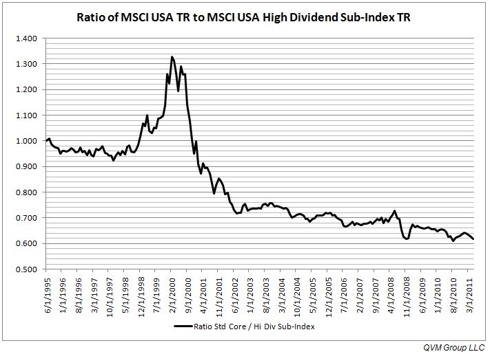 Click to enlarge
Figure 4 shows that more recently the high dividend index has had the edge, including the last stages of the bull which ended in 2007, and through the current market.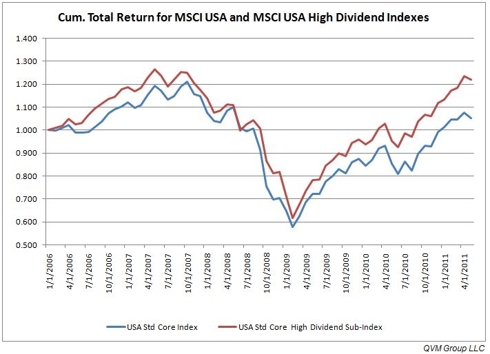 Click to enlarge
MSCI High Dividend Methodology:
MSCI used a fairly simple set of rules to define the index, but it worked out pretty well. You can access the complete set of rules and methodology on the MSCI site.
A summary of the rules is as follows:
membership in MSCI USA Standard Core (large-cap and mid-cap)
REITS excluded
positive payout ratio
5-year positive growth in dividends per share
yield at least 1.3 times that of the MSCI USA Standard Core
eliminate 5% of those surviving with highest payout ratio
weight by free float market-cap
rebalance and reconstitute semi-annually
Upon semi-annual rebalance and reconstitution:
follow same rules, but
allow those current members that are in the top 5% by payout ratio to remain unless they are in the top 2%
allow those current members whose 5-year dividend growth is negative to remain unless their 1-year dividend growth is negative
all current members to remain so long as their yield is greater than or equal to the parent MSCI USA Standard Core
Our Method for Simulating the MSCI Methodology:
Here is how we attempt to simulate the constituents list -- not exact, but perhaps close.
country of domicile is United States
market-cap is within market-cap range of Russell 1000
companies classified as real estate operations excluded
payout ratio greater than zero
payout ratio less than or equal to 100 *
5-yr dividend growth greater than zero
1-year dividend growth greater than zero **
yield greater than or equal to 1.3 times Russell 1000 yield
* There is no payout ratio less than or equal to 100 in the MSCI methodology, but the descriptive language says dividend should be "sustainable and persistent". We used the 100% or less payout ratio as a proxy for sustainability and persistency.
** There is no 1-year dividend growth factor in the eligibility for inclusion in the index, but there is one for continuation in the index in a subsequent year if the 5-year dividend growth becomes negative. We included the 1-year dividend growth filter to partially simulate ongoing index composition.
Figure 5 shows how our filter criteria look in the database tool:

Click to enlarge
The Filter Results of Our Simulation:
We came up with 123 names. We don't know how many names are in the index.
As Mr. Obama so frequently says, "let me be clear". The following list IS NOT a list of the constituents of the MSCI USA High Dividend Index. The following list is our attempt to estimate the composition of their list, based on a reasonably close set of filter rules patterned after their published methodolgy. We think it probably comes fairly close, but certainly is not identical.
Figures 6 - 9 lists the simulated index composition based on our reverse engineered filter. They are listed in the four table images that follow, ordered first by sector, then industry, then yield. The database is based on the Thompson Reuters sector and industry classifications.
Figure 6: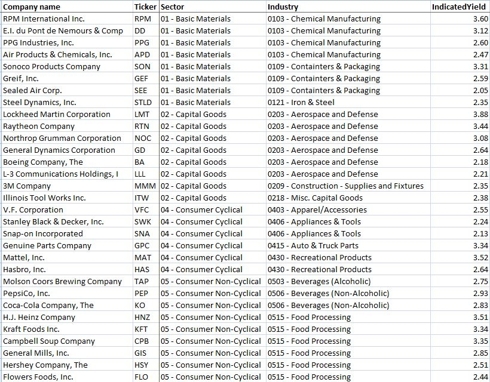 Figure 7: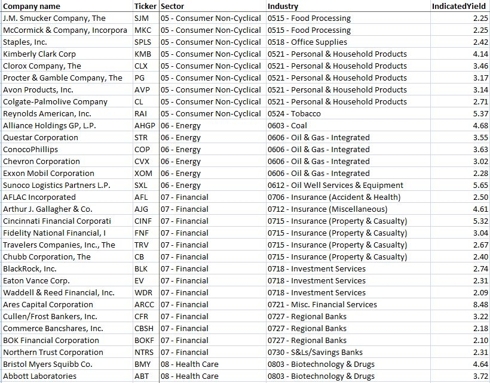 Click to enlarge
Figure 8: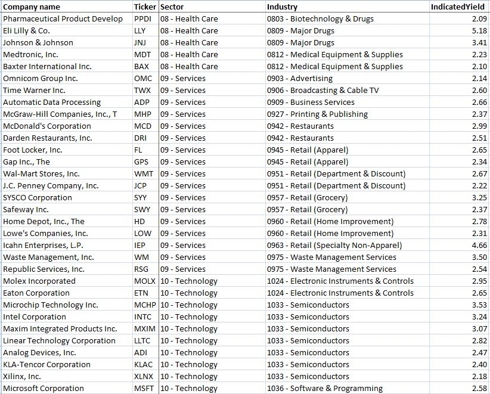 Click to enlarge
Figure 9: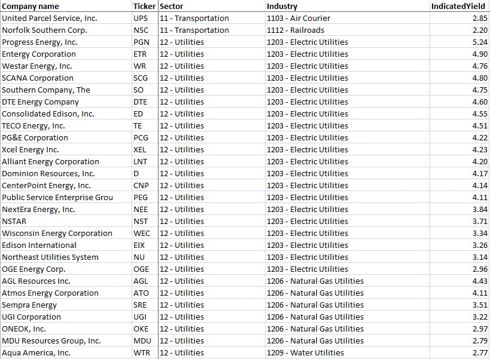 Click to enlarge
Referenced Stocks: To represent the stocks in the table images above, we list here the symbols for the highest yielding stock in each industry within the tables -- RPM, SON, STLD, LMT, MMM, ITW, VFC, SWK, GPC, MAT, TAP, PEP, HNZ, SPLS, KMB, AHGP, STR, SXL, AFL, AJG, CINF, BLK, ARCC, CFR, NTRS, BMY, LLY, MDT, OMC, TWX, ADP, MHP, MCD, FL, WMT, SYY, HD, IEP, WM, MOLX, MCHP, MSFT, UPS, NSC, PGN, AGL, WTR.
Equal Weighted Portfolio Statistics:
We have not calculated the market-cap weighted statistics for the simulated index constituents, but have done so for an equal weighted portfolio. We are partial to equal weighting. Retail investors deploying stocks from this list are more likely to use equal weighting than market-cap weighting. The equal weights stats are:
Indicated yield 3.21%
7-year average yield 2.99%
payout ratio 45.16%
7-year average payout ratio 45.86%
1-year dividend growth 8.1%
3-year dividend growth 8.5%
5-year dividend growth 13.9%
7 year dividend growth 13.6%
1-year sales growth 11.2%
3-year sales growth 2.7%
5-year sales growth 4.9%
7-year sales growth 6.9%
1-year earnings growth 45.6%
3-year earnings growth 4.8%
5-year earnings growth 7.7%
7-year earnings growth 11.0%
P/E ttm 15.8
EV/EBITDA 9.5
There should be some good hunting grounds within the full list. It is not practical to buy them all for most investors, so we do hope to find a fund that permits owning the index in a basket.
Compare to 10-Year Treasury:
Right now (June 1, 2011) a US 1-year Treasury yield in the general vicinity of 2.97%, and would return 29.7% of invested capital over 10 years in the form of interest, and 100% in the form of maturity proceeds.
The simulated index in equal weight would return 32.1% in the form of dividends, if there were no growth, However, given the past growth, future growth is a reasonable bet.
Taking the lowest of the growth rates (8.1%) and applying that to the current yield (and ignoring the current tax advantage of dividends over interest), we come up with an expected dividend return of 46.7% over ten years (with an ending yield on cost of 6.47%).
While we can't make anywhere near as comfortable bet on where the price of the stocks would be, we can say they could be down 17% after ten years and still break even with Treasuries, while possibly chugging forward with a dividend amount twice what it was in the beginning.
If you think of such a portfolio as a "perpetual bond", then the price is unimportant -- just the cash flow from it to you.
In a subsequent article, we will compare the performance of the MSCI USA High Dividend index with that of the S&P 500 Dividend Aristocrats index (proxy SDY), the Dow Jones Select Dividend index (proxy DVY) and the FTSE High Dividend Yield index (proxy VYM).
Disclosure: We hold SDY, DVY, VYM and several of the stock listed in the simulated MSCI USA High Dividend Index in some but not all managed accounts as of the publication date of this article.
Disclaimer: This article provides opinions and information, but does not contain recommendations or personal investment advice to any specific person for any particular purpose. Do your own research or obtain suitable personal advice. You are responsible for your own investment decisions. This article is presented subject to our full disclaimer found on our site available here.