Samson Oil & Gas Limited (NYSEMKT:SSN) Provides Operations Update
Williston Basin (Bakken) Update:
The Earl #1-13 H, the company's 5th Bakken well in North Stockyard Field, continues to fish parted tubing string from the well. The company has successfully retrieved a 1,000+ foot section from the lateral to the vertical portion of the well. Flow on the well increased to 1,200 bopd with the move and following complete removal I would expect the well to perform in line with the #2 and #3 wells (which had IPs of 2,936 and 2,780 BOEpd) in another 2 to 4 weeks. The sixth well, the Everett #1-15, is about ready to frac so look for that completion in late June. Looking ahead, look for the company to examine downspacing the current six sections and to add more acreage in the near future.
Niobrara: Continue to look for a mid year spud of the first carried interest well with Halliburton Company (HAL).
Financial Comments: SSN also commented that it paid off its remaining debt facility, as expected, and that the cash balance now stands at $61.2 mm. The following is an updated back of the envelope table for SSN. A couple of comments are worth making:
Niobrara: Though I used a seemingly high valuation in the Niobrara this was the number

Chesapeake Energy Corporation (

CHK) used in its deal with CNOOC (NYSE:CEO) but I risked the acreage position by 75% to account for potential missteps, a learning curve, and most importantly, some non-naturally fractured parts of the play.


Bakken: The 1 mm barrels essentially stems from a 500,000 BOE gross reserve number per well average for six wells, net to SSN's 31% to 32% interest in these wells. The wells have been improving and they will be downspaced. So this should prove quite conservative in time.

I have given them no value for their other assets including a little acreage with Bone Springs potential in Texas.
The company has no debt
Cash and prepaid items account for 25% of the current stock price

(Click chart to expand)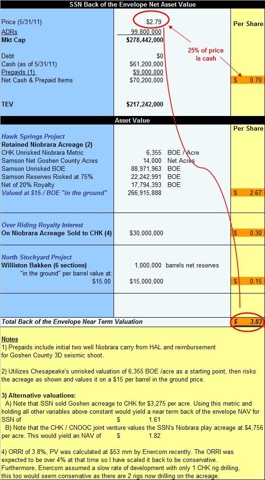 Click to enlarge
Disclosure: I am long SSN.