I think Medifast (NYSE:MED) is poised to continue seeing a deceleration in year-over-year (YoY) growth. The sellside estimates that MED should consistently see 20+% YoY growth for the next 2 years. I believe this is wishful thinking.
According to Gooogle Finance,
Medifast, Inc. (Medifast) is engaged in the production, distribution, and sale of weight management and disease management products and other consumable health and diet products. The product lines include weight and disease management, meal replacement, and vitamins.
The diet and weight management category is a historically fickle market to be involved in. It is incredibly prone to fads. In other words, companies in the space often see explosive growth, followed by explosive busts. This is generally the case because oftentimes consumers see moderate success when using a new diet for the first time. After all, they are usually following the guidelines with intense precision and making better decisions. After time, however, they typically revert to the old practices and bad habits that made them overweight in the first place. Typically, they abandon the diet that "didn't work" and move onto the next thing getting the attention of their friends or the media.
The Atkins diet and Nutrisystem (NASDAQ:NTRI) are two recent examples. Wikipedia has a nice recap of the Atkins diet popularity on its website:
The Atkins Nutritional Approach gained widespread popularity in 2003 and 2004. At the height of its popularity one in eleven North American adults was on the diet. This large following was blamed for large declines in the sales of carbohydrate-heavy foods like pasta and rice: sales were down 8.2 and 4.6 percent, respectively, in 2003. The diet's success was even blamed for a decline in Krispy Kreme sales. Trying to capitalize on the "low-carb craze," many companies released special product lines that were low in carbohydrates.
Nutrisystem, meanwhile, saw explosive growth following the decline in the Atkins diet. Revenues peaked in the diet season (Q1) of 2007, and have generally declined ever since. (See NTRI SEC filings.)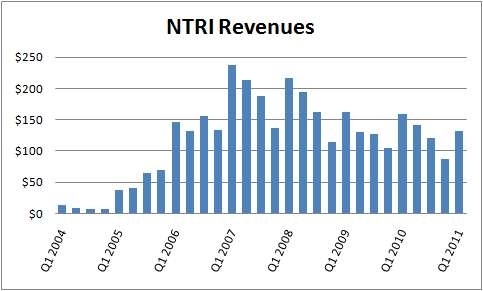 Obviously, diet trends come and go. Businesses grow, often rapidly, reach a peak, then decline.
So, what does this mean for Medifast's business? Medifast has 3 divisions: 1) sales directly to consumers over the phone and via the internet, 2) sales via a system of multi-level marketing (think, Herbalife), and 3) sales via physical retail locations. The company and the sellside are now very bullish on MED's retail strategy, but it only accounts for 11% of the company's revenue in the latest quarter.
So, if we want to look at the historic growth drivers of the business in the last few years, let's focus on divisions 1 & 2. This focus is relevant for this analysis as these two divisions most closely resemble the operations of Nutrisystem and they encompassed 89% of the company's revenue in 2010.
The growth of these two divisions has been slowing RAPIDLY. Yet, the sellside wants us to believe that this decline in YoY Growth for 90% of the business will suddenly be arrested and growth will hold steady at 20+%. Here are some historical revenue figures and sellside consensus projections according to Bloomberg, for Medifast (WholeCo) as of 5/27/11.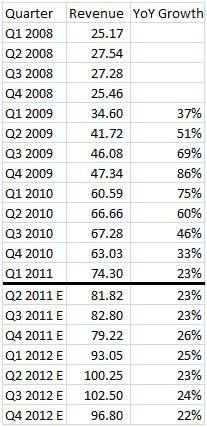 Here is another view straight from The Bloomberg Terminal (sorry readers, no way to link to data as it is behind the Bloomberg Terminal Paywall).
click to enlarge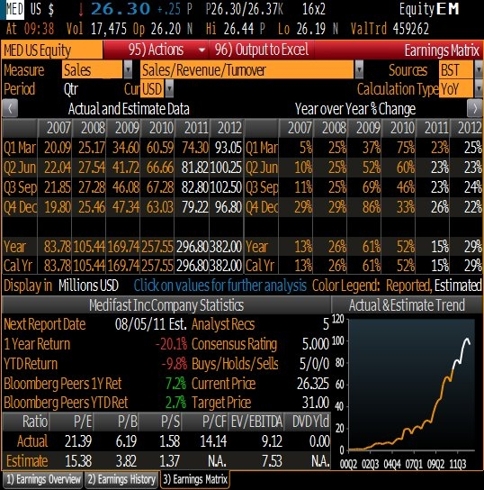 Click to enlarge
Here is a link to Yahoo analyst estimates which corroborate the Bloomberg data.
Now, putting aside the small retail division, let's compare how Medifast's revenue growth decline compares to NTRI's revenue growth decline for the comparable (non-retail) lines of business. For clarity, in the following chart, I aligned the quarters of peak revenue growth for the companies to show the comparable paths of YoY growth deceleration.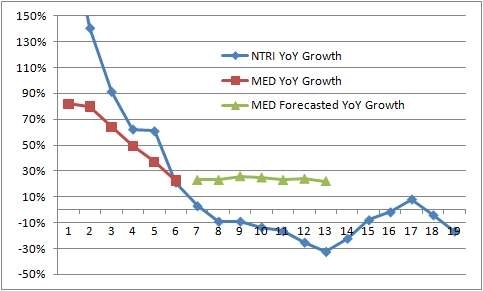 As the chart shows, the deceleration in YoY growth for NTRI and for MED's non-retail business (90% of revenues) is remarkably similar. To expect MED to deviate so wildly from NTRI's path is, in my opinion, wishful thinking. Looks like the sellside needs to sharpen their pencils on their expected revenue levels for Medifast.
Given that the company has 75% gross margins, revenue shortfalls necessarily turn into earnings shortfalls. Therefore, it is highly likely that earnings estimates for Medifast are also too high.
As estimates are too high, and the business is one which is prone to fads, investors should sell Medifast.
Links:
Medifast Investor Relations Events (Conference Calls)
Medifast SEC Filings
Disclosure: I am short MED.