The Japanese earthquake and tsunami did substantial damage to the Japanese auto industry. Some speculated that the global platinum supply would rise eightfold due to the impact of the quake. Platinum is an essential component in making catalytic converters for the auto industry. The futures for both platinum and palladium both plunged but have since recovered significantly. See charts below:
[Click all to enlarge]
The three-month platinum futures chart: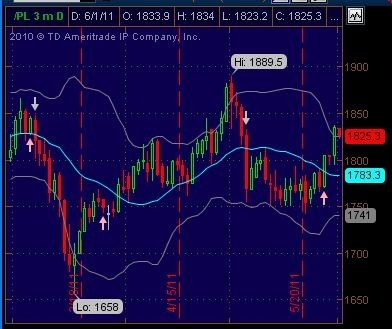 The three-month palladium futures chart: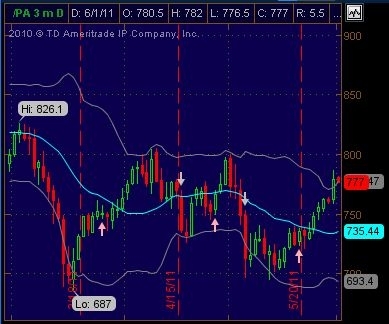 In each chart, you can see the bottom formed in March after the Japanese earthquake. Since that time, as already noted, each has recovered substantially.
On Tuesday May 31, the CME lowered margin requirements for platinum and palladium, making it cheaper for investors to invest in these precious metals (increasing demand). Simultaneously, BMW reported record sales in Q1 2011. Previously on May 12, Nissan (OTCPK:NSANF) CEO Ghosn said he expects to sell the most vehicles ever in 2011. Ford (NYSE:F), GM, Hyundai (OTC:HYMLF), etc. have been doing well. J.D. Power automotive forecasting said it expects global auto sales to rise 5.1% to 76 million in 2011. Based on these fundamentals, Standard Bank Plc predicted a 1.6M ounce deficit in palladium by year end. The Standard analyst expects the prices for palladium to rise 23% by Dec. 31 due primarily to use in catalytic converters. The recent bullish call on commodities by Goldman Sachs has helped too. All of this makes the picture for Stillwater Mining Co. (NYSE:SWC) rosy indeed.
The table below contains some of the fundamental financial data for Stillwater Mining Co. and North American Palladium Ltd. (NYSEMKT:PAL). The data come from Yahoo Finance and TDameritrade.
| | | |
| --- | --- | --- |
| Stock | SWC | PAL |
| Price | $20.25 | $4.12 |
| 1 yr. Analysts Target Price | $29.67 | $4.50 |
| PE | 27.97 | none |
| FPE | 10.02 | 16.48 |
| Avg. Analysts' Opinion | 2.0 | 2.7 |
| Price/Book | 3.19 | 1.91 |
| Price/Cash Flow | 14.14 | -- |
| 5 yr. EPS Growth Estimate per annum | N/A | 5.00% |
| Market Cap | $2.09B | $668.97M |
| Enterprise Value | $1.99B | $530.30M |
| Beta | 2.50 | 2.29 |
| Short Interest as a % of Float | 8.60% | 6.53% |
| Cash per Share (mrq) | $2.12 | $0.63 |
| Avg. EPS Estimate for FY2011 | $1.71 | -$0.05 |
| Avg. EPS Estimate for FY2012 | $2.02 | $0.25 |
| Total Debt/Total Capital (mrq) | 23.74% | 0.87% |
| Quick Ratio (mrq) | 3.87 | 4.79 |
| Interest Coverage (mrq) | 61.01 | -- |
| Return on Equity (ttm) | 13.39% | -7.69% |
| EPS Growth (mrq) | 140.39% | 55.27% |
| EPS Growth (ttm) | 299.01% | 70.05% |
| Revenue Growth (mrq) | 27.41% | 362.98% |
| Revenue Growth (ttm) | 34.02% | 1942.11% |
| Annual Dividend Rate | -- | -- |
| Gross Profit Margin (ttm) | 31.36% | 26.77% |
| Operating Profit Margin (ttm) | 13.64% | -15.79% |
| Net Profit Margin (ttm) | 12.35% | -13.95% |
The above data clearly show that SWC is performing a lot better than PAL. Most would have to buy it on this basis. However, a lot of its profit growth has just been growth in the price of platinum and palladium. That by itself is not sustainable. Fortunately, SWC is improving its recycling business. It has plans to expand its J-M Reef mine in Nye, Montana and its East Boulder mine at the western end of the J-M Reef in Sweet Grass County, Montana.
SWC has recently bought the Marathon project near Marathon, Ontario. The initial drilling study on the project indicates a 12-year lifetime with an output of 200,000 ounces of palladium and platinum, along with 37M pounds of copper each year. Along with the Marathon project, it also acquired the Geordie Lake property 8 kms west of Marathon and the Bird River property in Manitoba. Both of these need much more exploration and are promising.
SWC intends to acquire other exploration properties between Marathon and Geordie Lake from the Benton Resources Corp. (OTC:BNRJF). SWC exercised an option to purchase a 15% interest in Marathon Gold Corp. It further organized an exploration team to explore these properties and other future interests. SWC may be dependent on the price of palladium and platinum performing well for growth in the near term, but it is planning a good growth future farther down the line.
The one-year chart of SWC may tell us about the more technical aspects of trading this stock: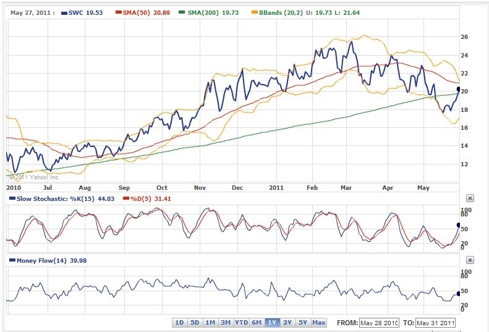 Click to enlarge 
SWC has already experienced significant recent upside movement. However, its act of crossing its 200-day SMA moving upward is a bullish signal which should mean further upside. If the overall market does not turn strongly negative soon, there should be further good movement to the upside.
Importantly the US Auto and Truck Sales numbers, the ADP Employment Change numbers, and the ISM Index come out Wednesday June 1. Any or all of these could temporarily derail this rally. Many are expecting weak auto sales. It might be best to consider the possibility of waiting for a small leg down before buying SWC for a continued rally. If the ADP Employment Change number is too bad, it might be best to wait for some significant good economic information before buying. More and more pundits are saying we are in for a leg down soon in the overall market. Still, SWC does look like a good long term investment. Averaging in is usually a good strategy for the long term. 
The one-year chart of PAL is much more negative: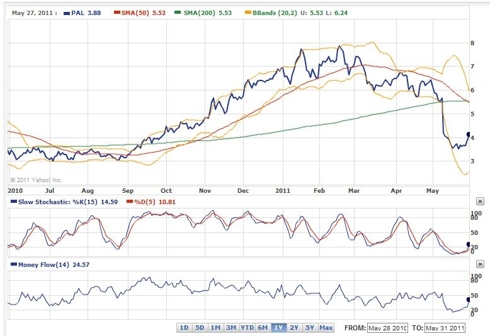 Click to enlarge
The PAL fundamental financial data is much more negative. PAL fell on recent bad Q1 2011 results. However, some pundits believe it will rally anyway. They think it will follow SWC back up. PAL is still oversold. If the above is true, it could have a much bigger percentage near term rally than SWC. I would choose SWC as my long term play, but I might put a little money in PAL for a possible big percentage, rebound rally upward. The same caveats I voiced above for SWC for the near term would apply equally to PAL.
Disclosure: I have no positions in any stocks mentioned, but may initiate a long position in SWC, PAL over the next 72 hours.